September 2019
Did you know that the naranjilla plant has been proposed as a new flavoring for the global food industry, but it fares poorly in large-scale cultivation, presenting an obstacle to its wider use?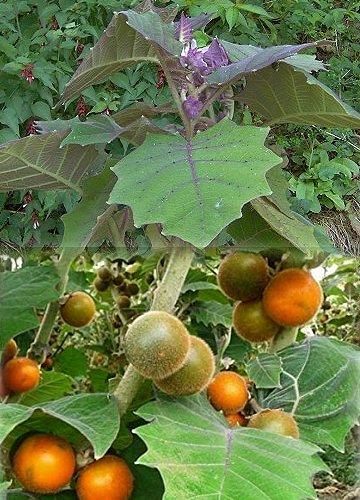 Naranjilla - Lulo (Solanum quitoense).
Naranjilla - Lulo - Solanum quitoense
An intriguing and highly appealing member of the nightshade family, Solanaceae, the naranjilla, Solanum quitoense Lam. (syn. S. angulatum Lam.), is a tropical perennial plant from northwestern South America. Acquired its Spanish name, meaning "little orange" because it is round, and is bright-orange when fully ripe. In Ecuador it is called naranjilla de Quito, or nuqui; in Peru, naranjita de Quito. The Incas called it lulum. In Mexico, it is lulun; in Colombia, lulo, naranjilla or toronja. Variety septentrionale Schultes & Cuatr. is called lulo de castilla, lulo de perro, or lulo morado. The specific name for this species of nightshade means "from Quito".
Naranjilla are delicate plants and must be protected from strong winds and direct sunlight. They grow best in partial shade. This is one of the most esteemed fruit crops in Andean South America, where the raw fruits are sweetened to make a delicious juice. The plant is often cultivated for its fruit in northwestern S. America and, in recent years, its cultivation has spread to many other tropical and subtropical areas.
The naranjilla plant is a spreading, herbaceous shrub to 8 ft (2.5 m) high with thick stems that become somewhat woody with age; spiny in the wild, spineless in cultivated plants. The alternate leaves are oblong-ovate, to 2 ft (60 cm) long and 18 in (45 cm) wide, soft and woolly. There may be few or many spines on petioles, midrib and lateral veins, above and below, or the leaves may be completely spineless. Young leaves, young stems and petioles are coated with richly purple stellate hairs. Hairs on other parts may appear simple. Borne in short axillary clusters of as many as 10, the fragrant flowers, about 1 1/5 in (3 cm) wide, have 5 petals, white on the upper surface, purple hairy beneath, and 5 prominent yellow stamens. The unopened buds are likewise covered with purple hairs.
The fruit is up to 5cm in diameter and is produced in clusters of 3 - 4 fruits. A brown, hairy coat protects the fruit until it is fully ripe, when the hairs can be easily rubbed off, showing the bright-orange, smooth, leathery, fairly thick peel. The fruit, crowned with the persistent, 5-pointed calyx, is round or round-ovate, to 2 1/2 in (6.25 cm) across and contains 4 compartments separated by membranous partitions and filled with translucent green or yellowish, very juicy, slightly acid to acid, pulp of delicious flavor which has been likened to pineapple-and-lemon. There are numerous pale-buff seeds, thin, flat, hard and 1/8 in (3 mm) in diameter.
Ripe naranjillas, freed of hairs, may be casually consumed out-of-hand by cutting in half and squeezing the contents of each half into the mouth. The empty shells are discarded. The flesh, complete with seeds, may be squeezed out and added to ice cream mix, made into sauce for native dishes, or utilized in making pie and various other cooked desserts. The shells may be stuffed with a mixture of banana and other ingredients and baked. But the most popular use of the naranjilla is in the form of juice. For home preparation, the fruits are washed, the hairs are rubbed off, the fruits cut in half, the pulp squeezed into an electric blender and processed briefly; then the green juice is strained, sweetened, and served with ice cubes as a cool, foamy drink called lulada. A dozen fruits will yield 8 oz (227 g) of juice. Commercially, the juice is extracted mechanically from the cleaned and chopped fruits, strained, concentrated and canned or put into plastic bags and frozen.
Sherbet is made in the home by mixing naranjilla juice with corn sirup, sugar, water, and a little lime juice, partially freezing, then beating to a froth and freezing. Naranjilla jelly and marmalade are produced on a small scale in Cali, Colombia.
The naranjilla has been proposed as a new flavoring for the global food industry, but it fares poorly in large-scale cultivation, presenting an obstacle to its wider use. Its fruit, like tomatoes, is easily damaged when ripe, so is usually harvested unripe. The fruits are found at markets. It is common for locals to make beverages by adding sugar and water to the freshly squeezed fruits.

Source:
https://en.wikipedia.org/wiki/Solanum_quitoense
http://tropical.theferns.info/viewtropical.php?id=Solanum+quitoense
https://hort.purdue.edu/newcrop/morton/naranjilla_ars.html