February 2004
Did you know that, Western gardeners grow Forsythia shrub exclusively as an ornamental, but in China it is used for culinary and medicinal purposes?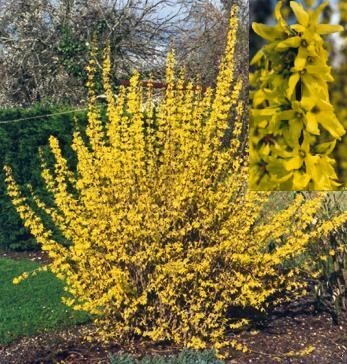 Forsythia
Forsythia (Forsythia spp.)
Forsythia is the name of a group consists of seven hardy, deciduous shrubs, one of which is native to southeast Europe, while the other six are native to East Asia.†These shrubs, commonly known as Golden Bells, are valued for their gorgeous display of star-shaped, golden yellow flowers on leafless branches, in the spring. They can be used as a screen, espalier, bank cover, or with other shrubs, as their medium-green foliage blends well.
Forsythia is named in honour of William Forsyth, director of the Chelsea Physic Garden in 1770, and one of the founders of the Royal Horticultural Society. Forsyth is the man who built the first English rock garden using lava rock brought from Iceland & stone blocks from the Tower of London. The plant arrived to England from China and was discovered there by Robert Fortune, a great eighteenth century plant-hunter.
Forsythia is well known as a garden plant, but is also available as a cut flowering foliage. It can be one of the first flowers into bloom. Many people have forsythia plants in their garden but they take up a lot of space, and are pretty dull for the fifty weeks of the year they are not in flower. Far better to buy a few fresh branches each week of spring.

Forsythia blooms before it leafs out at the very earliest sign of Spring. It is rare that forsythia reblooms or blooms out of season
One oft-repeated and entertaining recommendation with Forsythia is to "force" winter flowers from the buds indoors. Clip a choice limb or two & place those in a vase of water in a sunny window. This will give butter-yellow blooms for late winter, a couple weeks before the buds open on the actual shrub outdoors. It has additionally been noted how it is that frequently the cut branches will develop roots; you could pot these and end up with young shrubs to give as gifts.

Western gardeners grow the shrub exclusively as an ornamental, but in China F. suspensa is used for culinary and medicinal purposes; and the garden hybrid makes a reasonable stand-in for the true species shrub. The yellow flowers are edible, used as garnish, though more for appearance than taste (they are somewhat bitter), and the tenderest young leaves are useful in salads & especially in soups.
The unripe fruit and seeds are crushed for use as an herbal medicine called lian qiao. Chinese herbalists recommend it for chills, fevers, headaches, and to help expel toxins from the body.


Source:
http://www.botany.com/forsythia.html
http://www.flowers.org.uk/flowers/facts/e-j/forsythia.htm
http://www.paghat.com/forsythia.html