May 2020
Did you know that Eucalyptus deglupta is the only Eucalyptus species that usually lives in rainforest, with a natural range that extends into the northern hemisphere?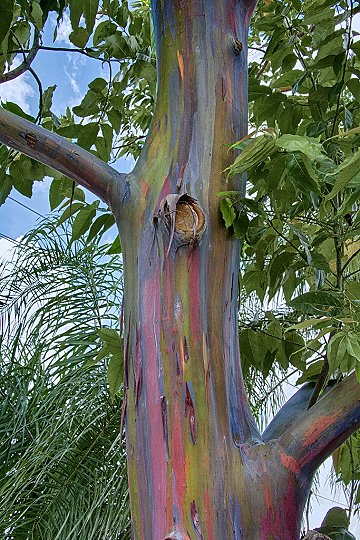 Rainbow eucalyptus (Eucalyptus deglupta). Trunk.
Rainbow eucalyptus - Eucalyptus deglupta
Eucalyptus deglupta is a species of tall tree, commonly known as the rainbow eucalyptus, Mindanao gum, or rainbow gum. Eucalyptus deglupta is native to the Philippines, Indonesia, and Papua New Guinea and is the only Eucalyptus species that usually lives in rainforest, with a natural range that extends into the northern hemisphere. It is one of only four eucalypt species out of more than seven hundred that do not occur in Australia. It is characterized by multi-colored bark.

Eucalyptus deglupta is a fast-growing, huge evergreen tree, usually growing 35 - 60 metres tall, with occasional specimens up to 75 metres. The bole, which can be up to 240cm in diameter, is generally of good form, comprising 50 - 70% of the total tree height, sometimes with buttresses 3 - 4 metres tall. While its height is impressive, it's really the tree's multicolor bark that makes it stand out. It has smooth, orange-tinted bark that sheds in strips, revealing streaks of pale green, red, orange, grey, and purplish brown. The branchlets are roughly square in cross section, often with narrow wings on the corners.
As the rainbow eucalyptus sheds, it first reveals a bright green inner bark. Over time, this ages into different colors—blue, purple, orange, and maroon. The colorful striations are created due to the fact that the tree doesn't shed all at once. Slowly, over time, different layers fall off, while other exposed areas have already begun aging.

The leaves are arranged in opposite pairs, mostly 75–150 mm (3.0–5.9 in) long and 50–75 mm (2.0–3.0 in) wide on a short petiole. The flower buds are arranged in a branching inflorescence in leaf axils, or on the end of branchlets, each branch with groups of seven buds, the individual buds on a pedicel about 5 mm (0.20 in) long. Mature buds are pale green or cream-colored, roughly spherical in shape and 2–5 mm (0.079–0.197 in) in diameter with a hemispherical operculum with a small point on the top.

Flowering time depends on location, and the stamens that give the flowers their colour are white and pale yellow. The fruit is a woody, brown, hemispherical capsule about 3–5 mm (0.12–0.20 in) long and wide, with three or four valves extending beyond the rim of the fruit. Each cell of the fruit contains between three and twelve minute brown seeds, each with a small wing.
Eucalyptus deglupta was first formally described in 1850 by Carl Ludwig Blume who published the description in his book Museum Botanicum Lugduno-Batavum sive stirpium Exoticarum, Novarum vel Minus Cognitarum ex Vivis aut Siccis Brevis Expositio et Descriptio from a specimen collected in the Celebes The specific epithet (deglupta) is a Latin word meaning "to peel off, husk or shell".

Its unique appearance and quick growth has made it quite popular amongst garden enthusiasts. It can be found in botanical gardens around the world.

Interestingly, the rainbow eucalyptus also has a high commercial value that has nothing to do with its color. The tree is widely exploited for its wood, which is traded internationally. A comparative newcomer to cultivation in plantations, as the only Eucalyptus species to grow in the humid rainforests,
The heartwood varies from light red, light brown, to dark red brown; the sapwood is whitish, not always distinctly marked off from the heartwood. The wood is light to dark brown with a slight lustre, more like coarse-grained rainforest wood than an eucalypt. The wood is useful for furniture, in turning, flooring, construction lumber, boat building, veneer and plywood.

Used to a limited extent for firewood and charcoal. However, it is normally considered too valuable for firewood. Trees more than 15 years old yield good charcoal.
The tree is often found at tree plantations, as it's an excellent source for pulpwood—the main ingredient in making white paper. It is the dominant species used for pulpwood plantations in the Philippines. The wood makes a strong sulphate pulp that can be bleached to a high brightness. The wood is also used for particleboard, hardboard and wood-wool board.

Source:
https://en.wikipedia.org/wiki/Eucalyptus_deglupta
https://mymodernmet.com/rainbow-eucalyptus-tree/
http://tropical.theferns.info/viewtropical.php?id=Eucalyptus+deglupta