September 2017
Did you know that the plant Amorphophallus konjac is grown in Far East for its edible large starchy tubers that are considered to be a diet food?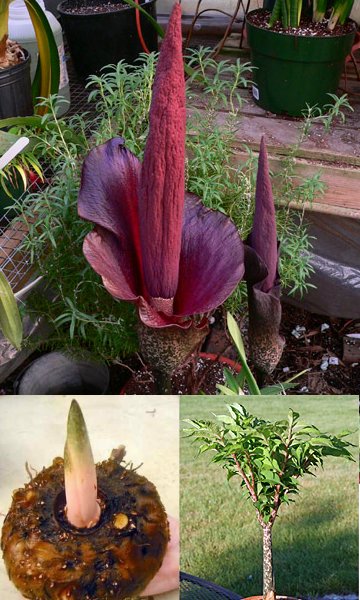 Konjac (Amorphophallus konjac). Plant, leaves, flowers, tumber.
Konjac - Amorphophallus konjac
Konjac is a plant of the genus Amorphophallus from the Arum family (Araceae). Amorphophallus konjac; syn. A. rivieri, also known as konjak, konjaku, konnyaku potato, devil's tongue, voodoo lily, snake palm, or elephant yam (though this name is also used for A. paeoniifolius).
It is native to warm subtropical to tropical eastern Asia, from Japan and China south to Indonesia. It is a perennial plant, growing from a large corm (tuber) up to 25 cm (10 in) in diameter.
This arum is widely cultivated for its edible tuber but ornamentally, it is grown for the huge tropical looking leaves and "snakeskin" stem.
In spring, long before the leaves appear, a huge and astonishing flower dazzles with a 2', purple spadix standing above the purple-black spathe. The flower smells like rotting meat! The "perfume", designed to attract flys for pollination. The flowers are monoecious (individual flowers are either male or female, but both sexes can be found on the same plant).
After flowering the tuber may rest for a bit before sending up a leaf. Plant stems and leaves develop after a well-deserved rest and can reach 6' tall in part sun to shade with regular summer water. Cold hardy.
Wild forms grow naturally in Southeast Asia and China. Konjac has been known in Japan since the sixth century as a medicinal food, and it has been eaten for 1500 years. During the Edo Period, beginning in the early 17th century, the Japanese imported Konnyaku/Shirataki from China. In 1846, the book Konnyaku Hyakusen (100 recipes of Konnyaku) was published and demonstrates its popularity in Japan at that time.
Konjac is grown in China, Korea, Taiwan, Japan and southeast Asia for its large starchy tubers, used to create a flour and jelly of the same name. It is also used as a vegan substitute for gelatin.
The food made from the tuber of this plant. The tuber must be thoroughly boiled or baked, it is acrid when raw. Very large, it can be up to 30cm in diameter. In Japan the large brown tubers are peeled, cooked and pounded to extract their starch, which is solidified with dissolved limestone into an edible gel called 'Konnyaku'. Konnyaku is a type of flour valued for its use in many dietary products. The flour is valued for its ability to clean the digestive tract without being a laxative. This root is very high in water and low in calories, so it is being promoted as a diet food in N. America.

Konjac can also be used for facial massage accessories which are currently popular in Korea and gaining popularity in the West. Most commonly this is through the use of a konjac sponge, which is unique in that it can be used on sensitive skin that may become easily irritated with more common exfoliating tools (such as a loofah or washcloth).

Source:
https://en.wikipedia.org/wiki/Konjac
http://pfaf.org/User/Plant.aspx?LatinName=Amorphophallus+rivieri
https://plantlust.com/plants/6393/amorphophallus-konjac/