June 2018
Did you know that the flowers of Stapelia gigantea have a leathery texture and pestilent smell mimic the rotting flesh of a dead animal?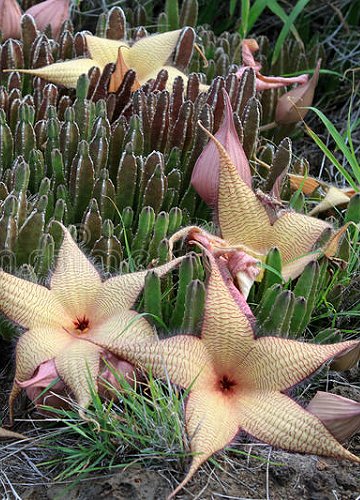 Stapelia (Stapelia gigantea).
Stapelia - Stapelia gigantea
Stapelia is a genus of low-growing, spineless, stem succulent plants, predominantly from South Africa with a few from other parts of Africa. Several Asian and Latin American species were formerly included but they have all now been transferred to other genera. The flowers of certain species, most notably Stapelia gigantea, can reach 41 cm (16 inches) in diameter when fully open. Most Stapelia flowers are visibly hairy and generate the odour of rotten flesh when they bloom.
The hairs, coloration and surface mimic decaying animal matter and attract mostly flies, which act as pollinators. The strong carrion scent is sometimes recognisable at a great distance, especially on hot afternoons. Surprisingly, species such as S. erectiflora and S. flavopurpurea have sweetly scented flowers, but they are rare.
Flies frequently lay eggs around the coronae of Stapelia flowers, convinced by the plants' deception.

A handful of species are commonly cultivated as pot plants and are even used as rockery plants in countries where the climate permits. Stapelia are good container plants and can grow well under full sun and light to moderate watering. They should be planted in well-drained compost as the stems are prone to rotting if kept moist for long.

The name Stapelia was introduced by Linnaeus who described it in 1737. The name honours Johannes van Stapel, a 17th century physician and botanist.
Stapelia gigantea is a species of flowering plant in the family Apocynaceae, native to south eastern Africa. Growing up to 20 cm (8 in) tall, it is a clump-forming succulent with erect green stems 3 cm (1 in) thick, up to1 m in spread. In summer, it bears large star-shaped five-petalled flowers up to 25 cm (10 in) in diameter. The flowers are red and yellow, wrinkled, with a silky texture and fringed with hairs, that can be as long as 8 mm (0.3 in). They have the smell of rotting flesh, in order to attract the flies which pollinate them. Despite the foul odor of its flower, S. gigantea can act as an appetite suppressant in humans. The plant is commonly referred to as Zulu giant, carrion plant or toad plant (although the name "carrion plant" can also refer to Stapelia grandiflora). Stapelia gigantea sometimes also goes by the name of Stapelia nobilis or Stapelia marlothii.

There have been several proposed reasons for the size of the flowers of S. gigantea. First, it is possible that they are large to attract the flies that pollinate it. The largeness and color of the flower combined with the carrion smell may serve to make the flies think that it is a dead carcass and be more likely to visit it. It has also been proposed that these large flowers could work as thermal regulators, much like the large ears of a Fennec fox.

Due to its tender nature and intolerance of extended freezing, this plant is usually grown as a houseplant in temperate zones. It has gained the Royal Horticultural Society's Award of Garden Merit.

S. gigantea can become an invasive plant when introduced in arid and semi-arid environments, although it has been found to facilitate the recruitment of nurse-dependent native taxa.
Parts of Stapelia gigantea have been reported to be used by the Zulus as a remedy for hysteria. These plants are, however, mainly sought by collectors of succulent plants.

Source:
https://en.wikipedia.org/wiki/Stapelia
https://en.wikipedia.org/wiki/Stapelia_gigantea
http://pza.sanbi.org/stapelia