June 2001
Did you know that the Bee Orchid plant gets its name from the shape of its flower which resemble the body of a queen bee?
Bee Orchid (Ophrys apifera)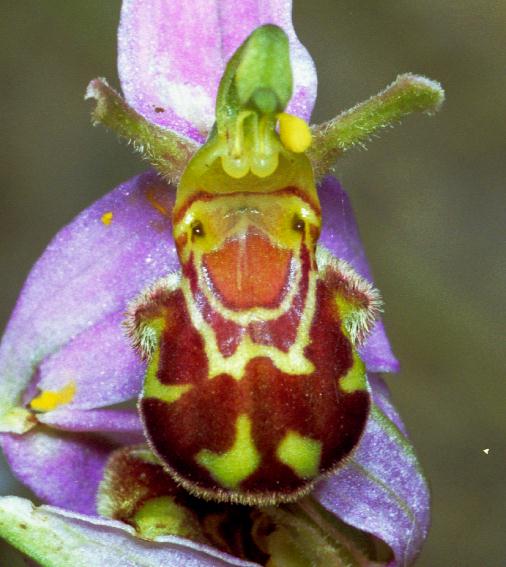 Bee Orchid-Orphys apifera
Beautiful example of the orchid family, of delicate form and surprising colours. Measuring between 15 and 40 cm, it develops a straight stalk, at the end of which appear a few lanceolate leaves which partially surround the thallus. These flowers grow one above the other and are notable for their velvety texture and the yellow and brown colour of the labellum surrounded by three pink bracts.
Its annual cycle is distinctive because the aerial part dries off after summer, leaving only the buried tuber, which germinates again when good weather arrives.
This plant gets its name from the shape of its flower. The flowers, which appear between the months of May and June, resemble the body of a queen bee. The drone therefore returns repeatedly to the flowers and distributes the pollen from one plant to another. Although resembling a bee it does not use bees as its main method of pollination. The usual way is by self-pollination, unsurprisingly this has led to many weird forms, some of which are noticeable for their lack of colour. Although these orchids are sometimes difficult to find they are not rare and bee orchids can be found throughout Europe, in North Africa and the Near East.
These orchids are mysterious in their appearance. They will pop-up on disturbed chalk soils in huge numbers between March and July, linger for a few years and then vanish. This has led to them being greeted as celebrities when first spotted at a new site.
Sources:
http://www.wildsight.bigstep.com/generic.jhtml?pid=26
http://www.ddgi.es/espais/iabeller.htm