January 2007
Did you know that the flower of Etlingera elatior (Torch Ginger) is an important ingredient for some of the most famous dishes in Southeast Asia?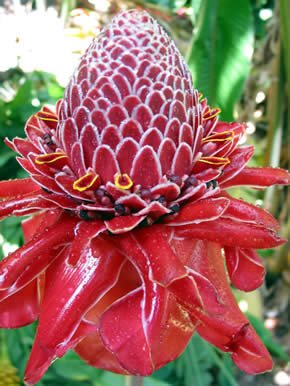 Torch Ginger - Etlingera elatior (Jack) R.M. Smith
Torch Ginger - Etlingera elatior
Etlingera are commonly known as "Torch Ginger" in the landscape trade and " Ginger Flower" in the floral world. These species are known for their long flower stems and thick, waxy, brightly colored bracts. From powder white to deep reds and maroons these mace shaped blooms invoke a festive yet soothing visual response.
Etlingera elatior (Torch Ginger or Ginger Flower) is a species of herbaceous perennial plant. Botanical synonyms include Nicolaia elatior and Phaeomeria speciosa. Etlingera eliator belongs to genus Etlingera, family Zingiberaceae
The Zingiberaceae is the largest family of the order Zingiberales, with with approximately 50 genera and over 1,000 species. Gingers are found throughout the tropics, but are especially abundant in Southeast Asia. They are commonly used as ornamentals, as spices, and for their medicinal properties.
The genus Etlingera (Zingiberaceae) is distributed from India to the Pacific Islands with centers of species richness assumed in Borneo and New Guinea. Presently at least 70 species are known from the Malesian region, but after the last 5 years work in Borneo, 29 are known alone for this area, including 10 still undescribed.
The torch ginger (Etlingera elatior) is well known as a useful and ornamental plant but several other species are known to be used by local people.
The spectacular inflorescence rises from the rhizome to a height of 60 centimeters (24 inches) to more than a meter (40 inches). The individual flowers will appear from between the pinecone-like scales above the waxy bracts. The leaves grow in ranks from separate stalks along the rhizome. The leafy stalks are evergreen and get 4.5 to 6 meters (15 to 20 feet) tall.
The showy pink flowers of a tall perennial look almost too pretty to eat but their flavour is an essential ingredient in some dishes. Difficult to procure outside Asia at present, they will probably soon be grown and sold the way other Asian herbs are in large Western cities.
A large number of species from the ginger family have been cultivated for their use as food, medicine and ornamentals. However the usefulness of the native species has not been fully appreciated and exploited.

Gingers are also used in industry. Species with very fibrous leaves can be processed for the production of fibres and paper. Etlingera elatior was known to be successfully processed for papermaking albeit not high quality.
Gingers are used as food (flavouring, vegetables, beverages). Among the common species are Zingiber officinale Rose otherwise known as ginger (rhizome), Curcuma domestica Val. or turmeris (rhizome, leaf), Etlingera elatior (Jack) R.M. Smith (inflorescence, rhizome, aerial stem), Ginger, for instance, is known to flavour all kinds of oriental dishes. It is also processed into beverages (e.g., ginger beer, ginger drink), and provides flavouring for cakes, pastries and sweets.
Some of the popular laksa soups feature a sprinkling of finely shredded ginger bud (Etlingera elatior), while others use laksa leaf. The Malaysian name for ginger flower is bunga kantan or bunga siantan. In Thailand, young shoots and flowers are served raw with nam prik (Thailand national dish).
Source:
http://www.montosogardens.com/zingiberaceae.htm
http://www.plant-group.com/ginger/etlingera.html
http://www.dalbergpoulsen.com/ginger_poster.html
http://www.asiafood.org/glossary_1.cfm?
alpha=G&wordid=3266&startno=1&endno=25
http://www.borneofocus.com/saip/vaic/R&D/article44.htm
http://www.killerplants.com/plant-of-the-week/20030901.asp