May 2019
Did you know that the largest cashew tree in the world covers an area around 7,500 m2 and it is located in Natal, Rio Grande do Norte, Brazil?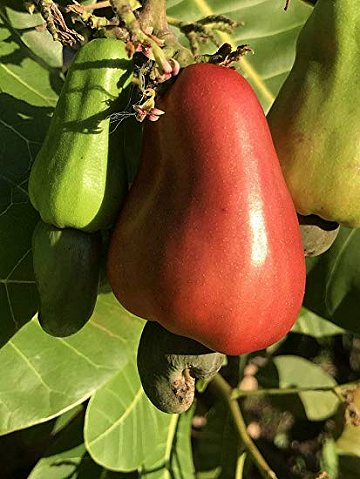 Cashew (Anacardium occidentale).
Cashew - Anacardium occidentale
The cashew tree (Anacardium occidentale) is a tropical evergreen tree that produces the cashew seed and the cashew apple. Cashew belongs to the family Anacardiaceae, which also includes mango and pistachio. The tree gets its scientific name from the heart-shaped nut.
The species is native to Central America, the Caribbean Islands, and northern South America. Portuguese colonists in Brazil began exporting cashew nuts as early as the 1550s. From Brazil, the cashew was introduced to the West Indies and Central America. The Portuguese recognized the value of the cashew apple and nut and took the crop to their Old World colonies. By 1590 the cashew tree had been introduced to East Africa and India where it was also used to help control erosion along the coastal regions. In 2017, Vietnam, India, and Ivory Coast were the major producers. The largest cashew tree in the world covers an area around 7,500 m2 (81,000 sq ft); it is located in Natal, Rio Grande do Norte, Brazil.
The cashew apple is actually a swollen receptacle that is attached to the true fruit, comprised of the protruding shell that contains a single nut. The cashew tree is an evergreen perennial that is hardy and fast growing, with a symmetrical, umbrella shaped canopy (Rosengarten, 1984). Although the tree resembles a large bush, with a short, often irregularly shaped trunk, it is a true evergreen tree and often attains heights of over 14 m. Roots grow vertically to a considerable depth and to a radius twice the canopy spread. The leaves are spirally arranged, leathery textured, elliptic to obovate, 4–22 cm (1.6–8.7 in) long and 2–15 cm (0.79–5.91 in) broad, with smooth margins.

The flowers are produced in a panicle or corymb up to 26 cm (10 in) long; each flower is small, pale green at first, then turning reddish, with five slender, acute petals 7–15 mm (0.28–0.59 in) long. Flowers are about 40% perfect and 60% male, and insect pollinated. About 70% of the perfect flowers fail to set fruit, resulting in only one or two mature nuts per inflorescence. Flowering to nut maturity takes about 55 to 70 days.
The fruit of the cashew tree is an accessory fruit (sometimes called a pseudocarp or false fruit). What appears to be the fruit is an oval or pear-shaped structure, a hypocarpium, that develops from the pedicel and the receptacle of the cashew flower. Called the cashew apple, better known in Central America as maranon, it ripens into a yellow or red structure about 5–11 cm (2.0–4.3 in) long. It is edible and has a strong "sweet" smell and taste. Fruit pulp can be processed into a sweet, astringent fruit drink or distilled into liquor.
The true fruit of the cashew tree is a kidney or boxing-glove shaped drupe that grows at the end of the cashew apple. The drupe develops first on the tree, and then the pedicel expands to become the cashew apple. Within the true fruit is a single seed, which is often considered a nut, in the culinary sense. The seed is surrounded by a double shell containing an allergenic phenolic resin, anacardic acid, a potent skin irritant chemically related to the better-known allergenic oil urushiol which is also a toxin found in the related poison ivy. Some people are allergic to cashews, but cashews are a less frequent allergen than tree nuts or peanuts. For that reason the raw cashew nut is inedible necessitating specific processing techniques to become edible.
The cashew seed, often simply called a cashew, is widely consumed. It is eaten on its own, used in recipes, or processed into cashew cheese or cashew butter.Culinary uses for cashew seeds in snacking and cooking are similar to those for all tree seeds called nuts.
Cashews are commonly used in Indian cuisine and Pakistani cuisine, whole for garnishing sweets or curries, or ground into a paste that forms a base of sauces for curries (e.g., korma), or some sweets (e.g., kaju barfi). It is also used in powdered form in the preparation of several Indian sweets and desserts. In Goan cuisine, both roasted and raw kernels are used whole for making curries and sweets. Cashews are also used in Thai and Chinese cuisines, generally in whole form. In the Philippines, cashew is a known product of Antipolo, and is eaten with suman. The province of Pampanga also has a sweet dessert called turrones de casuy, which is cashew marzipan wrapped in white wafers. In Indonesia, roasted and salted cashews are called kacang mete or kacang mede, while the cashew apple is called jambu monyet (translates in English to monkey rose apple).
In the 21st century, cashew cultivation increased in several African countries to meet the demands for manufacturing cashew milk, a plant milk alternative to dairy milk. In Mozambique, bolo polana is a cake prepared using powdered cashews and mashed potatoes as the main ingredients. This dessert is popular in South Africa.

In Brazil, cashew fruit juice and the fruit pulp are used in the production of sweets, juice, alcoholic beverages, such as cachaca, and as a flour, milk or cheese. In Panama, the cashew fruit is cooked with water and sugar for a prolonged time to make a sweet, brown, paste-like dessert called dulce de maranon, with maranon as a Spanish name for cashew.
Cashew oil is a dark yellow oil for cooking or salad dressing pressed from cashew nuts (typically broken chunks created during processing). This may be produced from a single cold pressing.
The leaves are febrifuge. They are used in west Africa in the treatment of malaria. In India and Africa the leaves are used to treat toothache and gum problems. The leaves can be harvested at any time and dried for later use. The bark is astringent, rubefacient and vesicant. Research has shown that it is also hypoglycaemic, having the ability to reduce blood sugar levels. The bark is used in Ayurvedic medicine to detoxify snake bites. The bark is harvested as required and used fresh or dried. Leaf and bark infusions are used in the treatment of toothache and sore gums, whilst the bark and leaf extracts and fruit juice are taken internally to treat diarrhoea. The sap, or bark extract, is considered to be contraceptive.

The fruit is anti-scorbutic, astringent and diuretic. Cashew syrup is a good remedy for coughs and colds. Cashew apple juice is said to be effective for the treatment of syphilis, and is also used in the treatment of cholera and kidney troubles. The fresh, acrid juice inside the shell is vesicant. It has been used for removing warts as well as for treating ringworm, leprosy and corns, and is applied to the soles of the feet to cure cracks in the skin. It is toxic to many disease-causing organisms, such as Staphylococcus bacteria.

The gum is bactericidal, fungicidal and kills worms and protozoa. It is applied externally in the treatment of leprosy, and for corns and fungal conditions. An infusion of the root is an excellent purgative.
The shell of the cashew seed yields derivatives that can be used in many applications including lubricants, waterproofing, paints, and arms production, starting in World War II. Readily and inexpensively extracted from the waste shells, cardanol is under research for its potential applications in nanomaterials and biotechnology.

Source:
https://en.wikipedia.org/wiki/Cashew
http://tropical.theferns.info/viewtropical.php?id=Anacardium+occidentale
https://www.sciencedirect.com/topics/
agricultural-and-biological-sciences/anacardium-occidentale