March 2015
Did you know that the fruit of jackfruit tree is the largest tree-borne fruit, reaching as much as 80 pounds (36 kg) in weight, 36 inches (90 cm) in length, and 20 inches (50 cm) in diameter?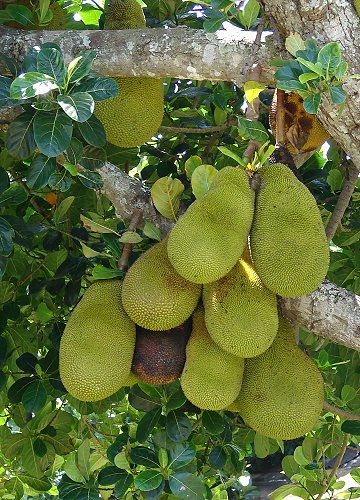 Jackfruit tree (Artocarpus heterophyllus). Leaves and fruits.
Jackfruit tree - Artocarpus heterophyllus
The jackfruit (Artocarpus heterophyllus), also known as jack tree, jakfruit, or sometimes simply jack or jak] is a species of tree in the Artocarpus genus of the mulberry family (Moraceae). It is is a congener of Breadfruit (Artocarpus altilis). It is native to parts of South and Southeast Asia, and is believed to have originated in the southwestern rain forests of India, in present-day Goa, Kerala, coastal Karnataka, and Maharashtra. The jackfruit tree is well suited to tropical lowlands, and its fruit is the largest tree-borne fruit,[8] reaching as much as 80 pounds (36 kg) in weight, 36 inches (90 cm) in length, and 20 inches (50 cm) in diameter.

The jackfruit tree is a widely cultivated and popular food item in tropical regions of India, Bangladesh, Nepal, Sri Lanka, Cambodia, Vietnam, Thailand, Malaysia, Indonesia, and the Philippines. Jackfruit is also found across Africa (e.g., in Cameroon, Uganda, Tanzania, Madagascar, Sao Tome and Principe, and Mauritius), as well as throughout Brazil, west-central Mexico, and in Caribbean nations such as Jamaica. The word "jackfruit" comes from Portuguese jaca, which in turn, is derived from the Malayalam language term, chakka.

Male and female flowers are borne on the same individual trees (i.e., Jackfruit is monoecious), but in separate enlarged, fleshy flower clusters that sprout from older branches and from the trunk. The yellowish green fleshy club-shaped male flower spike is borne on a stalk 5 to 10 cm long. Male spikes are found on younger branches above female spikes. The numerous tiny flowers, each with a 2-lobed calyx and a single stamen, are pale green when young but darken with age. The similarly numerous but slightly larger female flowers are borne in an elliptic or rounded cluster.
Each female flower has a tubular hairy calyx, a pistil with a 1-celled 1-ovuled ovary, a slender style, and a broader yellow stigma. Jackfruit flowers are reportedly pollinated by both insects and wind, with a high rate of cross pollination. The simple, alternately arranged leaves (10 to 15 cm long and 5 to 8 cm wide) are glossy dark green, thick, and leathery. The petioles (leaf stalks) are stout and 1 to 2 cm long. Leaf blades have entire margins and may be oblong to oval or narrow. Leaves are often deeply lobed on young plants and shoots. The cut bark of Jackfruit trees produces a milky juice.

The jackfruit has played a significant role in Indian agriculture for centuries. Archeological findings in India have revealed that jackfruit was cultivated in India 3000 to 6000 years[clarification needed] ago. It is also widely cultivated in southeast Asia.

Thailand and Vietnam are major producers of jackfruit, which are often cut, prepared, and canned in a sugary syrup (or frozen in bags/boxes without syrup), and exported overseas, frequently to North America and Europe.
Jackfruit trees typically reach a height of 8 to 25 m and a canopy diameter of 3.5 to 6.7 m at 5 years of age. They grow well in equatorial to subtropical maritime climates at elevations of 1 to 1600 m with average rainfall of 100 to 240 cm. Growth is moderately rapid in early years, up to 1.5 m in height per year, but slows to around 0.5 m per year as trees reach maturity. Typical fruit yield is around 70 to 100 kg per tree per year. Jackfruit flowers are open-pollinated, resulting in highly variable seedlings. However, commercial growers normally plant grafted cultivars. The fruits of most cultivars weigh 10 to 30 kg, although the range for known cultivars extends from 2 to 36 kg.
In other areas, the jackfruit is considered an invasive species as in Brazil's Tijuca Forest National Park in Rio de Janeiro. The Tijuca is mostly an artificial secondary forest, whose planting began during the mid-19th century, and jackfruit trees have been a part of the park's flora since its founding. Recently, the species has expanded excessively. Between 2002 and 2007, 55,662 jackfruit saplings were destroyed in the Tijuca Forest area in a deliberate culling effort by the park's management.
The jackfruit, the largest of all cultivated fruits, is oblong to cylindrical and typically 30 to 40 cm in length, although it can sometimes reach 90 cm. Jackfruits usually weigh 4.5 to 30 kg (commonly 9 to 18 kg), with a maximum reported weight of 50 kg. The heavy fruits are borne primarily on the trunk and on the interior parts of main branches. Jackfruit is a multiple aggregate fruit (i.e., it is formed by the fusion of multiple flowers in an inflorescence). Jackfruit are known for having a distinct aroma.
It has a green to yellow-green exterior rind. The hard outer covering is derived from the enlarged female flowers. The whitish fibrous pulp within contains many seeds (as many as 500 per fruit). The acid to sweetish (when ripe) banana-flavored flesh (aril) surrounds each seed. The heavy fruit is held together by a central fibrous core. In the Northern Hemisphere, the fruiting season is mainly late spring to early fall (March to September), especially the summer.
A few fruits mature in winter or early spring. The succulent, aromatic, and flavorful fruit is eaten fresh, cooked as a starchy vegetable, or preserved (e.g., salted like a pickle). The nutritious seeds are boiled or roasted and eaten like chestnuts, added to flour for baking, or added as ingredients to cooked dishes.

Jackfruit are known for having a distinct sweet and fruity aroma. The flesh of the jackfruit is starchy and fibrous and is a source of dietary fiber. The flavor is comparable to a combination of apple, pineapple, mango, and banana. Varieties are distinguished according to characteristics of the fruit's flesh. Some of them are hand and some of them are very soft and almost dissolving.

The edible jackfruit is made of easily digestible flesh (bulbs). They are low in calories and they are rich in vitamin B6, potassium, calcium, and iron and a good source of the antioxidant vitamin C. Also Jackfruit seeds are rich in protein. Recent laboratory studies show that lectins found in jackfruit and its seeds may have antibacterial, antifungal, antiviral, and immunostimulative properties. However, clinical study is lacking. The currently available research examines the role of jackfruit leaves in increasing glucose tolerance.

The uses and the recipes vary from place to place. Ripe jackfruit is naturally sweet with subtle flavoring. It can be used to make a variety of dishes, including custards, cakes, ice-cream, pankcakes and jam. Jackfruit is a frequent ingredient in sweets and desserts. Sometimes, the juice is extracted and drunk straight. The extract is sometimes condensed into rubbery delectables and eaten as candies. The fruit juices are extremely sticky and don't come off the hands even after washing them, so people often oil their hands before preparing the fruit.

Because unripe jackfruit has a meat-like taste, it is used in curry dishes with spices in many cuisines. Young jackfruit is sometimes cooked with coconut milk. It is also used in the Thai salad in side dishes and as fillings for cutlets and chops. It is cooked either alone or with meat, such as shrimp or smoked pork or as a side to rice and other starchy foods. Ripe jackfruits are sometimes sliced, fried, or freeze-dried and sold as jackfruit chips. Jackfruit leaves are used as a wrapping for steaming.

It is especially sought after by vegetarians who substitute this for meat, hence is nicknamed as gacch-patha (tree-mutton). Meatless sandwiches have been suggested and are popular with both vegetarian and nonvegetarian populations.

The nutritious seeds are boiled or roasted and eaten like chestnuts, added to flour for baking, or cooked in dishes.The are said to have a milky, sweet taste and when roasted, the flavor of the seeds is comparable to chestnuts. Usually the are eaten with salt and hot chillies.

In Bangladesh, jackfruit, it is commonly referred to as "poor man's food" as it is cheap and plentiful during the season.

In addition, many parts of the plant, including the bark, roots, leaves and fruits have medicinal properties
The wood of Jackfruit, which ages to an orange or red-brown color, is highly durable, resisting termites and decay. A yellow dye is sometimes extracted from the wood and used for dyeing clothes, especially in India and the Far East.
The wood of the tree is used for the production of musical instruments. In Indonesia, hardwood from the trunk is carved out to form the barrels of drums used in the gamelan, and in the Philippines, its soft wood is made into the body of the kutiyapi, a type of boat lute. It is also used to make the body of the Indian string instrument veena and the drums mridangam, thimila, and kanjira; the golden, yellow timber with good grain is used for building furniture and house construction in India. The ornate wooden plank called avani palaka made of the wood of jackfruit tree is used as the priest's seat during Hindu ceremonies in Kerala. In Vietnam, jackfruit wood is prized for the making of Buddhist statuaries in temples.
Jackfruit wood is widely used in the manufacture of furniture, doors and windows, and in roof construction. The heartwood is used by Buddhist forest monastics in Southeast Asia as a dye, giving the robes of the monks in those traditions their distinctive light-brown color.
Jackfruit is an important tree in home gardens in India, the Philippines, Thailand, Sri Lanka, and other regions where Jackfruit is grown commercially and is perhaps the most widespread and economically important Artocarpus species, both providing fruit and functioning as a visual screen and ornamental.

The jackfruit is one of the three auspicious fruits of Tamil Nadu, along with the mango and banana.[29] Jackfruit is the national fruit of Bangladesh. It is also the state fruit of the Indian state of Kerala.

Source:
http://en.wikipedia.org/wiki/Jackfruit
http://eol.org/pages/596411/overview