November 2021
Did you know that jute fibers used in the manufacture of textiles come from the bark tissue of the plant Corchorus olitorius?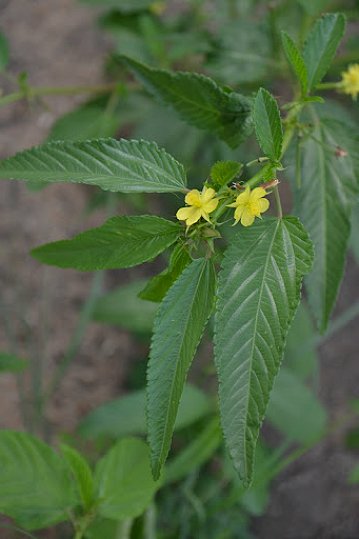 Jute Mallow (Corchorus olitorius).
Jute Mallow - Corchorus olitorius
Jute mallow or nalta jute (Corchorus olitorius), also known as "Jew's mallow" "tossa jute", "bush okra", "krinkrin", "etinyung", "molokhia", and "West African sorrel", is a species of shrub in the family Malvaceae. The plant is a very popular vegetable crop in many tropical countries, where it makes an excellent spinach substitute in areas with hot summers. The plant, together with C. capsularis, is also the source of an excellent fibre. It is often cultivated in the tropics and warm temperate areas both for the fibre in its stem and also for its edible leaves.
It is unclear whether Corchorus olitorius originated in Africa or in Asia. Some authorities consider that it comes from the Indo-Burmese area or from India, along with several other related species. Others point out that there is a greater genetic variation in Africa and a larger number of wild species in the genus Corchorus. Wherever it originated, it has been under cultivation for a very long time in both continents and probably grows, wild or as a crop, in every country in tropical Africa.
In classical antiquity, Pliny recorded that jute plants were used as food in Ancient Egypt. It may have also been cultivated by the Jews in the Near East, which gives the plant its name.
Corchorus olitorius is an erect herbaceous annual to short-lived perennial plant, fairly branched and grows about 1.5 m high. However, if grown for fibre production, it can reach heights up to 4 m. The taproot leads to a sturdy and hairless stem, which is green with a faint red-brownish hue and sometimes turns a little woody on ground level. The serrate acute leaves alternate, are 6 to 10 cm long a and 2 to 4 cm wide.
It is in flower from August to October, and the seeds ripen in October. The species is hermaphrodite (has both male and female organs) and is pollinated by Insects. The plant carries the flowers solitary or in two-flowered cymes opposite of the leaf. The flowers sit on the end of a short stem, count 5 sepals, 5 petals and 10 free and yellow stamina. The fruit is spindle-shaped, dehiscent and divided into transversal sections through five valves. The fruit measures 2 to 8 cm in length and colors vary from greyish-blue to green or brownish-black. Every seed chamber contains 25 to 40 seeds, which sum up to 125 to 200 seeds per fruit.
The edible part of jute is its leaves. Richness in potassium, vitamin B6, iron, vitamin A and vitamin C make this crop particularly important, where people cover a high share of their energy requirement by micronutrient-poor staple crops. This vegetable is predominantly eaten in Africa and Asia. A traditional Syrian, Lebanese, Tunisian, Turkish Cypriot, Jordanian, Palestinian and Egyptian dish made of C. olitorius leaves is mulukhiyah.

Leaves are edible raw or cooked. Young leaves are added to salads whilst older leaves are cooked as a pot-herb. The young leaves and stem tops are eaten cooked and are slimy unless fried. The leaves quickly become mucilaginous when cooked. High in protein. The dried leaves can be used as a thickener in soups. Leaves and young shoots are normally harvested when about 20 - 30cm long. Leaves can be sun dried, pounded to flour, then stored for a significant time.
C. olitorius is cultivated in Syria, Lebanon, Palestine and Egypt as a potherb and its culinary use goes back at least as far as the Ancient Egyptians. It is an important leafy vegetable in Côte d'Ivoire, Benin, Nigeria, Ghana, Cameroon, Sudan, Uganda, Kenya and Zimbabwe. It is also cultivated and eaten in the Caribbean and Brazil, in the Middle East and in India, Bangladesh, Japan and China. Its leaves are a special favourite of the Boros of northeast India, who make a mucilaginous preparation with its dried leaves mixed with fatty pork and lye called narji. In Nigeria, the leaves are boiled to make a sticky, mucilaginous sauce which is served with balls of cassava which are otherwise rather dry. In Vietnamese cuisine, it known as rau đay and made into a soup with shrimp.
Consumption of the leaves is reported to be demulcent, deobstruent, diuretic, lactagogue, purgative, and tonic. It is also a folk remedy for aches and pains, dysentery, enteritis, fever, pectoral pains, and tumors. Ayurvedics use the leaves for ascites, pain, piles, and tumors. Elsewhere the leaves are used for cystitis, dysuria, fever, and gonorrhea. The cold infusion is said to restore the appetite and strength. It can act anti-inflammatory, it has gastroprotective properties and can be used as an antifertility agent. The seeds are purgative.
Fibre and Textile Use. Jute fibre is made from the bark tissue of C. olitorius and C. capsularis, especially in South Asian countries, though fibre made from C. olitorius is considered to be of lesser quality. Finished fibres appear golden and silky with a length of up to 3 metres and with a diameter of 2.4 mm. The plant stalk is cut and then processed by pulling up, rippling, partial retting, breaking, spinning and combing to obtain fine fibres that are well separated from unwanted woody material. Afterwards the fibres are cured and dried.

Many textiles are made of jute, such as yarn, twine, sacking, carpet backing cloth and other blended textiles. It is also used as raw material for cords and strings.
This species tends to branch making fibre extraction more difficult. Growing the plants very close together will prevent some of the branching. If used in making paper, the fibres are cooked for 2 hours with lye and then ball milled for 4Ĺ hours. The paper is grey/buff. The very light and soft wood is used in making sulphur matches.

Source:
https://en.wikipedia.org/wiki/Corchorus_olitorius
https://pfaf.org/user/Plant.aspx?LatinName=Corchorus+olitorius
https://tropical.theferns.info/viewtropical.php?id=Corchorus+olitorius