April 2008
Did you know that the flowers of Feijoa sellowiana are edible and they are very sweet with a hint of cotton candy flavor?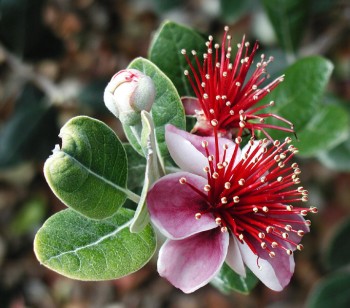 Feijoa - Pineapple Guava (Feijoa sellowiana - Acca sellowiana)
Feijoa - Pineapple Guava (Feijoa sellowiana - Acca sellowiana)
The Feijoa (Feijoa sellowiana, synonym Acca sellowiana), also known as Pineapple Guava or Guavasteen, is an evergreen shrub or small tree, 1-7 m in height, originating from the highlands of southern Brazil, parts of Colombia, Uruguay and northern Argentina.

German botanist Otto Karl Berg named Feijoa after Joao da Silva Feijo, a Brazilian botanist. This is a great edible landscape plant as it is one of the most versatile shrubs around. It makes a great screen plant and is a good team member in a hedge row. As an evergreen, it adds its beauty to the landscape year around. It grows slowly and is easy to keep small if desired. Pineapple Guava is well suited to container growing and makes a beautiful patio plant, needing protection in only the coldest winters. It is drought tolerent with a good looking grey green leaf and it has an edible flower and a tasty fruit.
The feijoa is a slow-growing evergreen shrub that can reach 15 ft. high and 15 ft. wide. The bark is pale gray and the spreading branches are swollen at the nodes and white-hairy when young. The leaves are dark glossy green with a whitish-silver cast underneath. The flowers are very striking, crimson red in the center with bright pink petals. Both its fruits and flowers are edible. The bright pink petals are very sweet with a hint of cotton candy flavor. The flowers are edible raw. The petals are sweet, crisp and delicious, they taste more like a fruit than many fruits. They should be harvested just after they begin to soften.
In addition to the fruit it provides, the shrub also doubles handsomely as a landscape specimen. When planted close together, the shrubs make a nice hedge, screen, or windbreak. Feijoas can also be espaliered or trained as a small tree (20 to 25 ft. tall) with one or more trunks. The wood is dense, hard, and brittle.

The fruit are edible raw or cooked. A delicious aromatic taste, somewhat like a cross between a pineapple and a strawberry. The fruit is best eaten raw but it can also be made into pies, cakes, puddings, jams, jellies etc. A feijoa can also be used as an interesting addition to a fruit smoothie, and can be used to make feijoa wine and feijoa infused vodka. It is also possible to buy Feijoa yogurt, fruit drinks, ice-cream, etc. in New Zealand. The Feijoa can also be cooked and used in dishes where one would use stewed fruit. Fruits can suffer damage from autumn frosts, though the flavour develops better at low temperatures. The fruit is up to 7.5cm long.

Source:
http://www.terranovalandscaping.com/blog/plant-of-the-month/
http://www.pfaf.org/database/plants.php?Acca+sellowiana
http://en.wikipedia.org/wiki/Feijoa
http://www.duntonfarms.com/grow_sheets/pineapple_guava.html