December 2005
Did you know that Pyracantha berries are eaten by the birds during the winter when all other tastier fruits have disappeared?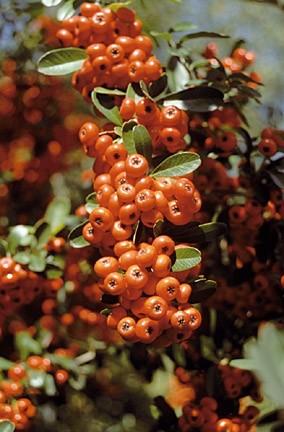 Firethorn - Pyracantha coccinea
Firethorn - (Pyracantha)
Pyracantha, any of a genus of usually thorny evergreen shrubs, in the rose family (Rosaceae), native to southeastern Europe and Asia. Firethorns are planted as ornamentals for their showy, berrylike fruits; they are also used as hedges and are often espaliered (trained to grow flat against walls and fences). They have small oval leaves on short leafstalks.
A shrub whose primary claim to beauty comes from its glorious berries is the Firethorn (Pyracantha coccinea). Its common name, firethorn, is derived both from the fiery brilliance of the orange, red or yellow berries and the prickly thorns upon its branches. In spring the pyracantha produces fragrant, ornamental clusters of delicate white flowers. The berries follow in autumn and, like those of the nandina, usually last all winter and occasionally into spring.

The pyracantha has a multitude of uses. It is often used for espalier or trained against a wall. Clipped, the pyracantha makes a good hedge, and left unsheared, it becomes an excellent barrier plant. The sharp thorns of most pyracanthas serve as a deter-rent to intruders. (Some modern hybrids are thornless, however.) One notable variety, 'Lalandei,' with its impressive vertical growth habit, is often grown as a specimen plant.

Pyracanthas tolerate many different soils and prefer warm sun or partial shade. Most cultivars are hardy in Zones 6-9, but a few can also be grown in Zone 5. They should be watered freely during dry spells and the roots mulched in spring, in preparation for summer heat.
The pyracantha berry is the potato of the bird world. Pyracantha berries are generally eaten by only the local birds during the middle of winter when all other tastier fruits have disappeared. The copious quantities of berries produced by Pyracanthas can become the object of desire for birds, especially blackbirds, and it is not unknown for them to strip whole plants. It has been noted that the birds are not so keen on yellow berried varieties. Birds are also attracted to wall grown specimens as potential nesting sites among the dense tangle of short, twiggy branches.
Is Pyracantha poisonous? Although no specific mention has been seen for this species, it belongs to a genus where most, if not all members of the genus produce hydrogen cyanide, a poison that gives almonds their characteristic flavour. This toxin is found mainly in the leaves and seed and is readily detected by its bitter taste. It is usually present in too small a quantity to do any harm but any very bitter seed or fruit should not be eaten. In small quantities, hydrogen cyanide has been shown to stimulate respiration and improve digestion, it is also claimed to be of benefit in the treatment of cancer. In excess, however, it can cause respiratory failure and even death.

Other references report that itís a myth that pyracantha berries are poisonous. The fact is that pyracantha berries are edible and that a number of gardeners make pyracantha jelly to enjoy on their biscuits. Here is a recipe for pyracantha jelly:

To extract the juice, boil a pound of pyracantha berries in 3/4 cup of water for one minute. Strain the juice through clean cloth. To one cup juice, add one teaspoon lemon juice and one package of powdered pectin. Bring to a hard boil. Add 3/4 cup sugar and continue a rolling boil for one minute, stirring constantly. Pour into hot, sterilized jars.
Source:
http://www.britannica.com/eb/article-9034343? hook=245632#245632.hook
http://www.looksmartgardening.com/p/articles/ mi_m1082/is_n6_v38/ai_15972037
http://www.ibiblio.org/pfaf/cgi-bin/ arr_html?Pyracantha+'Wateri'&CAN=LATIND
http://www.acadianagardening.com/viewarticle.php?colid=628