July 2023
Did you know that Rubus ellipticus plant common name is Golden Himalayan raspberry because of its golden yellow fruits?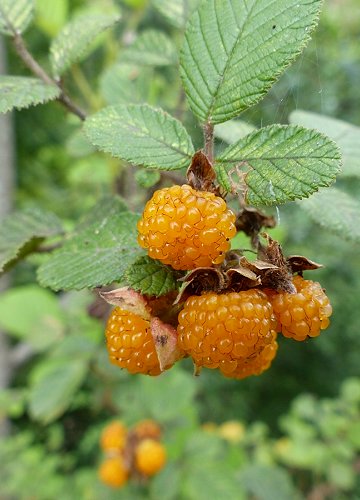 Golden Himalayan raspberry (Rubus ellipticus). Leaves and fruits.
Golden Himalayan raspberry - Rubus ellipticus
Rubus ellipticus, commonly known as ainselu, golden evergreen raspberry, golden Himalayan raspberry, or yellow Himalayan raspberry, is an Asian species of thorny fruiting shrub in the rose family. It is native to China, Nepal, India, Pakistan, Indochina, and the Philippines.

The golden Himalayan raspberry is a large shrub with stout stems that can grow to up to 4.5 metres (15 ft) long. Its leaves are trifoliate, elliptic, or obovate and toothed with long bristles. Its leaves can grow to up to 5 to 10 cm (2 to 4 in) long. Its flowers are short, white, and have five petals and grow in clusters, and blooms in the Himalayas between the months of February and April. Its fruit are sweet, detachable, and highly sought after by birds and elephants.

The fruit has various names in South-Asian languages. It is called ainselu in Nepali, hisalu in Kumaoni, hisol in Garhwali, nyinch in Nyishi, and sohshiah in Khasi language.

The golden Himalayan raspberry's origin is in the temperate Himalayas region, and is native to South East Asia. The berries grow from Pakistan to Nepal and Southern China as well as in Bhutan, Myanmar, Philippines, Sri Lanka and Thailand. It has also been found on the Hawaii islands, especially around Maui, as well as in the Andes mountains region in South America. It is found as a weed in open grasslands and rarely in forests of Himalayan states of India e.g. Himachal and Uttarakhand in their higher reaches at an attitude of 1,500 to 2,100 m (4,900 to 6,900 ft). It is often found in pine forests of the region.

The golden Himalayan raspberry can be found in mesic or wet forests, and have adapted to be able to live in complete shade and in full sun exposure. As with other Rubus species, its seeds are readily distributed by birds. It can also propagate, or asexually reproduce, itself through cutting. It can grow in open fields or in canopies of moist forests.
The Himalayan raspberry can also support large populations of Drosophila, or fruit flies, from its rotting fruit, and its fruits are also consumed by elephants.
The fuit is ediblet - raw or cooked. A good raspberry-like flavour. Sweet with a pleasant blend of acidity. he golden yellow fruit is about 10mm in diameter. Annual yields from wild plants in the Himalayas are about 750g from a plant occupying 2.5m≤. The fruit contains about 10.9% sugars, 1.1% protein, 0.5% ash, 0.55 pectin.

The berries are packed with many vitamins and is considered to be a great source of energy. Hisalu berries, besides being eaten as is, are made into delicious jams by the local people. The fruit perishes quickly and has a very short shelf life after plucking from the thorny bush. This is why jams are the primary way to preserve the fruit.
The plant is astringent and febrifuge. A decoction of the root, combined with Girardinia diversifolia root and the bark of Lagerstroemia parviflora, is used in the treatment of fevers. The juice of the root is used in the treatment of fevers, gastric troubles, diarrhoea and dysentery. A paste of the roots is applied externally to wounds. Both the roots and the young shoots are considered to be a good treatment for colic.

The leaf buds, combined with Centella asiatica and Cynodon dactylon, are pounded to a juice and used in the treatment of peptic ulcers. The juice of the fruit is used in the treatment of fever, colic, coughs and sore throat. The inner bark is used in Tibetan medicine, it is said to have a sweet and sour flavour plus a heating potency. A renal tonic and antidiuretic, it is used in the treatment of weakening of the senses, vaginal/seminal discharge, polyuria and micturation during sleep.

In Nepal, farmers make a unique wine from the aiselu or hisalu berries. This wine turns out to be a cheaper one to make, considering the berries are abundantly available, and can be readily mixed with sugar, and stashed aside for fermentation.

A purple to dull blue dye is obtained from the fruit. The plant is grown to deter soil erosion and is good for soil conservation.

Source:
https://en.wikipedia.org/wiki/Rubus_ellipticus
https://pfaf.org/user/Plant.aspx?LatinName=Rubus+ellipticus
https://banjaranfoodie.com/2020/07/10/the-himalayan-hisalu-berries/