May 2014
Did you know that the fruit of Leycesteria formosa taste like burnt sugar?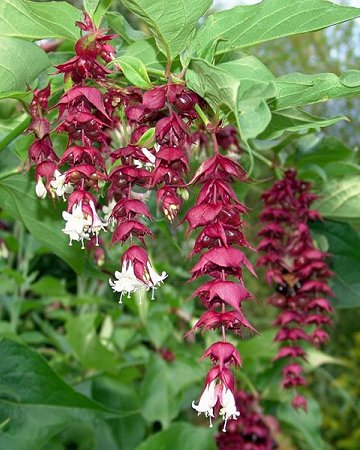 Himalayan Honeysuckle (Leycesteria formosa). Flowers and fruits
Himalayan Honeysuckle - Leycesteria formosa
Leycesteria formosa (Himalayan Honeysuckle, Flowering Nutmeg, Himalaya Nutmeg or Pheasant Berry) is a deciduous shrub in the family Caprifoliaceae, native to the Himalaya and southwestern China. It is considered a noxious invasive species in Australia, New Zealand, the neighboring islands of Macaronesia, and some other places. It is not yet considered a noxious invasive species in Canada or the United States, but many plants with the common name "Honeysuckle" are.

The plant was named by Nathaniel Wallich, director of the Calcutta Botanic Garden after his friend William Leycester (1775-1831), a judge in the native court in Bengal, with formosa meaning 'beautiful', derived from the Latin. It has been in cultivation in the west since 1824.
Leycesteria formosa grows 8 feet (about 2.5 meters) tall. In its natural habitat, leycesteria grows in shaded forests and scrublands near creeks and riverbeds. Seeds are dispersed both by water and by birds and animals that feed on the ripe fruit. In areas where it is introduced, Himalayan honeysuckle can be highly invasive.

It has soft, hollow, upright green stems, like canes, 1–2 m tall, which only last for 2–5 years before collapsing and being replaced by new stems from the roots. The leaves are opposite, dark green, 6–18 cm long and 4–9 cm broad, with an entire or wavy margin. The flowers are produced on 5–10 cm long pendulous racemes; each flower is small, white, subtended by a purple bract. The flowers are hermaphrodite (have both male and female organs) and are pollinated by Insects. It is noted for attracting wildlife. The fragrant flowers bloom in spring and summer, and the fruits develop in mid to late fall. The fruit is a soft purple-black berry 1 cm diameter, eaten by birds which disperse the seeds.

The fruit is edible and taste like burnt sugar. In the better forms, the fully ripe and very soft fruit is very sweet with a treacle-like flavour, though in other forms it has a very bitter taste and is not very desirable. Some cultivated lines have sweet, chocolate flavoured fruit, with others being bitter and unpalatable. Its hollow stems have also been used to create wind instruments such as flutes and whistles.
L. formosa became a popular plant in Victorian shrubberies. Attempts have been made in recent years to repopularise the species in Britain with new cultivated varieties appearing in garden centres.

Leycesteria is a shrub that can withstand high wind areas and urban pollution, making it a good garden shrub for areas with difficult growing conditions. When allowed to grow at will, the stalks create a thicket-like environment that attracts nesting birds. The flowers attract butterflies, hummingbirds, and other beneficial pollinators to the garden.

Source:
http://en.wikipedia.org/wiki/Leycesteria_formosa
http://www.pfaf.org/user/Plant.aspx?LatinName=Leycesteria+formosa
http://davisla.wordpress.com/2011/07/29/
plant-of-the-week-leycesteria-formosa/
http://www.wisegeek.com/what-is-leycesteria.htm