August 2009
Did you know that the leaves of some Sanseverias species are used as antiseptic natural bandage in traditional first aid in Africa?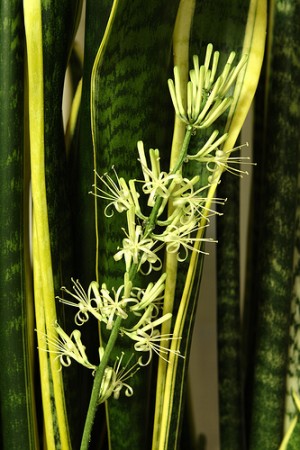 Sansevieria trifasciata leaves and flower
Sansevieria - Snake Plant - Sansevieria spp.
Sansevieria, whose common names include: mother-in-law's tongue, devil's tongue, and snake plant, is a genus of about 70 species of flowering plants in the family Ruscaceae, native to tropical and subtropical regions of the Old World. Mostsansevierias are native to old world Africa. Others are from the Arabian Peninsula, Comoro Island, India, Sri Lanka and Myanmar.

They are xerophytic herbaceous to shrubby succulent perennial plants with evergreen strap-shaped leaves, growing to 20 cm to 3 m tall, often forming dense clumps from a spreading rhizome or stolons. The flowers are greenish-white, produced on a simple or branched raceme 40-90 cm long. The fruit is a red or orange berry.

The genus was named in honor of Raimondo di Sangro (1710-1771), prince of San Severo in Italy who was a faithful patron of horticulture. Spellings "Sanseveria" and "Sanseviera" are commonly seen as well, the confusion deriving from alternate spellings of the Italian place name.
Several species are popular houseplants in temperate regions, with Sansevieria trifasciata the most widely sold

Sansevieria ehrenbergii (Blue Sansevieria, Sword Sansevieria, Oldupai, or East African Wild Sisal) is a flowering plant which grows in northeastern Africa from Libya south to Tanzania, Oman and also in Saudi Arabia. It occurs notably in proliferation along the Olduvai Gorge in northern Tanzania. Mature leaves are dark green and usually range between 0.5-1.5 m in length and 2.45-8.0 cm in width. The plant grows in tight clusters and in close proximity amongst itself.
Sansevieria trifasciata is a species of Sansevieria, native to tropical west Africa from Nigeria east to the Democratic Republic of the Congo. It is an evergreen herbaceous perennial plant forming dense stands, spreading by way of its creeping rhizome, which is sometimes above ground, sometimes underground. Its stiff leaves grow vertically from a basal rosette. Mature leaves are dark green with light gray-green cross-banding and usually range between 70–90 cm in length and 5–6 cm in width.

These plants have a rich history of cultivation.
It is commonly called the snake plant, because of the shape of its leaves, or mother-in-law's tongue because of their sharpness. In Japan it is also called 'Tiger's Tail. In Brazil it is commonly known as espada-de-sao-jorge (sword-of-saint-george). Due to its bladelike shape, it is commonly associated with Ogun, the orisha of war (usually associated with Saint George), and is used in rituals to remove the evil eye. A yellow-tipped variant is known as espada-de-santa-barbara (sword-of-saint-barbara), and is associated with Iansan/Oya, the female orisha of storms (usually associated with the sword-bearing image of Saint Barbara). In Africa the plant is used as a protective charm against evil or bewitchment.
In China, it was kept as a treasured houseplant because the Eight Gods bestowed their eight virtues on those who grew them. These virtues include long life, prosperity, intelligence, beauty, art, poetry, health and strength. The plants were kept near the entrances inside the home so that the eight virtues could pass through in a manner pre-Feng Shui. These plants also were placed in fine restaurants, herbalists, acupuncturists, doctor's offices, accountant's offices, banks, shrines, monastaries, and even in rice paddies. Sansevierias were grown and cherished well before the Chinese ti plant (Dracaena spp.) also known as the Good Luck Bamboo!

The sansevieria is also referred to as a dragon for its many unique qualities. As with many Asian martial arts techniques, the strength comes from within. The sansevieria has been known to split large earthen pots upon reaching larger sizes. Many qualities from within the plant makes it very well kept and cherished. The mere presence of this plant is said to bestow the eight essential qualities upon you. So many times this plant is kept at the entrance or reception or foyer area of a home or place of business. The Chinese have usually kept this plant potted in a pot within a ceramic pot often ornated with dragons and phoenixes. The attraction of this plant towards dragons is said to be magnetic.
According to studies about traditional uses of plants in Africa, eight species of sanseveria are used in those parts. Four of these plants are used to manufacture cords. The root of another is chewed for abdominal pain, diarrhoea and haemorrhoids. The powdered root of another is applied to wounds that are slow to heal, while the leaf juice of yet another is applied locally for earache and toothache. The constituents identified in these plants include a haemolytic sapogenin and various organic acids. Curiously enough, modern uses of sanseveria appear to be restricted to its textile capabilities and do not extend to its application in plant remedies.

Source:
http://en.wikipedia.org/wiki/Sansevieria
http://www.pharmj.com/editorial/20040410/comment/onlooker.html
http://www.daytradeworld.net/general-chit-chat/40-sansevieria-air-filtering-plant.html