April 2022
Did you know that the plant Dovyalis caffra produces a biochemical that can inhibit the growth of other nearby plants, an occurrence known as allelopathy?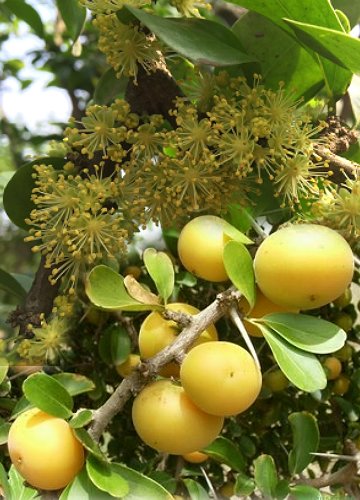 Kei apple (Dovyalis caffra). Leaves, flowers, fruits.
Kei apple - Dovyalis caffra
Dovyalis caffra (Warb.), Aberia caffra (Harv. & Sond) the Umkokola, Kei apple, Kayaba, Kai apple, or Kau apple,[1] is a small to medium-sized tree, native to southern Africa, and a member of the Flacourtiaceae or Placourtia family. Its distribution extends from the Kei River in the south, from which the common name derives, northwards along the eastern side of the continent to Tanzania. The ripe fruits are tasty, reminiscent of a small apple.

Dovyalis caffra is a lovely evergreen fruit tree or shrub. It is one of the three Dovyalis species, together with D. zeyheri (wild apricot) and D. rhamnoides (common sour berry), which are of considerable importance as a source of income for some local communities in southern Africa. It is an attractive, drought- and frost-resistant tree or shrub.
Dovyalis caffra is usually 3-5 m in height, but sometimes reaches 8 m with a much branched crown. It is a tree or spiny shrub of moderate growth rate that may be planted close together to form a good hedge. A tree, with sharp, 3–6 cm long stem spines in the leaf axils, and large sturdy thorns. Buds at the base of the spine produce clusters of alternately arranged simple ovate leaves 3–6 cm long.
Creamy green flowers form in November to December. The flowers are inconspicuous, solitary or clustered, with no petals. It is dioecious, with male and female flowers on separate plants, though some female plants are parthenogenetic. Male flowers are 3 mm long in dense clusters of 5-10 flowers. Female flowers are found in groups of up to three on stalks 4-10 mm long in leaf axils.
The fruit is an edible bright yellow or orange globose berry 2.5–6 cm diameter, with the skin and flesh of a uniform colour and containing several small seeds. Production is often copious, weighing down the branches during the summer. They are juicy, tasty and very acidic.

The Kei-apple grows in valley bushveld, dry areas, wooded grassland, on forest edges, from Eastern Cape through KwaZulu-Natal to Swaziland, into Limpopo [Northern Province] and Zimbabwe. It is usually found in dry woodland where it grows to 6 m tall. In moister open woodland it reaches its greatest size of about 8–9 metres.
The name Dovyalis is derived from the Greek meaning 'spear', making reference to the spines that are usually present in this genus. Caffra is derived from Kaffraria (Eastern Cape).
A traditional food plant in the areas it occurs, this little-known fruit has potential to improve nutrition, boost food security, foster rural development and support sustainable landcare.
The fruit is juicy, aromatic and pleasantly acid when fully ripe. Kei-apples are often eaten fresh or sprinkled with sugar to complement their natural acidity. Aside from being eaten fresh, the fruit can be made into excellent jam, used in desserts, or pickled (their natural acidity means vinegar is not needed).
Dovyalis caffra can be cultivated as a border or a screen, or used to form an impenetrable hedge around a garden to keep unwanted animals and people out. It will grow well in either full sun or light shade, and will also need regular trimming in order to maintain a good hedge. In Kenya, it is mostly used for live fences and hedges.
The Kei apple plant also is known to produce a biochemical that can inhibit the growth of other nearby plants, an occurrence known as allelopathy, while this is beneficial for weed abatement, care should be taken not to plant it too close to other fruit or vegetable-bearing plants.

Source:
https://en.wikipedia.org/wiki/Dovyalis_caffra
http://pza.sanbi.org/dovyalis-caffra