March 2003
Did you know that peach was a symbol of the Taoist sexual mysticism in China and the Chinese word "tao" means peach?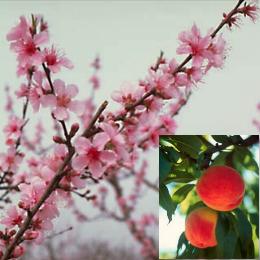 Peach (Prunus persica)
Peach (Prunus persica)
The peach falls into the Prunoideae subfamily of the Rosaceae. The subgenus Amygdalus contains the commercially important peach and almond. In addition, there are four other species closely related to peach: P. davidiana, P. kansuensis, P. ferganensis, and P. mira. The former two species have small fruit resembling peach, but poor eating quality and are used only as rootstocks. P. ferganensis offers the best fruit quality of the four, and is cultivated in the Fergana Valley region of the south central (former) USSR, and in western China. P. mira is a shrub form native to southern Tibet, Nepal, and northern India, where it is infrequently cultivated for its fruit. Ornamental forms of peach are used on a small scale as landscape trees. Fully doubled white flowers, deep red flowers, dwarfism, and red-leaved traits have been expolited in ornamental peaches. There is small interest in using flowering peach shoots in floral arrangements because of their large, pink flowers borne on long 1-year-old wood, but a method of producing these flowering shoots more-or-less year round needs to be developed.
There are thousands of peach cultivars worldwide, and far more are cultivated in economic quantities than for apple or pear. WeI have separated peach cultivars into 3 groups as follows:1. Nectarines - essentially fuzzless peaches; a single gene is responsible for the lack of fuzz.2. Freestone peaches - melting flesh, fresh market cultivars. 3. Clingstone peaches - firm flesh, canning cultivars. The peach and nectarine trees or shrubs grow upto 5 x 5 m. It is self pollinative and has an impressive blossoming. Darwin (1731-1802) noticed that peach trees spontaneously produced nectarines and that this also happens the other way around. He even describes a tree that produced a fruit that was half peach half nectarine and later fell back producing peaches.
Peaches are from Chinese origin. They go back to the 10th century B.C. and are often found on illustrations from that time. The Chinese have developed an incredible amount of peach of races. Peaches moved to Persia (Iran) along silk trading routes. The epithet persica denotes Persia, which is where Europeans first obtained peaches. The peach got it's name around 300 B.C. The greek philosopher Theophrastus thought it came from Persia and named this lovely fruit to that country. In the first century the fruit is mentioned by Romans who wrote that they imported the fruit from Persia. It is supposed that the peach reached Europe around the year 0. In England they don't show up before 1650 A.D.
Strange enough, the nectarine is never mentioned in descriptions from the time Before Christ. Peaches moved to the new world with explorers of the 16th-17th centuries, with Portuguese introducing it to S. America and Spaniards to N. America. Nectarines are first mentioned in America in 1720 when they grew between the peach trees in Virginia. Today many types of nectarines are cultivated.
Peach bark has been used as an herbal remedy for a wide variety of ailments. It is said to be "one of the stronger blood moving herbs", and therefore has use in encouraging menstruation in females with delayed menses or congested blood. Essences of peach and plum are used to flavor cigarettes in some countries.
As with most stone fruits, the peach was a symbol of female genetalia in ancient China, a part of the Taoist sexual mysticism. In fact, the Chinese word "tao" means peach. In Roman mythology, the peach was the fruit of Venus, and Albertus Magnus believed that peaches were aphrodasiacs. On a less-sexual note, peaches were associated with immortality and sincerity or truth. A peach with a leaf attached symbolizes the union of the heart and tongue, hence truth. Peaches were used by ancient Egyptians as offerings to the God of Tranquility.
Source:
http://www.uga.edu/fruit/peach.htm
http://www.thefruitpages.com/peaches.shtml