April 2011

Did you know that the famous Tamarindus indica have originated in Africa however the specific name, "indica", perpetuates the illusion of Indian origin?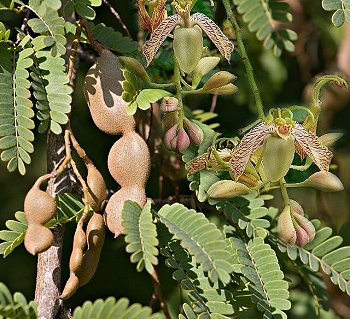 Tamarind (Tamarindus indica)
Tamarind - Tamarindus indica
Tamarind (Tamarindus indica) (from Arabic word, romanized tamar hind, "Indian date") is a tree in the family Fabaceae. The genus Tamarindus is monotypic (having only a single species).
Tamarindus indica is indigenous to tropical Africa, particularly where it continues to grow wild in Sudan; it is also cultivated in Cameroon, Nigeria and Tanzania. In Arabia, it is found wild growing in Oman, especially Dhofar, where it grows on sea-facing mountains. It reached South Asia likely through human transportation, and cultivation several thousand years prior to the Common Era. It was introduced into and adopted in India that it has often been reported as indigenous there also, and it was apparently from this Asiatic country that it reached the Persians and the Arabs who called it "tamar hindi" (Indian date, from the date-like appearance of the dried pulp), giving rise to both its common and generic names. Unfortunately, the specific name, "indica", also perpetuates the illusion of Indian origin. The fruit was well known to the ancient Egyptians and to the Greeks in the 4th Century B.C.
It is widely distributed throughout the tropical belt, from Africa to South Asia, and throughout South East Asia, Taiwan and as far as China. In the 16th century, it was heavily introduced to Mexico, as well as South America, by Spanish and Portuguese colonists, to the degree that it became a common ingredient in everyday living.
Native to tropical Africa, the tree grows wild throughout the Sudan and was so long ago introduced into and adopted in India that it has often been reported as indigenous there also, and it was apparently from this Asiatic country that it reached the Persians and the Arabs who called it "tamar hindi" (Indian date, from the date-like appearance of the dried pulp), giving rise to both its common and generic names. Unfortunately, the specific name, "indica", also perpetuates the illusion of Indian origin. The fruit was well known to the ancient Egyptians and to the Greeks in the 4th Century B.C.
The tamarind is a long-lived, medium-growth bushy tree which attains a maximum crown height of 12.1 to 18.3 metres (40 to 60 feet). The crown has an irregular, vase-shaped outline of dense foliage. The tree grows well in full sun in clay, loam, sandy, and acidic soil types, with a high drought and aerosol salt (wind-borne salt as found in coastal area) resistance.
Leaves are evergreen, bright green in colour, elliptical ovular, arrangement is alternate, of the pinnately compound type, with pinnate venation and less than 5 cm (2 inches) in length. The branches droop from a single, central trunk as the tree matures and is often pruned in human agriculture to optimize tree density and ease of fruit harvest. At night, the leaflets close up.
The tamarind does flower, though inconspicuously, with red and yellow elongated flowers. Flowers are 2.5 cm wide (one inch), five-petalled, borne in small racemes, and yellow with orange or red streaks. Buds are pink as the four sepals are pink and are lost when the flower blooms.
The fruit is an indehiscent legume, sometimes called a pod, 12 to 15 cm (3 to 6 inches) in length, with a hard, brown shell. The fruit has a fleshy, juicy, acidulous pulp. It is mature when the flesh is coloured brown or reddish-brown. The tamarinds of Asia have longer pods containing 6–12 seeds, whereas African and West Indian varieties have short pods containing 1–6 seeds. The seeds are somewhat flattened, and glossy brown.
The tamarind is best described as sweet and sour in taste, and is high in acid, sugar, vitamin B and, interestingly for a fruit, calcium.
As a tropical species, it is frost sensitive. The pinnate leaves with opposite leaflets give a billowing effect in the wind. Tamarind timber consists of hard, dark red heartwood and softer, yellowish sapwood.
Tamarind is harvested by pulling the pod from its stalk. A mature tree may be capable of producing up to 175 kg (350 lb) of fruit per year. Veneer grafting, shield (T or inverted T) budding, and air layering may be used to propagate desirable selections. Such trees will usually fruit within 3 to 4 years if provided optimum growing conditions.
Seeds can be scarified to enhance germination. They retain germination capability after several months if kept dry. Although native to Sudan and tropical Africa, Mexico and Asia are the largest consumers and commercial producers of tamarind.
The tamarind has also long been naturalized in Indonesia, Malaysia, the Philippines, and the Pacific Islands. Thailand has the largest plantations of the ASEAN nations, followed by Indonesia, Myanmar, and the Philippines. In India, extensive tamarind orchards produce 275,500 tons (250,000 MT) annually. The pulp is marketed in northern Malaya. It is cultivated all over India, especially in Andhra Pradesh and Tamil Nadu.
The tree has long been naturalized in the East Indies and the islands of the Pacific. One of the first tamarind trees in Hawaii was planted in 1797. The tamarind was certainly introduced into tropical America, Bermuda, the Bahamas, and the West Indies much earlier. In all tropical and near-tropical areas, including South Florida, it is grown as a shade and fruit tree, along roadsides and in dooryards and parks. Mexico has over 10,000 acres (4,440 ha) of tamarinds, mostly in the states of Chiapas, Colima, Guerrero, Jalisco, Oaxaca and Veracruz. In the lower Motagua Valley of Guatemala, there are so many large tamarind trees in one area that it is called "El Tamarindal". There are commercial plantings in Belize and other Central American countries and in northern Brazil.
In the United States, it is a large-scale commercial crop common (second in net production quantity to India) in the mainly Southern states due to tropical and semitropical climes, notably South Florida, and as a shade and fruit tree, along roadsides and in dooryards and parks. There are large commercial plantations in Brazil, Costa Rica, Cuba, Guatemala, Mexico, Nicaragua, and Puerto Rico.
The fruit pulp is edible and popular. The hard green pulp of a young fruit is considered by many to be too sour and acidic, but is often used as a component of savory dishes, as a pickling agent or as a means of making certain poisonous yams in Ghana safe for human consumption. The ripened fruit is considered the more palatable, as it becomes sweeter and less sour (acidic) as it matures. It is used in desserts as a jam, blended into juices or sweetened drinks, sorbets, ice creams and all manner of snacks. It is also consumed as a natural laxative.

In Western cuisine, it is found in Worcestershire sauce, and HP sauce. In Indian cuisine, it is common. Imli chutney and pulusu use it. Along with tamarind, sugar and spices are added to taste for chutneys or a multitude of condiments for a bitter-sweet flavor. The immature pods and flowers are also pickled and used as a side dish.
In Guadeloupe, tamarind is known as tamarinier and is used in jams and syrups. In Mexico, it is sold in various snack forms: dried and salted; or candied. The famous agua fresca beverage, iced fruit bars and raspados all use it as the main ingredient.
In Egypt, a sour, chilled drink made from tamarind is popular during the summer. In southern Kenya, the Swahili people use it to garnish legumes and also make juices. In northern Nigeria, it is used with millet powder to prepare kunun tsamiya, a traditional Pap mostly used as breakfast.
Tamarind is also common in throughout Java, Indonesia, Malaysia and Singapore cuisines. In Myanmar, young and tender leaves and flower buds are eaten as a vegetable. In the Philippines, tamarind is used in soupó, and also made into candies In Thailand a specific cultivar has been bred specifically to be eaten as a fresh fruit, famous for being particularly sweet and minimally sour. It is also sometimes eaten preserved in sugar with chili as a sweet-and-spicy candy.
Medicinal uses of the tamarind are uncountable. Phytochemical studies revealed the presence of tannins, saponins, sesquiterpenes, alkaloids and phlobatamins and othe ractive extracts. The pulp has been official in the British and American and most other pharmacopoeias. Tamarind preparations are universally recognized as refrigerants in fevers and as laxatives and carminatives. Alone, or in combination with lime juice, honey, milk, dates, spices or camphor, the pulp is considered effective as a digestive.
Throughout Asia and Africa, it is common for health remedies. In northern Nigeria, fresh stem bark and fresh leaves are used as decoction mixed with potash for the treatment of stomach disorders, general body pain, jaundice, yellow fever and as blood tonic and skin cleanser. In Indonesia, Malaysia and the Philippines and Javanese traditional medicine, asem leaves are used as a herbal infusion for malarial fever, the fruit juice as an antiseptic, and for scurvy and even cough cure. Fruit of the tamarind is also commonly used throughout Southeast Asia as a poultice applied to foreheads of fever sufferers. Tamarind is used as in Indian Ayurvedic Medicine for gastric and/or digestion problems, and in cardioprotective activity.
Tamarind leaves and flowers, dried or boiled, are used as poultices for swollen joints, sprains and boils. Lotions and extracts made from them are used in treating conjunctivitis, as antiseptics, as vermifuges, treatments for dysentery, jaundice, erysipelas and hemorrhoids and various other ailments. The fruit shells are burned and reduced to an alkaline ash which enters into medicinal formulas. The bark of the tree is regarded as an effective astringent, tonic and febrifuge. Fried with salt and pulverized to an ash, it is given as a remedy for indigestion and colic. A decoction is used in cases of gingivitis and asthma and eye inflammations; and lotions and poultices made from the bark are applied on open sores and caterpillar rashes. The powdered seeds are made into a paste for drawing boils and, with or without cumin seeds and palm sugar, are prescribed for chronic diarrhea and dysentery. The seedcoat, too, is astringent, and it, also, is specified for the latter disorders. An infusion of the roots is believed to have curative value in chest complaints and is an ingredient in prescriptions for leprosy.
Tamarind trees are very common throughout Asia and the tropical world as both an ornamental, garden and cash crop. The tamarind has recently become popular in bonsai culture, frequently used in Asian countries such as Indonesia, Taiwan and the Philippines. In the last Japan Airlines World Bonsai competition, Mr. Budi Sulistyo of Indonesia won the second prize with an ancient tamarind bonsai.

In West Africa, an infusion of the whole pods is added to the dye when coloring goat hides. The fruit pulp may be used as a fixative with turmeric or annatto in dyeing and has served to coagulate rubber latex. The pulp, mixed with sea water, cleans silver, copper and brass.

The leaves are eaten by cattle and goats, and furnish fodder for silkworms–Anaphe sp. in India, Hypsoides vuilletii in West Africa. The fine silk is considered superior for embroidery.

Tamarind leaves and flowers are useful as mordants in dyeing. A yellow dye derived from the leaves colors wool red and turns indigo-dyed silk to green. Tamarind leaves in boiling water are employed to bleach the leaves of the buri palm (Corypha elata Roxb.) to prepare them for hat-making.

The flowers are rated as a good source of nectar for honeybees in South India. The honey is golden-yellow and slightly acid in flavor.

The powder made from tamarind kernels has been adopted by the Indian textile industry as 300% more efficient and more economical than cornstarch for sizing and finishing cotton, jute and spun viscose, as well as having other technical advantages. It is commonly used for dressing homemade blankets. Other industrial uses include employment in color printing of textiles, paper sizing, leather treating, the manufacture of a structural plastic, a glue for wood, a stabilizer in bricks, a binder in sawdust briquettes, and a thickener in some explosives. It is exported to Japan, the United States, Canada and the United Kingdom.

Tamarind seeds yield an amber oil useful as an illuminant and as a varnish especially preferred for painting dolls and idols. The oil is said to be palatable and of culinary quality. The tannin-rich seedcoat (testa) is under investigation as having some utility as an adhesive for plywoods and in dyeing and tanning, though it is of inferior quality and gives a red hue to leather.
In temples, especially in Buddhist Asian countries, the fruit pulp is used to polish brass shrine furniture, removing dulling and the greenish patina that forms.

The sapwood of the tamarind tree is pale-yellow. The heartwood is rather small, dark purplish-brown, very hard, heavy, strong, durable and insect-resistant. It bends well and takes a good polish and, while hard to work, it is highly prized for furniture, panelling, wheels, axles, gears for mills, ploughs, planking for sides of boats, wells, mallets, knife and tool handles, rice pounders, mortars and pestles. It has at times been sold as "Madeira mahogany". Wide boards are rare, despite the trunk dimensions of old trees, since they tend to become hollow-centered. The wood is valued for fuel, especially for brick kilns, for it gives off an intense heat, and it also yields a charcoal for the manufacture of gun-powder. In Malaysia, even though the trees are seldom felled, they are frequently topped to obtain firewood. The wood ashes are employed in tanning and in de-hairing goatskins. Young stems and also slender roots of the tamarind tree are fashioned into walking-sticks.

Source:
http://en.wikipedia.org/wiki/Tamarind
http://www.hort.purdue.edu/newcrop/morton/tamarind.html