January 2019
Did you know that when Gaultheria mucronata blooms in sping, it still has a good load of the previous year's berries on all the branches?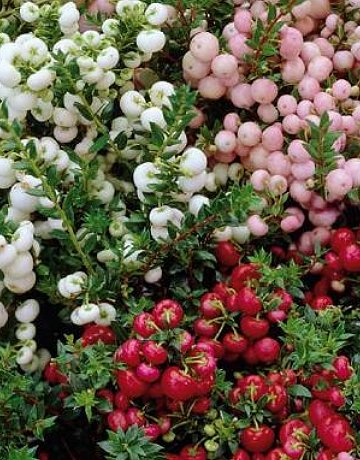 Prickly Heath (Gaultheria mucronatai).
Prickly Heath - Gaultheria mucronata
Gaultheria is a genus of about 135 species of shrubs in the family Ericaceae. These plants are native to Asia, Australasia and North and South America. In the past, the Southern Hemisphere species were often treated as the separate genus Pernettya, but no consistent reliable morphological or genetic differences support recognition of two genera, and they are now united in the single genus Gaultheria.
The genus Pernettya was designated by a French botanist, Charles Gaudichaud-Beaupe, in 1825 to honor Antoine J. Pernetty, author of Bougianville's voyage to South America. The genus Gaultheria was created earlier, in 1735, by C. Linnaeus to honor Dr. Gaultier, a physician of Quebec City. Some 200 years later in a review of the two genera several hybrids of Gaultheria and Pernettya were described, however, the authors did not suggest uniting the two genera, believing that more study was needed. In 1990 a thorough study of the two genera was published and the authors concluded that Pernettya should not be maintained as a separate genus. This has resulted in Pernettya being merged into Gaultheria, and the former intergeneric hybrids designated ÷-Gaultheria are now included in Gaultheria. However, in the nursery trade the Pernettya designation is still frequently used.

The species vary from low, ground-hugging shrubs less than 10 cm (3.9 in) tall, up to 2.5 m (8 ft 2 in) tall, or, in the case of G. fragrantissima from the Himalaya, even a small tree up to 5–6 m (16–20 ft) tall. The leaves are evergreen, alternate (opposite in G. oppositifolia from New Zealand), simple, and vary between species from 3 to 10 cm (1.2 to 3.9 in) long; the margins are finely serrated or bristly in most species, but entire in some. The flowers are solitary or in racemes, bell-shaped, with a five-lobed (rarely four-lobed) corolla; flower colour ranges from white to pink to red. The fruit is a fleshy berry in many species, a dry capsule in some, with numerous small seeds.

Gaultheria mucronata, known as prickly heath and in Chilean Spanish as chaura, syn. Pernettya mucronata, is a species of flowering plant in the family Ericaceae, native to southern Argentina and Chile. The Latin specific epithet mucronata means "prickly", referring to the foliage.
It is a compact, bushy, evergreen shrub with glossy green leaves and solitary white flowers in spring, followed in autumn by showy globose berries up to 1.5 cm in diameter. The stiff, upright branches of Gaultheria mucronata are laden with these berries like gleaming china beads in colours from pearlywhite through pink to deep claret. These start to form in July but are not in evidence until much later in the year and last through to the spring.
When it blooms in May, it still has a good load of the previous year's berries on all the branches. The previous year's berries in fact begin to grow larger after having remained small & shiny & fresh through the winter. Iit is refreshing for a winter garden and find a shrub that, even under January's austere regime, is every bit as showy
The plant is dioecious, meaning that both male and female plants must be grown together in order to produce fruit. The plant is not self-fertile. It prefers moist, shaded conditions.
Fruit is edible raw or cooked. The lilac-coloured fruit does not look tremendously edible, and the texture is somewhat like polystyrene - but the fruit of some forms is juicy, almost melts in the mouth, has a very pleasant slightly sweet flavour and makes a very good dessert fruit.

The plant can be used to make a low hedge. A good ground cover plant for a sunny position, forming dense thickets. They are best spaced about 60cm apart each way. Plants can be cut back in the spring if they are becoming too lanky and open in growth.

Source:
https://en.wikipedia.org/wiki/Gaultheria
https://en.wikipedia.org/wiki/Gaultheria_mucronata
https://pfaf.org/user/Plant.aspx?LatinName=Gaultheria+mucronata
https://landscapeplants.oregonstate.edu/plants/gaultheria-mucronata