November 2003
Did you know that, the modern term of "bachelor" given for degrees, is probably derived from the term "baccalaureate," means laurel berry (bacca-laureus)?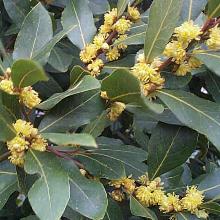 Bay Laurel - Laurus nobilis
Bay Laurel - Laurus nobilis
This slow growing, evergreen tree is often grown as a shrub. It can live as a woody houseplant for many years. It is a native of the Mediterranean region and isn't hardy in the North. It is commonly called Bay, but you can find it as Bay Laurel, Sweet Laurel, Sweet Bay, True Laurel Bay, Laurier d'Apollon, Roman Laure, Noble Laurel, Lorbeer, Laurier Sauce, Daphne. The luxurious, evergreen leaves are alternate, with short stalks, lanceolate, 3 to 4 inches long, the margin smooth and wavy. They are thick, smooth, and of a shining, dark green colour. The flowers are small, yellow and unisexual, and grow in small clusters. Male and female flowers grow on different trees and black berries follow the latter.
This tree may grow 30 feet or more high, where temperatures stay above 20 degrees in the winter. In Europe it can reach a 60-foot height if grown under the best conditions. It may be cultivated in large tubs and pruned into the shape of a pyramid or a globular head atop a stem of several feet.
Bay laurel is the true laurel (Dapnhe) of Greek and Roman mythology. Acording a myth Daphne was a young beautiful nymph, daughter of the river god Peneus. She was a huntress who dedicated herself to Artemis, goddess of the hunt, and, like the goddess, refused to marry. She was pursued by many admirers but she rejected every lover, including the powerful son of Zeus, Apollo. Apollo fell in love with Daphne, and when she rejected his advances, he pursued her through the woods. Daphne got frightened and prayed to her father for help. Whereupon her father told her that he would protect her by turning her into a Laurel Tree on the bank of his river (Greek native daphne). When Apollo came looking for Daphne, her father told him that she was transformed into a Laurel tree. Apollo then cut off some branches and made himself a wreath in memory of her beauty and his love for her. Apollo made laurel his sacred tree. He appropriated the laurel wreath, since then called DAPHNE in Greek, for champions and those who strived for excellence in their chosen fields, i.e. in the ancient Olympic Games all the champions were crowned with a DAPHNE.
The Delphic priestesses are said to have made use of the leaves. Ancient Greeks and Romans crowned victors with wreaths of laurel. The term "baccalaureate," means laurel berry (bacca-laureus), and refers to the ancient practice of honoring scholars and poets with garlands from the bay laurel tree.The modern term of "bachelor" given for degrees, is probably derived from the same root. Romans felt the leaves protected them against thunder and the plague. Later, Italians and the English thought Bay Leaves brought good luck and warded off evil.
Laurel grows well under the shade of other trees if they are not too close, and is useful in evergreen plantations. The leaves are much used in cookery for flavouring. They are often packed with stick liquorice or dried figs. They are used fresh, and may be gathered all the year round.
The leaves and berries of bay laurel contain the essential oils eugenol, cineol and geraniol, which account for the distinctive spicy aroma. Infusions are reputed to soothe the stomach and relieve flatulence. An oil pressed from the berries (the former, known as Oil of Bays),was once a popular liniment for arthritis and sore muscles, and still is used in perfumes, candles and soaps.
Source:
http://www.botanical.com/botanical/mgmh/l/larbay10.html
http://www.culinarycafe.com/Spices_Herbs/Bay_Leaves.html
http://www.floridata.com/ref/L/laur_nob.cfm
http://www.botany.com/laurus.htm
http://www.valentine.gr/mythology3_en.php