January 2006
Did you know that a greek variety of boxwood plant (known in Greek as pyxari), is considered to have stimulating properties potentially similar to those of Viagra?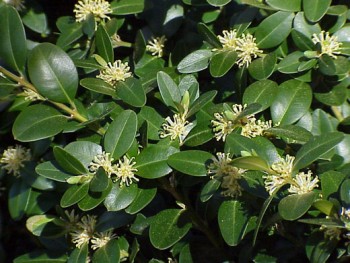 Boxwood - Buxus sempervirens
Boxwood - Buxus sempervirens
This group consists of about thirty hardy and tender, evergreen shrubs and small trees. Buxus, commonly known as Boxwoods, are natives of Europe and Asia. Because of their neat appearance, Boxwoods are highly valued for growing as hedges, for bordering paths and beds, and for clipping for topiary work. Boxwoods produce male and female flowers on the same plant, though they are not of any great beauty since they are small and drab. The leaves are leathery and arranged opposite each other on the twigs. The wood of these plants is close-grained, heavy, and yellowish colored.

Boxwood is a versatile evergreen with a broad range of forms and sizes. It is the aristocrat of plants. The Latin name Buxus sempervirens was given to boxwood by Swedish botanist Carolus Linnaeus in 1753. Buxus means "box" sempervirens means "evergreen." More than 200 cultivars of boxwood have been identified.

The origin of boxwood dates back to well before biblical times. Fossilized boxwood leaves and fruit have been discovered that date as far back as 22 ½ million years. In the first century B.C. in Greece, villas of many affluent Romans were landscaped with formal boxwood plantings. The plants were often shaped into topiary form.

In England pollen grains of boxwood have been found in charcoal dating back to 2000 B.C. The original boxwood was all removed by the glacial epoch. The Romans are credited with reestablishing boxwood in England. Since that time, boxwood had become naturalized in some areas in England.

The wood of boxwood is highly regarded. It is firm, smooth grained, strong, uniform, has great elasticity and its shrinkage is minimal when dried. The ancient Greeks and Romans used it to make beautiful jewel boxes, combs, wood inlays, carved ornaments, utensils, tablets, and flutes. It was the wood of choice in England for the power loom.

In North America, it is believed, boxwood was first planted on a Long Island plantation in 1652. There are many classic plantings of boxwood in colonial gardens.

Boxwood has been and remains a treasured plant in the garden. It is used to frame garden spaces, such as paths, door ways, parterres, rose gardens, knot gardens. Sculpted plants or topiary is another use for boxwood. The shapes act as anchors, finials, and ornamentation in the garden.

A research firm from the US is taking a close look at a greek variety of boxwood plant (Buxus sempervirens, known in Greek as pyxari), which is considered to have stimulating properties potentially similar to those of Viagra, the male potency drug.

After special processing (the plant itself is toxic), its components have been shown to help blood circulation. Representatives of the research firm have been in contact with the Balkan Botanic Garden at Kroussia, Kilkis, where the genetic material of a large sector of Greek fauna is stored.

Source:
http://www.botany.com/buxus.html
http://www.boxwoodgarden.com/abriefhistory/
http://www.ekathimerini.com/4dcgi/news/
ell__6480150KathiLev&xml/&aspKath/ell.asp?fdate=02/06/2005