March 2018
Did you know that the flowers of Chocolate flower emit a rich cocoa scent?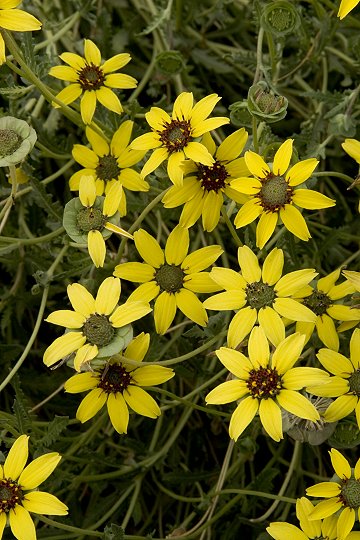 Chocolate flower (Berlandiera lyrata). Flowers.
Chocolate flower - Berlandiera lyrata
Berlandiera lyrata, with the common names chocolate flower, chocolate daisy, or lyreleaf greeneyes, is a North American species of flowering plant in the sunflower family. The common name lyreleaf greeneyes is a reference to the shape of the leaf, which is curved like a lyre and the green disc which is left behind when the ray florets drop off which is thought to look like an eye. The name chocolate flower comes from it's flowers witch emit a rich cocoa scent.
Genus name (Berlandiera) honors Jean-Louis Berlandier (1805-1851), French-Swiss botanist and physician, who collected plants in Texas and Mexico in the early 1800s. Specific epithet ( lyrata) means lyre-like in reference to the leaf shape.

In the United States, the species is native to dry sandy loams, rocky limestone soils, mesas, plains, grasslands and roadsides, to Colorado, Kansas, Oklahoma, Arizona, New Mexico and Texas. In Mexico, it is native to Chihuahua, Coahuila, Nuevo Leon, San Luis Potosi, Durango, Sonora, Zacatecas, Aguascalientes and Jalisco.
It typically grows to 1-2' tall on branched, usually erect but sometimes decumbent stems. Leaves are deep green above and whitish below, with irregular pinnate lobes.
Flowers appear on leafless stems. They are daisy-like (1-2" diameter) with yellow rays, maroon-brown center discs and green cup-like bracts.
Flowers bloom at night from late spring to frost. When the plant freezes, it will "seem to disappear" with the roots alive, but dormant in the soil. In frost free areas will bloom year round. Flowers smell like chocolate, with the aroma being most noticeable in early to mid-morning before the petals close up or drop.
Around mid-morning, the flowers close or drop. The process of the flower head losing the ray florets is due to a change in temperature: as it gets hotter, the flower begins to turn white and then the ray florets begin to drop, leaving the green disc shape.
The flower head is known to attract beneficial insects to the garden.
The stamens have a chocolate flavor and are edible. The plant was also used by Native Americans to alleviate symptoms of stomach problems. Some Native American cultures would burn the dried roots of the plant in order to treat nervous conditions or to inspire courage.

Source:
https://en.wikipedia.org/wiki/Berlandiera_lyrata
http://www.missouribotanicalgarden.org/PlantFinder/
PlantFinderDetails.aspx?taxonid=242272