April 2012

Did you know that a single plant of Water Hyacinth (Eichhornia crassipes) under ideal conditions can produce 5,000 seeds and 250 offspring in 50-90 days?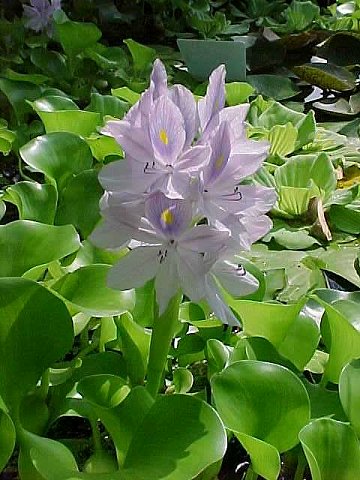 Water Hyacinth (Eichhornia crassipes)
Water Hyacinth - Eichhornia crassipes
Eichhornia crassipes, commonly known as Common Water Hyacinth, is an aquatic plant native to the Amazon basin, and is often considered a highly problematic invasive species outside its native range. Water Hyacinths are the only large aquatic herb that can float on the water unattached to the bottom.
The Water Hyacinth has special adaptations to allow it to grow and spread rapidly in freshwater. They can withstand extremes of nutrient supply, pH level, temperature, and even grow in toxic water. They grow best in still or slow-moving water. The seeds are dispersed by birds and can remain viable for 15-20 years. But the main method of reproduction is vegetatively, through stolons. A single plant under ideal conditions can produce 5,000 seeds and 250 offspring in 50-90 days, and cover an area of 600 sq metres in a year.
Its habitat ranges from tropical desert to subtropical or warm temperate desert to rainforest zones. It tolerates annual precipitations of 8.2 dm to 27.0 dm (mean of 8 cases = 15.8 dm), annual temperatures from 21.1°C to 27.2°C (mean of 5 cases = 24.9°C), and its pH tolerance is estimated at 5.0 to 7.5. It does not tolerate water temperatures >34°C. Leaves are killed by frost and salt water, the latter trait being used to kill some of it by floating rafts of the cut weed to the sea. Water hyacinths do not grow when the average salinity is greater than 15% that of sea water. In brackish water, its leaves show epinasty and chlorosis, and eventually die.
The fast-growing Water Hyacinth soon becomes a noxious weed outside its native habitat. Plants interlock in such a dense mass that a person could walk on a floating mat of them from one bank of a river to the other. The presence of Water Hyacinth disrupts all life on the water. They clog waterways preventing river travel, block irrigation canals, destroy rice fields, ruin fishing grounds. By shading the water, these plants deprived native aquatic plants of sunlight and animals of oxygenated water. As the mats decay, there is a sharp increase in nutrient levels in the water, which spark off algal growths that further reduces oxygen levels.
Water Hyacinths are difficult (if not impossible) to destroy. In the US, arsenic was used on a large scale which only partially cleared the weeds but poisoned the ecosystem. Fire and explosives were also attempted, but the plants reproduce rapidly even from the tiniest fragment and simply grew back. The most effective measures are biological controls, hundreds of which have been studied for this purpose. Two weevils, a moth and two types of fungi have been introduced to successfully control the plant. Other creatures that keep the plant in check include fish (Chinese grass carp (Ctenopharyngo idella) and Tilapia melanopleura and T. mossambica) and manatees.
The Water Hyacinth was introduced from its native home in South America to various countries by well-meaning people as an ornamental plant; to the US in the 1880's; to Africa in the 1950's spreading to the Congo, the Nile and Lake Victoria; also in India.
In Africa the plant was introduced by Belgian colonists to Rwanda to beautify their holdings and then advanced by natural means to Lake Victoria where it was first sighted in 1988. There, without any natural enemies, it has become an ecological plague, suffocating the lake, diminishing the fish reservoir, and hurting the local economies. It impedes access to Kisumu and other harbors. The water hyacinth has also appeared to the north in Ethiopia, where it was first reported in 1965 at the Koka Reservoir and in the Awash River, where the Ethiopian Electric Light and Power Authority has managed to bring it under moderate control at the considerable cost of human labor. Other infestations in Ethiopia include many bodies of water in the Gambela Region, the Blue Nile from just below Lake Tana into Sudan, and Lake Ellen near Alem Tena.
The plant is edible It is used as a carotene-rich table vegetable in Taiwan. Young leaves and petioles - cooked. Virtually tasteless. Said to be used as a carotene-rich table vegetable in Formosa. Javanese sometimes cook and eat the green parts and inflorescence. Flower spikes cooked too. Uses: In Singapore, as elsewhere, it was cultivated as pig food, but have become a serious nuisance in reservoirs.

In Kedah (Java), the flowers are used for medicating the skin of horses. The species is a "tonic." In East Africa, water hyacinths from Lake Victoria are used to make furniture, handbags and rope. The plant is also used as animal feed and organic fertilizer although there is controversy stemming from the high alkaline pH value of the fertilizer. Also in Africa, fresh plants are used as cushions in canoes and to plug holes in charcoal sacks.
There are studies on using the plant to detoxify sewage and sludge. Water hyacinths are potentially an excellent source of biomass. Through an anaerobic fermentation process, polluted hyacinths can be converted to the natural gas methane - a costly process that may become more economical as supplies of underground natural gas are depleted. Dried and cleansed plants can be used as fertilizer and plant mulch. Eventually, living aquatic plants might serve aboard long-distance manned spacecraft, absorbing wastes and converting carbon dioxide to oxygen,--- then being themselves converted into food---. The plant can be cultivated for use in wastewater treatment, and can be incorporated into a system where the biomass is harvested for fuel production. Since this biomass is a by-product of wastewater treatment, it has a positive environmental impact, and thus poses no threat as competitor to food, feed, or fibre-producing plants. Wilted water hyacinth, mixed with earth, cow dung, and woodashes in the Chinese compost fashion, can yield useful compost in just two months. Although potential yields are incredible, so are the costs of removal or attempted eradication of this water weed. Standing crops have been estimated to produce 100-120 tonnes per hectare per year. Water hyacinth roots naturally absorb pollutants, including such toxic chemicals as lead, mercury, and strontium 90 (as well as some organic compounds believed to be carcinogenic) in concentrations 10,000 times that in the surrounding water.

Source:
http://en.wikipedia.org/wiki/Eichhornia_crassipes
http://www.naturia.per.sg/buloh/plants/water_hyacinth.htm
http://www.pfaf.org/user/Plant.aspx?LatinName=Eichhornia+crassipes