August 2013

Did you know that each rosette of Doryanthes palmeri flowers once in its lifetime, and every new rossete can take over 13 years to flower?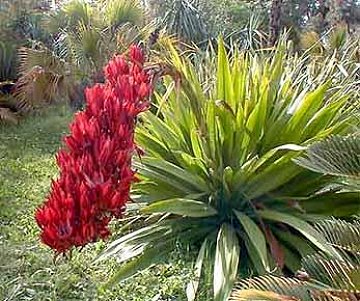 Giant Spear Lily (Doryanthes palmeria)
Spear Lily - Gymea - Doryanthes spp.
Doryanthes is a tuberous genus endemic to Australia initially classified in the families Amaryllidaceae and Agavaceae. Recent genetic data has taken it out of the family Agavaceae and placed it into its own family Doryanthaceae which includes Doryanthes as the only genus and includes 2 species, D. excelsa and D. palmeri. Doryanthaceae has close links to the Liliaceae. Leaves are long in a large tussock and flowers on a tall stem are red. Plants are very long lived. Plants grow in a rosette form, only flowering after more than 10 years. They enjoy a warm environment, good soil, and much water during the warmest time of the year.
The genus Doryanthes was first described in 1802 by the Portuguese priest, statesman, philosopher and botanist Jose Francisco Correa da Serra (1751–1823), a close friend of Joseph Banks.
Doryanthes excelsa known as the Gymea Lily is a showy species found in light forest or open areas in New South Wales. It occurs in coastal sandstone outcrops along the sandstone plateaus within the Sydney region. It has a shortened rhizome and closely packed evergreen bulbs that arise from the fleshy rootstock and give rise to additional plants clustered around the mother plant. The plant has sword-like leaves more than a meter long. It flowers in spring and summer. Inflorescences from D. excelsa are remarkable in that they can reach up to 8 metres in height in a mature plant and can have between one to two hundred red and very fleshy, lily like flowers up to 23 cm across on a panicle of umbels that open over a couple of months. Within the central well formed by the tepals is a sweet viscous, jelly-like fluid with which it attracts honey eaters and ensures fertilisation.

The name "Gymea Lily" is derived from a local Eora dialect. Dory-anthes means spear-flower in Greek, and excelsa is Latin for exceptional. The Sydney suburbs of Gymea and Gymea Bay are named after the lily.

Honey-eaters love the nectar of these large, crimson flowers on stems 2–3 m tall.

Native aboriginals from the Sydney region used to eat roasted Doryanthes inflorescences (picked when they were between 1 and 2 feet high like asparagus) and they also used to turn the thicken tuberous roots and bulbs into a paste which they roasted as a cake to be eaten cold.

Doryanthes palmeri (the Giant Spear Lily) is a plant of the genus Doryanthes. A native of eastern Australia, it is disappearing fast there due to habitat destruction. The Giant Spear Lily is listed as Vulnerable under the New South Wales Threatened Species Act (1995).
The name Palmeri records the services to Horticulture of A. H. Palmer, Esq., formerly Colonial Secretary of Queensland.
Back when dinosaurs roamed the earth, they probably munched on plants like Doryanthes palmeri - the Giant Spear Lily! Growing to 15 feet tall, with massive, 11-foot flower stalks, this is one of the largest Lily relatives around.

Over the years, the Giant Spear Lily forms a huge rosette of oversized leaves, each of which can reach 12 feet long and 9 inches wide. Its leaves are hairless and grow in the shape of a sword. The flower spikes, which appear from winter through summer on a stalk which may reach 5 m (16 ft) in height, get so heavy they arch downwards. The big blooms are 5 inches long and are a brilliant red, attracting all sorts of birds. This is a slow-growing but very long-lived species. A colony can live 100 years or more.
Each rosette flowers once in its lifetime, but after flowering, the plant is able to produce more rosettes. However each rosette can take over 13 years to flower.

The Giant Spear Lily comes from coastal Queensland and New South Wales in Australia, where temperatures are mild year-round. It's possible that it won't thrive in areas that regularly get over 85 degrees F (29°C), particularly if nights are warm. It does best when protected from frost, but it is said to take 5 or 10 degrees of frost (-4°C), with new growth sprouting from the roots. It enjoys sun, although it might need some afternoon shade in strong, hot sun. It can be grown in a pot the first few years, and moved indoors if necessary. It likes well-draining soil and regular watering. Be patient with the Giant Spear Lily, as it will take 10-13 years to reach flowering size.

Source:
http://en.wikipedia.org/wiki/Doryanthes
http://www.strangewonderfulthings.com/160.htm
http://www.pacificbulbsociety.org/pbswiki/index.php/Doryanthes