October 2003
Did you know that, in Sri Lanka the poisonous yam of Gloriosa, was cooked with food to commit homicide on an unsuspecting victim?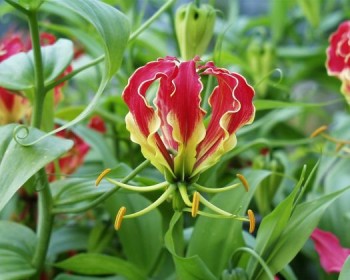 Gloriosa rothschildiana
Gloriosa

This group consists of 5 or 6 tender, tuberous-rooted, deciduous, climbing vines, which are natives of South Africa and India. These members of the Lily family, Liliaceae, (Commonly known as Climbing Lilies; Flame Lilies; Gloriosa Lilies; Glory Lilies) are suitable for growing on trellises, in containers indoors and outdoors and as houseplants. They produce weak, trailing stems clothed with glossy leaves, which are tipped at the ends with tendrils to aid in climbing. These plants can reach heights up to 8 feet. Flame Lilies are valued for their exotic, 4- to 5-inch flowers whose wavy-edged petals are reflexed back as if blown by a strong wind. If the flowers are cut just before the petals bend back, they will last up to 8 days in an arrangement. Split the end of the main stem before putting it into the vase. G. rothschildiana is the prettiest of the Flame Lilies, reaching 3 to 6 feet in height and having whorled leaves. The wavy petals of its flowers are crimson, edged in bright yellow making the blossoms look like they're on fire. G. simplex produces orange and yellow flowers that open with a light greenish tinge. The vines reach about 3 feet in length. G. superba var. Lutea has pure yellow flowers with slender petals.
Gloriosa Rothschildiana is more commonly known as the Gloriosa Lily or Glory Lily from the latin gloria meaning honour, fame. This splendid and exotic lily was named after Baron Z.W. Rothschild, an authority on birds, who brought the flower from Africa and entered it at an exhibition of the English Horticultural Society at the turn of the century.

Originally from tropical Africa, Gloriosa is the national flower of Zimbabwe. Since then it has mainly been grown in Holland. It was first cultivated in the UK in 1902.
Gloriosa also grows wild in Sri Lanka's warm, moist environment. It's looking much like the sweet potato plant. It is deadly poisonous, a single ounce being enough to cause stomach cramps, vomiting, diarrhoea and death.
In the past, Sri Lanka's traditional healers used a paste derived from Gloriosa roots to treat scorpion stings and insect bites. On rare occasions, the yam of this beautiful climber, was cooked with food to commit homicide on an unsuspecting victim.
Today Gloriosa has been shown to have even more valuable medicinal properties. Its seeds and roots contain the alkaloid Colchicine, which has many uses in the pharmaceutical industry. The drug has been used to treat gout and rheumatoid arthritis and Colchicine derivatives are now being employed in cancer chemotherapy.
Thanks to its medicinal properties, this wild plant, which until a few years ago was considered just a poisonous weed, is proving to be a lucrative cash crop for Sri Lanka farmers.
Source:
http://www.botany.com/gloriosa.html
http://www.flowers.org.uk/flowers/facts/e-j/gloriosa.htm
http://www.qathailand.com/Thammasat/Thammasat_5.htm
http://www.mssrf.org/fris9809/srilanka-ch3-d.html