January 2016
Did you know Sacha inchi is a millenary crop of Peruvian origin, planted by ancient pre-Inca cultures, 3000 years ago?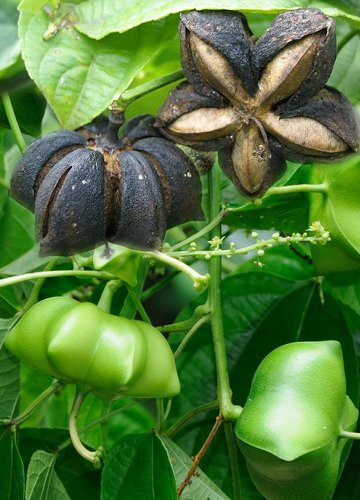 Sacha inchi (Plukenetia volubilisa). Leaves and fruits
Sacha inchi - Plukenetia volubilis
Plukenetia volubilis, commonly known as sacha inchi, sacha peanut, mountain peanut or Inca-peanut, is a perennial plant with somewhat hairy leaves, in the Euphorbiaceae. It is native to much of tropical South America (Suriname, Venezuela, Bolivia, Colombia, Ecuador, Peru, and northwestern Brazil), as well as some of the Windward Islands in the Caribbean. It produces small nuts that are extremely rich in high quality, nutritious vegetable oil. It is now also being cultivated commercially in South East Asia, most notably in Thailand.
In the Amazon Rainforest in Peru, it has been cultivated by indigenous people for centuries, and will grow in warm climates up to altitudes of 1,700 meters (5,500 feet) as long as there is continued availability of water and good drainage. It grows better in acidic soils and alluvial flats near rivers.

Plukenetia volubilis is a slender climbing shrub, scrambling over the ground and twining into other plants for support. The edible seeds and leaves are gathered from the wild for local use. This species has long been used by native people, but has only recently become better known and is now being cultivated for the high quality oil obtained from the seed.

Peru is one of the ten most bio diverse countries in the world with eighty-four ecosystems and twenty-eight distinct climate zones. This biodiversity encapsulates an immense variety of plants and animals, many of which are still unknown to man. This plant is cultivated mainly in the district of Pichanaqui (Junin - Peru) at the heart of the inca culture, because this land offers the best environmental conditions (the ground is soft and has a high content of minerals and some nutrients).

The plant reaches a height of 2 m (6' 6"), with alternate, heart shaped, serrated leaves, 10 to 12 cm long (4"-4.7") and 8 to 10 cm (3.1-3.9") wide, that have petioles 2–6 cm (0.8-2.3") long. It flowers five months after being planted, and bears seeds around the eighth month. The male flowers are small, white, and arranged in clusters. Two female flowers are located at the base of the inflorescence. In tropical locations it is often a vine requiring support and producing seeds nearly year-round.

The fruits are capsules of 3 to 5 cm in diameter with 4 to 7 points, are green and ripen blackish brown. On ripening, the fruits contain a soft black wet pulp that is messy and inedible, so are normally left to dry on the plant before harvest. By two years of age, often up to a hundred dried fruits can be harvested at a time, giving 400 to 500 seeds a few times a year. Fruit capsules usually consist of four to five lobes, but some may have up to seven. Inside are the seeds, oval, dark-brown, 1.5 to 2 cm in diameter and 45 to 100 grams of weight. The cotyledons are open, similar to those of almonds, and covered with a whitish film.
Sacha inchi is a plant that can adapt well to a wide range of temperatures, from 50°- 97° F (10°- 36° C), though the optimal average temperature is 79° F (26° C). It can also grow from 328 – 6,560 feet (100 – 2,000 m) above sea level. It tolerates a range of soil types, including acidic soil with a pH as low as 4.5 that contains aluminium- like the typical soil of the Amazon Rainforest. It requires a good amount of natural light in order to blossom, as well as a permanent irrigation system with good natural soil drainage. Soil with a high retention level will increase the risk of contamination by plagues like Meloidogyne spp. and Fusarium spp.

Given sacha inchi's vine-like nature, trainers – such as humidity-resistant tree trunks – are necessary to help it grow. Diligent pruning is also required to maintain the plant. The first pruning, or "formation pruning," should take place 60 days after the plant has sprouted. Thereafter, the plant should be pruned once a month in order to maintain a Y shape. The first harvest typically takes place after eight or nine months, and the seeds must be separated from their capsules in order to process them into sacha inchi flour or oil.

Sacha inchi is thought to have been domesticated by humans even before records began. It was first cultivated however, as a medicinal remedy in the Amazonian region of South America. The earliest evidence of its use is found on pottery belonging to the Chimu and Mochica societies of 3,000 years BCE. These ancient civilisations are thought to have settled on present-day Peruvian coastline, implying that they brought the plant with them from the Amazon basin.

It is believed that Sacha Inchi acquired a medicinal and ceremonial importance even before the rise of the Incan Empire, since the seeds depicted in pottery have also been found in Chachapoyas burial sites (circa 800 CE). It is only recently however, that Sacha Inchi, and its remarkable nutritional qualities, have started to gain recognition outside of South America.
Raw seeds are inedible, but roasting after shelling makes them palatable. When lightly roasted with low heat the seeds take on a crisp nutty flavor similar to that of common nuts, making for a healthy snack. Its seeds, which contain the bulk of the plant's nutritional value. The seeds of inchi have high protein (27%) and oil (35 - 60%) content, and the oil is rich in the essential fatty acids omega-3 linolenic acid (45-53% of total fat content) and omega-6 linoleic acid (34-39% of fat content), as well as non-essential omega-9 (6-10% of fat content). They are also rich in iodine, vitamin A and vitamin E.

Chancas Indians and other tribal groups of the region extract oil from the seeds which is used for the preparation of various meals.The oil is extracted by simple cold pressing and does not require refining.
Sacha Inchi oil is valued as a nutritional supplement because it contains a high concentration of polyunsaturated fatty acids, making it an excellent source for Omega - 3 (alpha linolenic acid) and Omega - 6 (linoleic acid). It contains no cholesterol. The oil has a mild flavour, not bitter, with a nutty finish. Current scientific studies indicate that the Inca Inchi is the best oil plant because of its composition and high nutritional quality. Often marketed as a "superfood" sacha inchi is said to offer a variety of health benefits.

Sacha inchi has additional uses in the cosmetic industry, where its oil is used in various products, including soaps and shampoos. Aside from this, its use is limited to the culinary and medicinal worlds.

Source:
https://en.wikipedia.org/wiki/Plukenetia_volubilis
http://www.herbazest.com/herbs/sacha_inchi
http://tropical.theferns.info/viewtropical.php?id=Plukenetia+volubilis