January 2004
Did you know that, the spectacular "amaryllis" bulbs are actually hybrids of species of the genus Hippeastrum?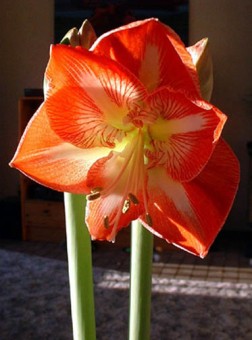 Amaryllis (Hippeastrum)
Amaryllis (Hippeastrum)
The spectacular "amaryllis" bulbs that are forced into bloom by the thousands every year are actually hybrids of the dozens of species of the genus Hippeastrum While the belladonna lily (Amaryllis belladonna) is the true amaryllis, we use "amaryllis" as a common name when referring the Hippeastrums. Whatever you call it, this amaryllis is a large tropical bulb with a long history of brightening up wintertime households. Amaryllis typically holds 2 to 7 huge, 6 in (15 cm) lily-shaped blossoms on massive 18-20 in (46-51 cm) stems. The dark green straplike basal leaves (arise from the ground in a rosette) are 16-20 in (41-51 cm) long give the plant interest even when not in bloom. There are more than 50 species of Hippeastrum that bloom white, pink, red or orange, sometimes striped or frilled and these have been hybridized into a host of shapes, colors and sizes. Some old favorites sold for indoor container culture include: 'Apple Blossom' which has white petals with a pink blush, 'Picotee' is also white with petal edges lined in pink and 'Lady Jane' which has double petals in salmon-rose.
According to the classical poets Theocritius, Ovid, and Virgil, Amaryllis was a virginal nymph, timid and shy but with a spine of steel. She fell head over heels in love with Alteo, an icy-hearted shepherd reputed to be as handsome as Apollo and as strong as Hercules, and determined that she would be true only to him, no matter what the consequences. Indifferent to her charms, Alteo claimed his only desire was that a new flower be brought to him, a flower that had never before existed in the world. Amaryllis consulted the Oracle at Delphi and was instructed to pierce her heart with a golden arrow at Alteo's door. This she did, dressed in maiden's white, for thirty consecutive nights, dripping blood all the while. The shepherd finally opened his door to discover a flower with crimson petals, which had sprung from the blood of Amaryllis's heart.
Amaryllis, whether female or flower, has been lauded by later poets as well. Artists and photographers, too, have found inspiration in the flower.
However, the bulb we call amaryllis is not technically an amaryllis at all. Its taxonomy, while charming, is confusing and demands clarification. The actual genus Amaryllis contains only two species, A. belladonna, commonly known as the cape belladonna lily, and A. paradisicola; both come from the Cape Province of South Africa. Hippeastrums come from South America and first mentioned in Europe as the American lily with scarlet flowers called Belladonna like the Cape Belladonna lily. Carolus Linnaeus (1707 - 1778), the father of botanical classification put both species under the same group and named the group Amaryllis, in homage to the beautiful nymph, the name that persists to this day.
The Honorable Reverend William Herbert, a British scientist and later dean of Manchester and a leading authority on the amaryllis of his era, segregated some amaryllis into a new genus, which he called Hippeastrum, publishing the name change in his book Amaryllidaceae in 1837. Today Hippeastrum (hip-ee-ay-strum) remains the correct genus name for cultivated amaryllis hybrids.
The horticultural public, however, has failed to embrace the new name, and Hippeastrum hybrids still retain the common name amaryllis. Today the genus-in the Amaryllidaceae family-includes over fifty species, from which hundreds of cultivars have been bred.
History is murky as to when the amaryllis was discovered in South America. The species hail from the Andes Mountains of Chile, Peru, and Bolivia as well as from Brazil, Argentina, and Venezuela and as far north as Mexico and the West Indes. H. puniceum, H. reginae, H. striatum, H. reticulatum, and H. vittatum, probably in that order, were brought to Europe in the latter half of the seventeenth century, and additional species continued to be introduced as they were found.
In Holland, commercially grown amaryllis, generally propagated from offsets or from twin-scaling, are primarily grown in large-scale greenhouse operations. Bulbs are planted from October to March and harvested by hand from July to October, when all their leaves are removed, chopped, and incorporated back in the planting beds. After harvesting, bulbs are quickly dried and cured. The old root system must remain viable.
While Holland and South Africa dominate in bulb production today, new hybrids are being developed in North America, Australia, Japan, India, Israel, and Brazil.
Source:
http://www.botany.com/hippeastrum.html
http://www.flowers.org.uk/flowers/facts/a-d/amaryllis.htm
http://www.gardenguides.com/books/amaryllisexc.htm
http://www.rbgkew.org.uk/archive/events/HipWeb/HipPort.htm
http://www.floridata.com/ref/h/hippeast.cfm