October 2011

Did you know that the wood of Embothrium coccineum is used for elaborating spoons, kitchen vessels and another craft articles?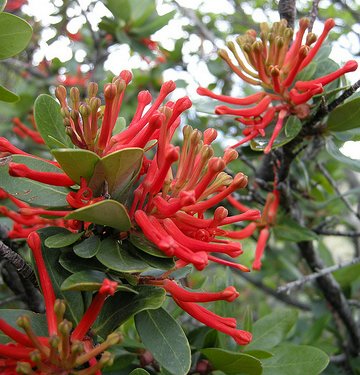 Chilean Firebush (Embothrium coccineum)
Chilean Firebush - Embothrium coccineum
Embothrium is a genus of two to eight species (depending on taxonomic interpretation) in the plant family Proteaceae, native to southern South America, in Chile and adjacent western Argentina and southern Peru; the genus occurs as far south as Tierra del Fuego. Common names include Chilean Firebush in English, and Notro, Ciruelillo, Fosforito in Chilean Spanish.

They are large shrubs or trees growing to 10–20 m tall with a trunk up to 70 cm diameter. E. coccimeum and perhaps others, is also highly prone to suckering and unmanaged plants often form dense groves of many suckering shoots. The leaves are evergreen, occasionally deciduous in cold areas, 5–12 cm long and 2–4 cm broad. The flowers are produced in dense bunches, brilliant red (rarely white or yellow), tubular, 2.5-4.5 cm long, split into four lobes near the apex which reflex to expose the stamens and style.

Chilean firetree, Chilean firebush, Notro in Spanish (Embothrium coccineum), is a small evergreen tree in the family Proteaceae. It grows in the temperate forests of Chile and Argentina. It produces deep red flowers (occasionally pale yellow) which group in clusters; blooming occurs in spring. In spring, when in full bloom, this tree really deserves the name "fire tree" or sometimes "flame tree". Also, it tends to be actively visited by humminbirds. The fruit is a dry follicle, with about 10 seeds inside.

It grows 4–15 m (13–50 ft) tall and can reach 50 cm (20 in) in diameter. The bark is dark grey with light spots. Its wood is light pink color, and besides for being very soft but durable, is used for elaborating spoons, kitchen vessels and another craft articles. It is grown as an ornamental in Great Britain and the United States, and as far north as Faroe Islands at 62 degrees North latitude.

The plant was introduced to Europe by William Lobb during his plant collecting expedition to the Valdivian temperate rain forests in 1845–1848. It was described by Kew Gardens as: "Perhaps no tree cultivated in the open air in the British Isles gives so striking and brilliant a display as this does."

It was in North America by 1908. It is grown primarily on the Pacific Coast, and even here was almost unavailable before the 1940s. The Chilean (Mapuche) name is Notro. The generic name Embothrium is from Greek en, in, and bothrion, a small pit; --the anthers are borne in cup-shaped pits.

Two forms are grown: 'Longifolium' and 'Lanceolatum'; 'Longifolium' is the more common cultivar. It is a vigorous upright plant that is quite drought tolerant and hardy to about -10°C. 'Lanceolatum' is a stockier grower with narrow leaves. It demands more moisture but withstands harder frosts, up to -15°C with some protection. However, in very cold winters it may lose up to two thirds of its foliage. Overall Embothrium requires more moisture than most Proteaceae but good drainage is still important. It may be grown from seed but is usually propagated by semi-ripe cuttings.

Source:
http://en.wikipedia.org/wiki/Embothrium
http://en.wikipedia.org/wiki/Embothrium_coccineum
http://coolexotics.com/articles/article-4-the-protea-family-proteaceae.html