December 2022
Did you know that the fruit of Crataegus mexicana is a main ingredient used in ponche the traditional Mexican punch that is served at Christmas and on New Year's Eve?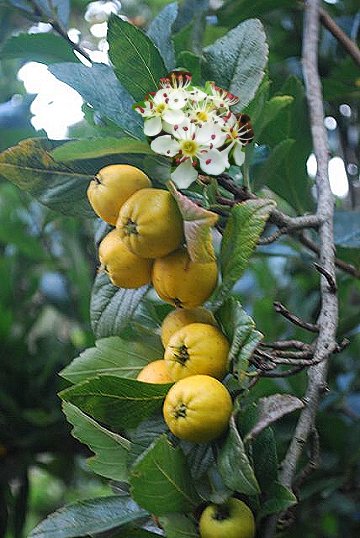 Tejocote - Mexican hawthorn (Crataegus mexicana).
Tejocote - Mexican hawthorn - Crataegus mexicana
Crataegus mexicana is a species of hawthorn known by the common names tejocote, manzanita, tejocotera and Mexican hawthorn. It is native to the mountains of Mexico and parts of Guatemala, and has been introduced in the Andes. The fruit of this species is one of the most useful among hawthorns.

Tejocote, the Mexican name for this fruit, comes from the Nahuatl word texocotl which means 'stone fruit'. The alternative (and ambiguous) name manzanita means 'little apple' in Spanish. The generic name, Crataegus, is derived from a Latinized Greek compound word literally meaning 'strong sharp,' in reference to the strong wood, and thorny habitus of several species.

The plant is native to Mexico and Central America but introduced in other parts of South America, where it usually grows in open forests and thickets, at elevations between 1500 and 2700 m. It is a large shrub or small tree growing to 5–10 m tall, with a dense crown and can form dense thickets.
The leaves are semi-evergreen, oval to diamond-shaped, 4–8 cm long, with a serrated margin. The flowers are off-white, rather unpleasantly scented, 2 cm diameter.
The edible fruit is a globose to oblong orange-red pome 2 cm long and 1.5 cm diameter, ripening in late winter only shortly before the flowers of the following year.

The fruit is a rather important one in Guatemala, where large quantities are produced and consumed. During the season, (the autumn and early winter of the northern hemisphere), it is offered in large amounts in most of the markets, being transported to regions where it is not grown.
The fruit is eaten in Mexico cooked, raw, or canned. It resembles a crabapple, but it has three or sometimes more brown hard stones in the center. It is used in jellies, jams and preserves etc and can be dried for later use. The raw fruit is not very appetizing, although of moderately agreeable flavour; it is cooked in various ways but is used principally in preparing an intensely sweet preserve that is one of the commonest desserts of Guatemala.
In Mexico the fruit is a main ingredient used in ponche, the traditional Mexican hot fruit punch that is served at Christmas time and on New Year's Eve. On Day of the Dead «Día de Muertos» tejocote fruit as well as candy prepared from them are used as offerings to the dead, and rosaries made of the fruit are part of altar decorations. A mixture of tejocote paste, sugar, and chili powder produces a popular Mexican candy called rielitos, because it resembles a tiny train rail.
The syrup is employed for flavouring some of the popular aguas gaseosas, similar to soda pop. For stewing, the fruits are first boiled with wood ashes to remove the skin, then boiled in hot syrup with red colouring for a short time and hung on nails stuck into poles, much like candied apples. There are up to five fairly large seeds in the centre of the fruit, these often stick together and so the effect is of eating a cherry-like fruit with a single seed.
Due to its high pectin content, the fruit is processed to extract pectin for food, cosmetic, pharmaceutical and textile uses.
Other uses include food for livestock (for which the leaves and fruits are used) and traditional medicinal uses.
Although no specific mention has been seen for this species, the fruits and flowers of many hawthorns are well-known in herbal folk medicine as a heart tonic and modern research has borne out this use. The fruits and flowers have a hypotensive effect as well as acting as a direct and mild heart tonic. They are especially indicated in the treatment of weak heart combined with high blood pressure. Prolonged use is necessary for it to be efficacious. It is normally used either as a tea or a tincture.
Á Mexican hawthorn root infusion is used as a diuretic and as a remedy for diarrhea, and fruit-based preparations are a remedy for coughing and several heart conditions.

The Mexican hawthorn tree's wood is hard and compact, it is useful for making tool handles as well as for firewood.
The plant is sometimes used in Guatemala as a stock on which to graft pears and apples.
Strung on cords, the rather handsome fruits are used as decorations for Christmas and other holidays.

Source:
https://en.wikipedia.org/wiki/Crataegus_mexicana
https://www.rarepalmseeds.com/crataegus-mexicana
https://temperate.theferns.info/plant/Crataegus+mexicanal