August 2004
Did you know that the plant centaurea was named after the wise Centaur Chiron of Greek mythology who used this plant as a medical herb?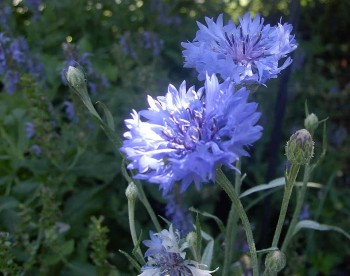 Cornflower (Centaurea cyanus)
Cornflower - Centaurea (Centaurea cyanus)
Centaureas are hardy, herbaceous, perennial and annual plants that are natives of many European countries, in North America and other numerous places. Some of the herbaceous kinds make very nice border plants. Centaureas belong to the Daisy family, Compositae.
There are about 500 species of Centaurea around the world, including the harmless annual corn flower or bachelor's button (C. cyanus). Species of the greek flora 71, including C. cyanus the same Kianos of the Ancient Greece. The annual Cornflower, C. Cyanus, also known as Bachelor's-Button, grows 1 to 1,5 feet high. This plant produces blue, rose or white flowers that may be single or double. They are great for cut flowers.
In fact, the genus name, Centaurea has its basis in Greek mythology. It is said that this flower was named after the wise Centaur Chiron, mentor of Asclepius, Achilleas, Jason, and Apollo. During the Titan war, Chiron took Herculesí side in his battle against the centaurs. But Hercules, by mistake, wounded Hironís foot with an arrow full of Hydra poison. Chiron used the "Centaurea" plant in order to heal his wound.
In spite of that history, cornflowers werenít as established as medicinals as other herbs, perhaps in part because of confusion with centaury (Centaurium, now known as Erythraea centaurium), which has a similar name but very different flower color. Both were thought to be beneficial for eye ailments--understandable for cornflowers because of their blue color. In the mid-1600ís, herbalists such as John Gerard and Nicholas Culpepper included cornflower, or ďblew-bottle,Ē in their books on useful herbs. Culpepper claimed the dried leaves could be used as a remedy against the poison of the scorpion, if they were mixed in water with plantain or comfrey. Modern herbalists donít advocate that, but they do consider a decoction of the leaves useful as an eye lotion.
The nickname "cornflower" comes from the fact that the plant grows wild in the grain fields of southern Europe. When Napoleon forced Queen Louise of Prussia from Berlin, she hid her children in a cornfield and kept them entertained and quiet by weaving wreaths of cornflowers. One of her children, Wilheim, later became the emperor of Germany. Remembering his mother's bravery, he made the cornflower a national emblem of unity.
No matter what you call them--cornflowers, bachelorís buttons, basket flower, or the old-fashioned blue-bottle--members of the genus Centaurea are wonderful additions to a garden. Even if they werenít great cut flowers, which they are, the blue color of the species would make them desirable.
Source:
http://www.gardenguides.com/flowers/annuals/bachelor.htm
http://www.colostate.edu/Depts/CoopExt/4DMG/Whats/centaur.htm
http://www.valentine.gr/mythology6_en.php