January 2013

Did you know that Sapindus plants are commonly known as soapberries or soapnuts because their fruit pulp is used to make soap?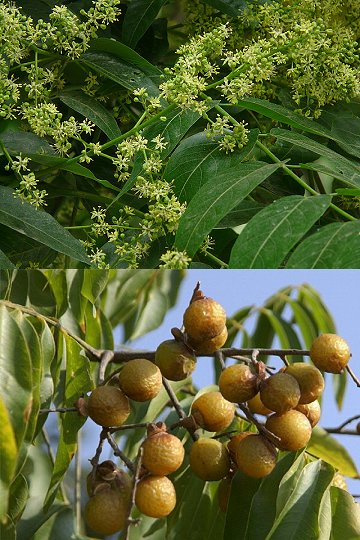 Shoapnuts Tree (Sapindus Mukorossi). Flower and fruit.
Shoapnuts Tree - Shoapberry - Sapindus spp.
Sapindus is a genus of about five to twelve species of shrubs and small trees in the Lychee family, Sapindaceae, native to warm temperate to tropical regions in both the Old World and New World. The genus includes both deciduous and evergreen species. Members of the genus are commonly known as soapberries or soapnuts because the fruit pulp is used to make soap. The generic name is derived from the Latin words saponis, meaning "soap", and indicus, meaning "of India".
Sapindus Mukorossi is a deciduous tree found wild in north India, usually with 5-10 pairs of leaves, solitary with large drupes. This tree belongs to the main plant order Sapindaceae and family Sapindeae. The species is widely grown in upper reaches of the Indo-Gangetic plains, Shivaliks and sub-Himalayan tracts at altitudes from 200m to 1500m. Also known as soap-nut tree, it is one of the most important trees of tropical and sub-tropical regions of Asia.
This tree flourishes in deep clayey loam soil and does best in areas experiencing nearly 150 to 200 cm (60 to 80 in) of annual rainfall. The trunk is straight and cylindrical, nearly 4 to 5 m (13 -16 ft) in height. The canopy comprising side branches and foliage constitutes an umbrella-like hemispherical top measuring about 5 m (16 ft) in diameter. The tree can reach a height of 25 m (82 ft) and a girth of 3 to 5 m (9-16 ft) in nearly 70 years of its existence. The wood is hard and light yellow in color. It is close-grained and compact weighing about 30 kg (66 lbs) per cubic foot. The wood is utilized for rural building construction, oil and sugar presses, and agricultural implements.
It flowers during summer. The flowers are small and greenish white, polygamous and mostly bisexual in terminal thyrses or compound cymose panicles. These are sub-sessile; numerous in number and at times occur in lose panicles at the end of branches. The fruit appears in July-August and ripens by November-December. These are solitary globose, round nuts 2 to 2.5 cm (1 in) diameter, fleshy, saponaceous and yellowish brown in color. The seed is enclosed in a black, smooth and hard globose endocarp. The fruit is collected during winter months for seed and/or market sales as "soap nut".

The seeds tend to germinate easily. To ensure the best results for germination, the seed is soaked in warm water for at least 24 hours and then sown (some prefer to scarify the seed surface prior to soaking by filing, scraping or carefully striking), either directly in already prepared pits at 5m x 5m (16 ft 16 ft) spacing or sown in pots filled with clayey loam soil mixed with farmyard manure or similarly prepared nursery beds.
Sapindus saponaria is a small to medium-sized deciduous tree native to the Americas. Common names include wingleaf soapberry, western soapberry, jaboncillo, and manele (Hawaiian). Its genus name, "Sapindus", comes from the Latin, meaning Indian soap, and its specific epithet means "soapy."
It often grows in clumps or thickets reaching about 20 ft. (6.1 m) in height in the western part of its range. Solitary trees though can grow as tall as 50 ft. (15.2 m) in height. In the western part of its range it is most often found growing at the head of prairie ravines, the margins of woodlands, the edges of fields or on rocky hillsides.
The leaves of the soapberry are alternate, pinnately compound, thick and leathery but deciduous, 8 in. (20 cm) to 15 in. (38 cm) in length, made up of 6 to 20 narrow lanceolate leaflets with long tapered tips and uneven wedge-shaped bases which are 2 in. to 5 in. (5 cm to 13 cm) long and .75 in. to 1.5 in. (2 cm to cm) wide. Midveins on leaves of var. saponaria are mostly winged, while those of var. drummondii are never winged.
The inflorescence are dense terminal panicles of small white flowers 6 in. to 10 in (15 cm to 20 cm) long. Flowering occurs in May-June for var. drummondii and in November for var. saponaria. The fruit occur in large pyramidal clusters at the ends of branches. Each golden colored fruit is between 1.2 in. to 1.4 in. (3 cm to 3.6 cm) in diameter and becomes translucent and wrinkled when fully mature and contains a single black seed about .35 in (9 mm) in diameter. Fruits of var. drummondii ripen in October and often remain on the tree until spring, while those of var. saponaria ripen in spring.
The twigs of var. drummondii are gray-brown and hairy with short tan colored hairs while those of var. saponaria are gray and hairless. Buds on var. drummondii are small dark brown and hairy while those on var. saponaria are small brown and hairless. The trunk of var. drummondii has light gray, scaly with thin plate like bark and sometimes shallowly furrowed while var. saponaria has gray to reddish colored scaly bark.
The drupes (soapnuts) of Sapindus plants contain saponins which are a natural surfactant. They have been used for washing for thousands of years by native peoples in Asia as well as Native Americans. Soapnuts are being considered and used for commercial use in cosmetics and detergents as well as many other products. The soapnuts from the Sapindus Mukorossi tree have the highest saponin content.
Soapnuts have been used medically as an expectorant, emetic, contraceptive, and for treatment of excessive salivation, epilepsy, psoriasis, head lice and migraines. Studies have shown that saponin from soap nuts inhibit tumor cell growth. Soap nuts are among the list of herbs and minerals in Ayurveda. They are a popular ingredient in Ayurvedic shampoos and cleansers. They are used in Ayurvedic medicine as a treatment for eczema and psoriasis. Soap nuts have gentle insecticidal properties and are traditionally used for removing lice from the scalp. Soapnuts have long been used in the Western world for soap production, usually together with many chemical additives which are not necessary for the actual washing process and are damaging to the user as well as our environment. Soapnuts have become a very popular environmentally friendly alternative to these manufactured chemical detergents.

Source:
http://en.wikipedia.org/wiki/Sapindus
http://www.sapindusmukorossi.com/
http://en.wikipedia.org/wiki/Sapindus_saponaria