December 2008
Did you know that Stenocarpus sinuatus takes the name Firewheel tree from the configuration and colour of the inflorescences in which the small flowers have a wheel-like arrangement?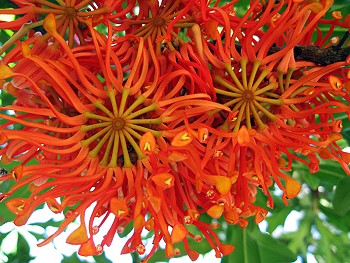 Firewheel Tree - Stenocarpus sinuatus
Firewheel Tree - Stenocarpus sinuatus
Stenocarpus is a genus of around 25 species of woody trees or shrubs of the family Proteaceae, occurring in rainforests of Eastern and monsoonal areas of Northern and North-Western Australia (9 species) with 2 extending into New Guinea and the Aru Islands, with the greatest diversity occurring in New Caledonia, where the majority are found.

By far the most well known in Australia is Stenocarpus sinuatus, the Queensland Firewheel Tree, which is commonly used as a street or garden tree on the East Coast.
The Queensland Firewheel Tree (Stenocarpus sinuatus) is a large tree (12m ? 8m) that produces a magnificent display of orange to red flowers in summer. It has large, glossy, dark green leaves that are deeply lobed. The flowers are tubular and are carried in flattened clusters that radiate spoke-like from a central hub, hence the name firewheel tree.
Stenocarpus salignus is a species with long, narrow leaves and cream flowers. It is smaller and hardier than Stenocarpus sinuatus.
The name Stenocarpus derived from Greek stenos, narrow and carpos, a fruit, a reference to the characteristics of the seed capsules. Sinuatus...From Latin sinuatus, wavy, a reference to the margins of the leaves.
The firewheel tree takes its name from the configuration and colour of the inflorescences in which the small flowers have a wheel-like arrangement. It is one of Australia's most spectacular trees. S.sinuatus occurs in nature as a tree to about 30 metres but it is usually smaller (about 10 metres) in cultivation, particularly in cooler areas. The dark, glossy green leaves may be entire or lobed and up to 450 mm long. The conspicuous flower clusters are seen in summer through to autumn.
Normal flowering takes place from summer to autumn though odd flowers may occur when induced by high rainfall and humidity. This tree produces copious quantities of viable winged seed contained in multiple pods about 7cm long
Firewheel tree can be grown readily from either seed or cuttings. Plants grown from seed may take 7 years or more to flower. Cutting-grown plants propagated from mature flowering plants will usually flower in 3-4 years.

Despite its sub-tropical to tropical origin, S.sinuatus is adaptable to a range of climates and will even succeed in dry climates if additional water is available. It is hardy to about -4įC once well established but is very tender when young. It prefers fairly rich, loamy soils but is tolerant of most well drained soils. It may be grown in a sunny or partly shaded location.

Source:
http://en.wikipedia.org/wiki/Stenocarpus
http://bigresidence2u.net/Articles/29059.html
http://asgap.org.au/s-sin.html
http://asgap.org.au/APOL17/mar00-14.html#firewheel