March 2004
Did you know that, Western gardeners grow Forsythia shrub exclusively as an ornamental, but in China it is used for culinary and medicinal purposes?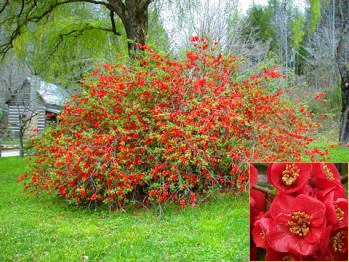 Chaenomeles - Flowering Quince (Chaenomeles japonica speciosa)
Chaenomeles - Flowering Quince (Chaenomeles japonica speciosa)
This group consists of three hardy, deciduous shrubs from eastern Asia, commonly known as Flowering Quinces. These thorny shrubs are suitable for growing against walls, in borders and standing alone. Flowering Quinces are easily grown and are valued for their saucer-shaped blossoms, which may be red, pink, orange, or white and are followed by large, fragrant fruits. (The plant that is grown for its edible fruits is, Cydonia, the orchard Quince.)
Flowering quinces (Chaenomeles speciosa) are grown for their warm-colored flowers and thorny, gray-brown branches. Waxy flowers emerge before or during the first flush of growth in early spring -- anywhere from late January through March in the South, March and April in northern regions. Individual flowers are borne on the branches, looking something like apple blossoms in their form. Some have a single ring of petals, others many overlapping ones. Flowering quince braves the unpredictable early-spring weather to provide an explosion of color that arrives weeks before that of other spring-flowering shrubs. The flower color depends on the cultivar grown. When in flower, the shrubs attract bees.
Cut branches with swollen flower buds may be forced indoors, making a welcomed winter flower arrangement. To prune, remove only crossing, diseased or broken branches. Flowering quince should never be sheared.

This deciduous, broadly spreading shrub grows anywhere from 6-10 feet tall and spreads as wide. The 1 1/2- to 3-inch leaves are bronzy in early spring before they turn dark, glossy green.

In fall, quinces produce hard, greenish-yellow fruit about 2 inches in diameter. The fruit is not ornamental, it is very astringent, so it's no good to eat raw. But have a high pectin content and reportedly makes a tasty jelly or marmalade.
Recently European industry try to grow Japanese quinces in wide range crops but not for onramental purpose. The general objective of the project is to develop Japanese quince (Chaenomeles japonica) to a competitive European industrial multi-purpose crop for production of juice, flavour, and fruit fibre. The project aims at carrying out necessary fundamental and applied research on Japanese quince to investigate limits and potentials from agronomic, biological, technological and economical point of view. In particular, the project focuses-on the biological potentials as a base for commercial processing.
Source:
http://www.greenbeam.com/features/plant080299.stm
http://www.msue.msu.edu/imp/modzz/00000335.html
http://www.bushesandshrubs.com/common_names/
red_flowering_quince.shtml
http://www.nf-2000.org/secure/Fair/F912.htm
http://www.botany.com/chaenomeles.html