July 2019
Did you know that the plant Coccoloba uvifera is called Sea grape because its fruit looks like a bunch of grape and because it thrives in coastal areas?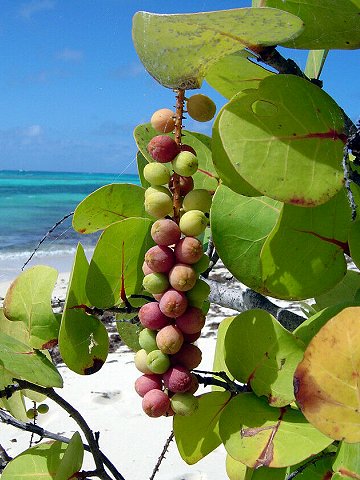 Sea grape (Coccoloba uvifera).
Sea grape - Coccoloba uvifera
Coccoloba uvifera is a species of flowering plant in the buckwheat family, Polygonaceae, that is native to coastal beaches throughout tropical America and the Caribbean, including southern Florida, the Bahamas, the Greater and Lesser Antilles, and Bermuda. Common names include seagrape and baygrape.
Sea grape is an evergreen shrub, or sometimes a tree, varying in height and habit according to its environment. Growing near the seashore, it is typically 2 to 4 m (7 to 13 ft) tall, sometimes with multiple trunks that divide at the base in a v-shape, forming a wide-spreading crown. Inland and away from the coastline it tends to be taller, reaching heights of up to 15 m (50 ft) and is more tree-like, usually with a single trunk and rounded crown. In larger trees tha bole can be straight and up to 40cm in diameter.
Leaves large with a rounded saucer-shape, dull green, prominently veined and with a firm leathery fell to them. Most change colour in the dry season, becoming bright red before falling to the ground. They are replaced by new leaves in the rainy season emerging bronze-red, gradually becoming green with age.
Sea grape is a dioecious species, that is, male and female flowers are borne on separate plants, and cross-pollination is necessary for fruit to develop. Honey bees and other insects help pollinate these plants;[4] male and female plants can be distinguished by the appearance of their flowers, as males usually show dead flower stalks.
Flowers small, white, fragrant and with female and male flowers on separate plants. They bloom mainly in spring, but also occasionally throughout the rest of the year.In late summer, the flowers on female plants are followed by small, round, green fruit held in tight clusters. Ripening to deep purple, they somewhat resemble a long bunches of grapes. Each contains a large pit that constitutes most of the volume of the fruit.

The fruit have a large seed and thin pulp that although astringent has a sweetish, grape-like flavour when fully ripe. They are picked and eaten fresh, mainly by beachgoers, but are considered a minor fruit. However, they make an excellent jam or jelly to spread on bread and pastries. They also sustain wild bird-life in its native range, including indigenous pigeon species.

The plant is often harvested from the wild as a food, medicine and source of wood - when available in sufficiently large sizes the wood is particularly valued for cabinet work and furniture. It is sometimes cultivated for its edible fruits and is often grown as an ornamental, being particularly useful as a hedge in maritime areas.
An astringent juice obtained from the plant is known as 'Jamaica kino'. It is used to treat diarrhoea and dysentery. A decoction of the bark is used to treat intestinal disorders.
Shrubs growing on or near beaches provide much-needed shade to beachgoers seeking relief from the hot afternoon sun. It is a good candidate for planting to minimise beach erosion, being one of the first woody plants to naturally colonise sandy beaches.
The flowers produce good quantities of nectar for honey, which is pale in colour but cloudy and with a high moisture content.
The wood is fine-grained, heavy and hard, but susceptible to termite infestation. The roundwood is used mostly for firewood and for making charcoal. The firewood is reported to be and the charcoal has a history of use by blacksmiths in Mexico. A red astringent substance called W. Indian kino (a tannin) is extracted from the bark and used in tanning and dyeing. A dye is obtained from the peel of the fruit
The large, round, leathery leaves are used as backing greenery by florists, particularly in large arrangements.

Source:
https://en.wikipedia.org/wiki/Coccoloba_uvifera
http://tropical.theferns.info/viewtropical.php?id=Coccoloba+uvifera
https://www.iplantz.com/plant/454/coccoloba-uvifera/