December 2013
Did you know that the huge tree Ombu (Phytolacca dioica) is actually herbaceous bush?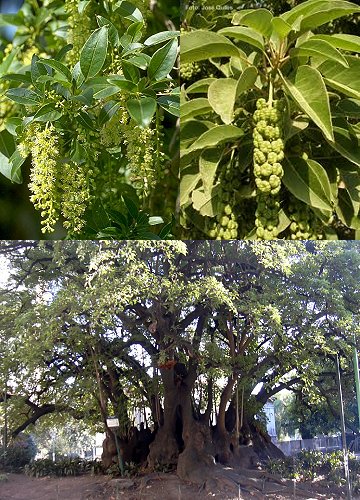 Ombu (Phytolacca dioica). Flowers, fruits, trunk
Ombu - Phytolacca dioica
Phytolacca dioica, of Phytolaccaceae family, commonly known as Ombu, is a massive evergreen tree native to the Pampa of South America . It has an umbrella-like canopy that spreads to a girth of 12 to 15 meters (40 to 50 feet) and can attain a height of 12 to 18 meters (40 to 60 feet).
The herb is categorized in the same genus as the North American pokeweed. The species is also cultivated in Southern California as a shade tree.
The generic name Phytolacca is derived from the Greek word phyton (plant) and the Latin word lacca, a red dye.
Because it is derived from herbaceous ancestors, its trunk consists of anomalous secondary thickening rather than true wood. As a result, the ombu grows fast but its wood is soft and spongy enough to be cut with a knife. These properties have led it to be used in the art of bonsai, as it is easily manipulated to create the desired effect. Also its trunk has high water storage capacity which make sit resistant to grass fires and drought.
The Ombu can be found in Argentina, Brazil and Uruguay. ---It does not need much water considering there is only 1-3 inches of rainfall a year in its natural habitat. That amount--- The amount of water is not enough to support a lot of trees and even the Ombu plants are widely spaced because of the limited availability of water. Droughts can occur in the grasslands, so the plants that grow there often develop unique characteristics.
The bush is covered with dark, glossy, green leaves. It has greenish-white flowers that grow in long clusters. These clusters droop from the weight of the crimson, ripe berries that develop from these flowers.
The Ombu's massive, fire resistant trunks contain water storage tissue, an excellent adaptation for intense grassland fires which are common in this region. The "trees" have enlarged bases in which they store water. This plant is plentiful in the pampas regions. It grows naturally in these areas.
It is a symbol of Uruguay and Argentina, and is also known as the "Lighthouses" of the pampas, as its canopy is quite distinguishable from afar and provides comfort and shelter from sun and rains for gauchos (South American cowboys) and other people that are traveling through the grasslands.
Since the sap is poisonous, the ombu is not grazed by cattle and is immune to locusts and other pests. For similar reasons, the leaves are sometimes used as a laxative or purgant. They are said to be all right to eat leaves when young, the toxins developing as they grow older. Other parts of the plant, including the fruit, are likely to be poisonous.
Edible Uses (Some caution is advised): Young leaves and shoots - cooked and used as a vegetable. The leaves should not be eaten raw, and only the young leaves should be used, because they become toxic with age. The fruits are made into jellies or jams and are also used as a red colouring for food.

Source:
http://en.wikipedia.org/wiki/Phytolacca_dioica
http://www.blueplanetbiomes.org/ombu.htm
http://www.pfaf.org/user/Plant.aspx?LatinName=Phytolacca+dioica