February 2013

Did you know that the fruit of Momordica charantia, is among the most bitter of all edible fruits?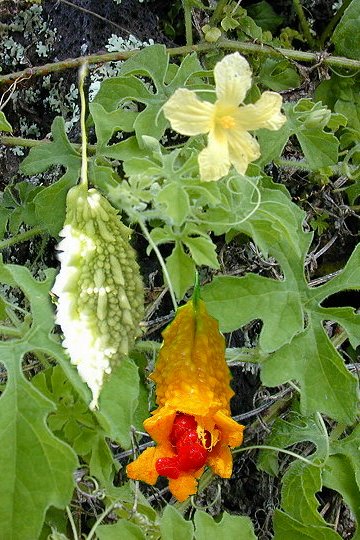 Bitter Melon (Momordica charantia). Flower and fruit.
Momordica - Bitter Melon - Momordica charantia
Momordica is a genus of about 60 species of annual or perennial climbers herbaceous or rarely small shrubs belonging to the family Cucurbitaceae, natives of tropical and subtropical Africa and Asia and Australia.

Some Momordica species are grown in cultivation for their fleshy fruit, which are oblong to cylindrical in shape, orange to red in colour, prickly or warted externally, and in Momordica charantia burst when ripe, generally with elastic force, into irregular valves.

Momordica charantia (bitter melon, Chinese: ku gua) is native to the Old World tropics. It is a tropical and subtropical vine of the family Cucurbitaceae, widely grown in Asia, Africa, and the Caribbean for its edible fruit, which is among the most bitter of all fruits. Its many varieties differ substantially in the shape and bitterness of the fruit.
This herbaceous, tendril-bearing vine grows to 5 m. It bears simple, green, hairy, alternate leaves 4–12 cm across, with three to seven deeply separated toothed lobes. The stems have twining tendrils and are slender, green, and hairy. The plants are monoecious. Each plant bears separate yellow male and female flowers. In the Northern Hemisphere, flowering occurs during June to July and fruiting during September to November. The flowers are up to 1 1/4 inches (3 cm) across and have 5 ruffled, egg-shaped petals. The female flowers are followed by warty, egg-shaped to oblong, green ripening to yellow and then orange fruit with a tapering tip.
When fully ripe, the orange fruits split open into 3 curling segments to reveal black seeds enclosed in soft, bright red pulp. The fruit has a distinct warty exterior and an oblong shape. It is hollow in cross-section, with a relatively thin layer of flesh surrounding a central seed cavity filled with large, flat seeds and pith. The fruit is most often eaten green, or as it is beginning to turn yellow. At this stage, the fruit's flesh is crunchy and watery in texture, similar to cucumber, chayote or green bell pepper, but bitter. The skin is tender and edible. Seeds and pith appear white in unripe fruits; they are not intensely bitter and can be removed before cooking.
As the fruit ripens, the flesh (rind) becomes tougher, more bitter, and too distasteful to eat. On the other hand, the pith becomes sweet and intensely red; it can be eaten uncooked in this state, and is a popular ingredient in some Southeast Asian salads. When the fruit is fully ripe, it turns orange and mushy, and splits into segments which curl back dramatically to expose seeds covered in bright red pulp.
Bitter melon comes in a variety of shapes and sizes. The Chinese variety is 20–30 cm long, oblong with bluntly tapering ends and pale green in color, with a gently undulating, warty surface. The bitter melon more typical of India has a narrower shape with pointed ends, and a surface covered with jagged, triangular "teeth" and ridges. It is green to white in color. Between these two extremes are any number of intermediate forms. Some bear miniature fruit of only 6–10 cm in length, which may be served individually as stuffed vegetables. These miniature fruit are popular in India and elsewhere in Southeast Asia.
Although bitter, the green fruit is edible if cooked, and it is a popular vegetable in Asian cooking. Green Bitter Melons are commonly found in produce markets in Hawaii. The ripe yellow or orange fruit is not edible. The plants and especially the ripe orange fruits have a repulsive odor. The ripe orange fruit and mature seeds are toxic, as are the uncooked plants if eaten in large amounts.
The whole plant has been used in major Asian recipes treatment of serious diseases, in traditional medicine for a long time, such as, to treat wounds, burns, treat malaria, diabetes, syphilis, stomach ulcers, lung cancer, prostate cancer, various malignant tumors of the colon and generally fight cancer cells, both internally and superficially. However because of the possible resulting side effects, it's recommended that pregnant women and those with hypoglycemia avoid consuming it.

Source:
http://en.wikipedia.org/wiki/Momordica
http://en.wikipedia.org/wiki/Momordica_charantia
http://wildlifeofhawaii.com/flowers/958/momordica-charantia-bitter-melon/