January 2018
Did yo know that scientists found an ancient, 2.000 years old Magnolia kobus seed which - when they planted it - grew?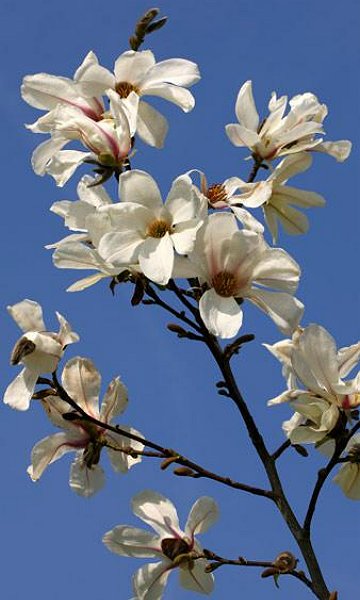 Northern Japanese Magnolia (Magnolia kobus). Flowers.
Northern Japanese Magnolia - Magnolia kobus
Magnolia kobus, known as mokryeon, Kobus magnolia, or Kobushi magnolia, is a species of Magnolia native to forest areas in Japan and occasionally cultivated in temperate areas. It is a deciduous, small to tall tree which has a slow rate of growth but can reach 8–15 m (25–75 ft) in height and up to 10 m (35 ft) in spread.
Magnolia kobus is classified within Magnolia subgenus Yulania. The Kobushi magnolia is closely related to the star magnolia (Magnolia stellata), and some authorities consider the star magnolia to be a variety of M. kobus, M. kobus var. stellata. Specific epithet (kobus) comes from the Japanese word kobushi meaning fist, in reference to flower bud shape resembling a small fist.
As a tree, it is pyramidal when young, maturing to a spreading, dense, rounded form. It typically grows slowly to as much as 25-30' over time with a similar to slightly larger spread.
It is noted for its late winter to early spring bloom of goblet-shaped to cup-shaped, fragrant, often pink-tinged, white flowers (each to 4" across) which open in March before the foliage emerges, as with most members of Magnolia subgenus Yulania. Trees flower poorly when young, and may need as much as 25 years before reaching best flowering status.
The summer foliage of the Kobushi magnolia is dark green. Leaves are aromatic, have an obovate shape with a pointed tip, a smooth, or glabrous, leaf underside, and smooth, even edges. Leaves are 8–15 cm (3–6 in) long, in an alternating arrangement. In autumn, the leaves take on a yellow color and drop from the tree.
The fruit of the Kobushi magnolia grows in groups of small red seeds. The groupings are one to three inches in size, and the seeds split open in fall and attract birds.
Older bark, such as that of the trunk, is grey-brown, while new stems are green with small brown spots. There is a strong odor to broken branches or twigs.
A seed estimated to be 2.000 years old was found in a pit in the ancient bronze-age village of Asada. It is a Japanese bronze-age village, where the buildings are on stilts and have been reconstructed exactly as they were back then. The people who lived here were among the first people to work with metal and were also among the first people in Japan to learn how to plant and reap rice. They stored their harvest in small pits in the ground and in one of those pits scientists found a magnolia seed which - when they planted it - grew. At first it looked like Magnolia Kobus, a wild species that still grows in Japanese woods. But when it was 10 years old it flowered and revealed flowers with different numbers of petals on them. Unlike the other Magnolia trees it had 7 or 8 petals on its blossoms rather than six. Is this because the seed was so old? Or is this what Magnolia Kobus used to look like 2.000 years ago? Or is this an ancient species that no longer exists? The questions have not yet been answered, but this ancient seed shows that plants are incomparable time travellers.
The Kobushi magnolia prefers full sun to partial shade, rich, well-drained soil, and is tolerant of acidic soils. It can be propagated either by seed or by cuttings Kobushi magnolia is used in architecture and landscaping as it is a flowering tree requiring low maintenance. It is a famous and valuable decorative plant in Japan.
Edible Uses. Flowers and flower buds - cooked. The leaves are eaten or used to make a tea. Older leaves are powdered and sprinkled on foods as a flavouring.
Young buds of M. kobus are important ingredients in the Chinese medicine 'Shin-I' which is used as a sedative or analgesic. In Japan 'Shin-I' is taken internally for the treatment of headaches or colds. The chemical components found in this species are known to have anti-oxidative and antibacterial properties.

Source:
https://en.wikipedia.org/wiki/Magnolia_kobus
http://www.bbc.co.uk/programmes/p009c12m
http://www.missouribotanicalgarden.org/PlantFinder/PlantFinderDetails.aspx?taxonid=282534
http://www.iucnredlist.org/details/193954/0