September 2007
Did you know that Pittosporum species contains toxic substances, the saponins which are used as soap or as a bird repellent?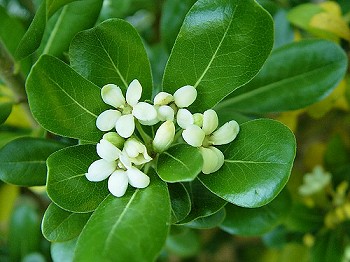 Japanese pittosporum - Pittosporum tobira
Pittosporum - Pittosporum spp.
Pittosporum is a genus of about 200 species of flowering plants in the family Pittosporaceae. The genus is probably Gondwanan in origin; its present range extends from Australasia, Oceania, eastern Asia and some parts of Africa.

The species are trees and shrubs growing to 2-30 m tall. The leaves are spirally arranged or whorled, simple, with a waved margin. The flowers are produced singly or in umbels or corymbs, each flower with five sepals and five petals; they are often sweetly scented. The fruit is a woody seed capsule, which bursts on ripening to release the numerous seeds. The seeds are coated with a sticky resinous substance. The genus is named after their sticky seeds, from the Greek meaning 'pitch-seed'.

Pittosporum undulatum (Sweet Pittosporum) from eastern Australia is an invasive weed in some areas. Karo (Pittosporum crassifolium) is a small wild tree or shrub native to New Zealand. Mature trees grow to about 5m in height. Karo has dense dark gray-green leathery foliage and small red-purple flowers. Pittosporum tenuifolium and P. eugenioides, both from New Zealand, and Pittosporum tobira from southern Japan are widely cultivated as ornamental plants in warm areas.
Pittosporum tobira is as beautiful broadleafed evergreen shrub or small tree can reach up to 15 ft (4.6 m) in height and approximately the same in width. In general the Japanese pittosporum grows taller in the shade while those grown in full sun are more compact. In both situations the plant assumes an upright round-headed form with branches radiating out from around the stems. This pittosporum is native to China and Japan, but is used as an ornamental in milder climates throughout the world.
Pittosporum tobira can be grown as an outside plant or as a containerized shrub. Pittosporum plants displays bright green leaves year and grows best in shady areas of low light. The flowers are small, white, and very fragrant. Florists use stems and leaves as fillers in floral arrangements.

Pittosporum shrubs are not fast growing, but eventually can form an excellent privacy hedge to block out automobile noise and fume emissions. Because Pittosporum tobira shrubs are salt water tolerant, these shrubs are popularly used in landscaping at coastal areas. Large specimens of Pittosporum tobira are used as evergreen small trees, that subtly present an exotic, tropical appearance. Pittosporium tobira "Variegata" has variegated white and light green leaves with fragrant white flowers, blooming in the summer. The variegated leaf form of Pittosporum tobira is not burned by strong sunlight, like most variegated shrubs.

Pittosporum species contains toxic substances, the saponins. Saponins are found in many foods, such as some beans, and although they are fairly toxic to people they are poorly absorbed by the body and most pass straight through without any problem. They are also broken down if the food is thoroughly cooked for a long time. Saponins are much more toxic to some creatures, such as fish. These have the potential to be used as soap or as a bird repellent. Since they are very bitter they can be sprayed over plants that you do not want the birds to eat. The saponins are easily removed by washing or the next rain shower.

Source:
http://en.wikipedia.org/wiki/Pittosporum
http://www.floridata.com/ref/P/pitt.cfm
http://www.ezinearticles.com/
http://www.pfaf.org/database/plants.php?Pittosporum+phillyreoides