April 2014
Did ypu know that the raisin fruit of Hovenia dulcis it is not a true fruit but a swollen receptacle?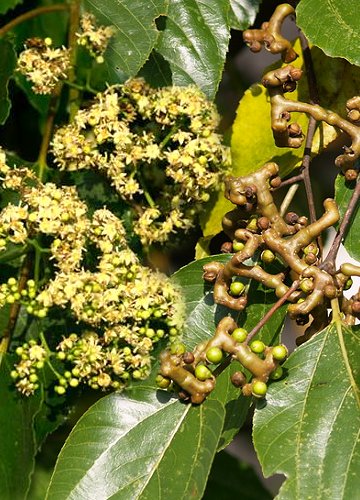 Raisin Tree (Hovenia dulcis). Flowers and fruits
Raisin Tree - Hovenia dulcis
Hovenia dulcis, also known as Japanese Raisin Tree or the oriental raisin tree, is a hardy tree found from Asia, over Eastern China, Japan and Korea to the Himalayas (up to altitudes of 2,000 m), growing preferably in a sunny position on moist sandy or loamy soils. The tree has been introduced as an ornamental tree to several countries, and the fruit is also edible. It belongs to the genus Hovenia of the family Rhamnaceae and is one of three species of Hovenia, the other two being acerba and trichocarpa. This particular species, dulcis, has two variants known as tomentella and koreana. Both variants of dulcis and acerba have been used as medicinal plants.

Tree, rarely a shrub, deciduous, to 10–30 m tall. Branchlets brown or black-purple, glabrous, with inconspicuous lenticels. The glossy leaves are large and pointed. The trees bear clusters of small cream-coloured hermaphroditic flowers in July. The drupes appear at the ends of edible fleshy fruit stalks (rachis), which is a type of accessory fruit.
Japanese raisintree is often cultivated for container planting or urban parking lots and landscapes. This is because it has an upright habit, showy flowers and fruit, and a moderate growth rate. Propagation is by seeds or cuttings.
The fleshy rachis of the infructescence is sweet, fragrant and is edible raw or cooked. They can be dried when they have the sweet flavour and texture of raisins and can be used similarly[183]. The fruit is sweet and fragrant[105, with a pear-like flavour. Dry and sub-acid. It is not a true fruit but a swollen receptacle. The fruit is up to 3cm long, it contains 11.4% glucose, 4.7% fructose and 12.6% sucrose. A sweet extract of the seed, boughs and young leaves can be used as a substitute for honey and is used for making wine and candy. The seed contains 15% protein and 7.8% fat.
An extract of the leaves contains hodulcine (or hoduloside), a glycoside which exhibits an anti-sweet activity. Ampelopsin is a flavanonol found in H. dulcis and is credited with hepatoprotective effects. For that Hovenia dulcis has traditionally been used as an anti-Alcohol herb and hangover cure. At least one human study has noted that, when taken before drinking, it can reduce circulating levels of alcohol. Hovenia dulcis is a Traditional Chinese Medicine for hangovers that is distributed naturally in the areas surrounding China, Japan, Korea, and the Himilayas;
The Korea Food & Drug Administration approved in December 2008 that extracts of the Hovenia dulcis fruit can protect and help recover the liver from substances such as alcohol. The main chemical for this effect in Hovenia dulcis is Quercetin, which has anti-inflammatory and anti-oxidant properties.
Hovenia dulcis used in general for economic reasons such as a bee plant for honey production, an environmental ornamental plant, and fruit for consumption. Fleshy rachis is edible and used for making wine and candy. The timber is fine and hard and used for building construction and fine furniture.

Source:
http://en.wikipedia.org/wiki/Hovenia_dulcis
http://www.pfaf.org/user/plant.aspx?LatinName=Hovenia+dulcis
http://examine.com/supplements/Hovenia+dulcis/