May 2021
Did you know that there is a tradition in Japan to take a bath with Yuzu (Citrus junos) fruits during winter solstice?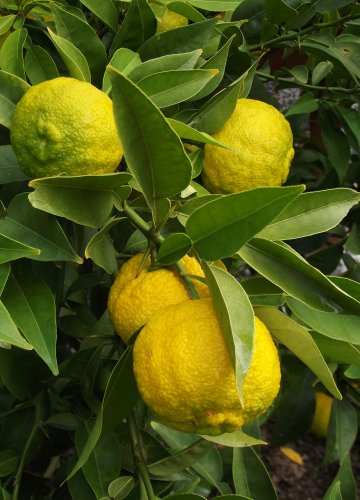 Yuzu (Citrus junos). Leaves and fruits.
Yuzu - Citrus junos
Yuzu (Citrus junos) éis a citrus fruit and plant in the family Rutaceae of East Asian origin. Yuzu has been cultivated mainly in East Asia, though recently also in Australia, Spain, Italy and France.

It is believed to have originated in central China as a hybrid of mandarin orange and the ichang papeda (Citrus ichangensis). The yuzu is called yuja in Korean cuisine. Both Japanese yuzu and Korean yuja are borrowings of the Chinese yòuzi, though this Chinese word now refers to the pomelo.
Citrus junos physically resembles the bitter orange tree (Citrus aurantium ssp amara) and it reaches a height of approximately 4 meters. The tree's growth habit is upright, spreading and moderately vigorous, and there is a presence of 5 millimetres thorns in each leaf axil. It has a densely, rounded foliage with oval shaped leaves that are smooth and deep green in colour. The edge of the leaves is found to be entire or slightly crenulate. From late spring to early autumn, the tree blooms white flowers. The small, white, spring-like flowers are lightly scented.
The fruit looks somewhat like a small grapefruit with an uneven skin, and can be either yellow or green depending on the degree of ripeness. Yuzu fruits, which are very aromatic, typically range between 5.5 cm (2.16 in) and 7.5 cm (2.95 in) in diameter, but can be as large as a regular grapefruit (up to 10 cm (3.93 in) or larger). The seeds are plump and large, and it is said that each fruit could have an average of 28 seeds per fruit.
One of the most cold resistant of the citrus fruits, the yuzu originated and grows wild in central China and Tibet region. Cultivated on a very small scale in regions of China, this fruit is much more common in Japan. It was introduced to Japan and Korea during the Tang dynasty, and is still cultivated there. Growing throughout Japan, it loves living next to streams. It grows slowly, generally requiring 10 years to fruit.

The edible fruit is relatively rare, and highly prized in the Orient. Though rarely eaten as a fruit, yuzu is a common ingredient in Japanese cuisine, where the aromatic zest (outer rind) as well as juice are used much in the same way that lemons are used in other cuisines. The yuzu's flavour is tart and fragrant, closely resembling that of the grapefruit, with overtones of mandarin orange. It is an integral ingredient (along with sudachi, daidai, and other similar citrus fruits) in the citrus-based sauce ponzu, and yuzu vinegar is also produced. Yuzu is often combined with honey to make yuzu hachimitsu —a kind of syrup that is used to make yuzu tea, or as an ingredient in alcoholic drinks such as the yuzu sour. Yuzu kosho (also yuzukosho, literally "yuzu and pepper"), is a spicy Japanese sauce made from green or yellow yuzu zest, green or red chili peppers, and salt. It is used to make liquor (such as yuzukomachi, and wine. Slivered yuzu rind is used to garnish a savoury, salty egg-pudding dish called chawanmushi, as well as miso soup. It is often used along with sudachi and kabosu. Yuzu is used to make various sweets including marmalade and cake. It is used extensively in the flavouring of many snack products, such as Doritos.

In Korean cuisine, yuja is most commonly used to make yuja-cheong (yuja marmalade) and yuja tea. Yuja-cheong can be made by sugaring peeled, depulped, and thinly sliced yuja, and yuja-cha (yuja tea) can be made by mixing hot water with yuja-cheong. Yuja-hwachae (yuja punch), a variety of hwachae (fruit punch), is another common dessert made with yuja. Yuja is also a common ingredient in Korean-style western food, such as salads.
Beginning in the early 21st century, yuzu has been increasingly used by chefs in the United States and other Western nations, achieving notice in a 2003 article in The New York Times. A tropical taste that's making a big hit with chefs, the culinary virtues of the yuzu are making the common orange, lemon and lime take a back seat in a variety of tasty exotic creations.

Yuzu is also known for its characteristically strong aroma, and the oil from its skin is marketed as a fragrance. It is used in many ways; also in skincare products, aromatic oils and in the bath too!
A traditional hot bath the "yuzu-yu", or yuzu bath is enjoyed in Japan on the evening of Tōji the winter solstice, ---This day marks midwinter and is the shortest day of the year. In the northern hemisphere this usually occurs around 22 December, at the peak of the yuzu harvest season---, is a custom that dates to at least the early 18th century. Around this time, many public onsen (hot springs) and sento (public baths) add whole yuzu fruits to their bath water. Sometimes the fruits are added inside a cloth bag, are scored across the skin or are added to the bath sliced open, allowing the juice to mingle with the bath. The bright fruits float and bob around in the warm water, creating a pleasant citrus aroma. The yuzu bath, known commonly as yuzu yu, but also as yuzu buro, is said to guard against colds, treat the roughness of skin, warm the body, and relax the mind. It's also common to take this yuzu bath at home, adding the fruits to your own bath. In Japan, supermarkets increase stocks of yuzu in preparation for this tradition!

Source:
https://en.wikipedia.org/wiki/Yuzu
https://www.asklepios-seeds.de/
gb/citrus-junos-samen-yuzu-zitrone-winterhart-bis-15c.html
https://www.specialtyproduce.com/produce/Yuzu_Limes_1674.php
http://slowsoak.com/japanese-yuzu-bath-complete-guide/