February 2021
Did you know that Myrica Rubra plant is native to eastern Asia, mainly in China, where it has been grown for at least 2000 years?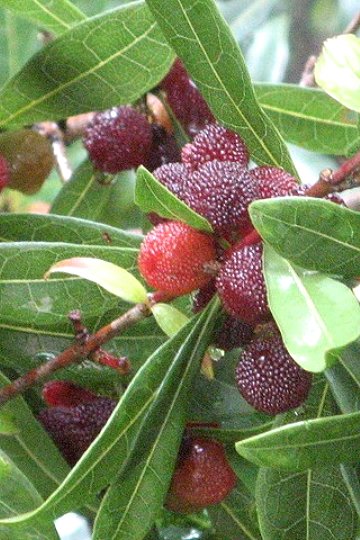 Chinese bayberry (Myrica rubra). Leaves and fruits.
Chinese bayberry - Myrica rubra
Myrica Rubra is a subtropical tree grown for its sweet, crimson to dark purple-red, edible fruit. It is native to eastern Asia, mainly in China, where it has been grown for at least 2000 years. Myrica rubra, also called yangmei, yamamomo (Japanese: "mountain peach"), Chinese bayberry, Japanese bayberry, red bayberry, yumberry, waxberry, or Chinese strawberry (and often mistranslated from Chinese as arbutus).

Myrica rubra is an evergreen tree that grows to a height of up to 10–20 m (33–66 ft) meters high, with smooth gray bark and a uniform spherical to hemispherical crown. It tolerates poor acidic soils. The root system is 5–60 cm (2.0–24 in) deep, with no obvious taproot.
Leaves are leathery, bare, elliptic-obovate to oval lanceolate in shape, wedge-shaped at the base and a rounded to pointed or tapered at the apex, margin is serrated or serrated in the upper half, with a length of 5–14 cm (2.0–5.5 in) and a width of 1–4 cm (0.39–1.57 in). Leaves are alternately arranged on the branches are divided into petiole and leaf blade. The petiole is 2–10 mm (0.079–0.394 in) long. The leaf underside is pale green and sparsely to moderately golden glandular, the top surface is dark green.


Flowers are dioecious. Male inflorescences are simple or unobtrusively branched bracts, which stand individually or occasionally in groups of a few inflorescences in the leaf axils and female. Inflorescence are 1–3 cm (0.39–1.18 in) long, the inflorescence stems are bare, the bracts are almost circular with a diameter of about 1 millimeter and have golden glands on the underside. The male flowers are accompanied by two to four egg-shaped, sparse lanceolate leaves. Each male flower contains four to six stamens with dark red, elliptical anthers.

Female inflorescences are single with multi-flowered spikes of 0.5–1.5 cm (0.20–0.59 in)in length standing in the leaf axils. The rhachis is hairy and glandular. The cover sheets overlap, are hairless and only unobtrusively glandular. Female flowers are accompanied by four leaves. The upper ovary is velvety hairy, with a stylus with a two-lobed scar. There are two slender scar lobes are colored bright red.

The flowering period extends from March to April in China, with fruits developing from May to June. The fruit is spherical, typically 1.5–2.5 cm (0.6–1 in) in diameter, with diameters up to 3 centimeters, a knobby surface. The surface is a thick-skinned, typically a crimson red, but may vary from white to purple, with similar or somewhat lighter flesh color. At the center is a single seed, with a diameter about half that of the whole fruit.The flesh is sweet and very tart.

Fruit is edible raw or cooked. Succulent and aromatic. The texture is extremely unique. Think tiny individual strands of pulp around a seed. It tastes like a cross between a strawberry and lychee — sweet with a subtle hint of sourness. Though the exterior is rough, you eat it whole. No shelling required. The fruit soon rots so it is difficult to grow commercially because of the problems of getting it to market in good condition. The seed is said to be edible. The fruit is often used to make healthy juices as well as being canned, dried, pickled, and even made into an alcoholic wine-like beverage. Yang mei has been cultivated in China for over 2,000 years.
An interesting legend surrounding the fruit: When the famous Chinese warlord Cao Cao and his troops encountered a water shortage in the desert, Cao Cao purposely told his troops that there were yang mei trees nearby (even though there weren't). The thought of the sweet and sour flavor of the berry caused his soldiers to salivate, which relieved their dry mouths and helped them move on.

The tree has been of medicinal use for over 2,000 years for its digestive qualities. The bark is used as an astringent and to treat arsenic poisoning as well as skin disorders, wounds and ulcers. The fruit is carminative, pectoral and stomachic. Seeds are used in the treatment of sweaty feet, to treat cholera, heart problems and stomach issues like ulcers.

Modern medicine is looking at the high levels of antioxidants in the fruit. They are believed to sweep free radicals completely from the body. They also protect the brain and nervous system and are purported to prevent cataracts, skin aging, and to relieve arthritis. The fruit juice has also been used to reduce blood pressure and to restore the malleability of blood vessels as well as to treat diabetes.


Source:
https://en.wikipedia.org/wiki/Myrica_rubra
https://pfaf.org/user/Plant.aspx?LatinName=Myrica+rubra
https://www.rarexoticseeds.com/en/
myrica-rubra-seeds-morella-rubra-seeds.html
https://www.villagevoice.com/2012/06/14/
postcards-from-china-chinese-bayberry/