October 2005
Did you know that the plant Cosmos atrosanguineus, commonly known as Chocolate Cosmos has unmistakeably chocolate scent?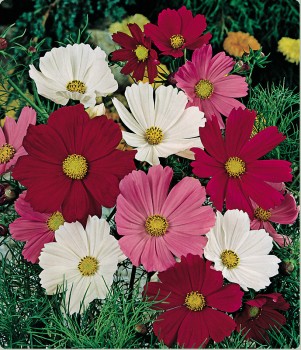 Cosmos - Cosmos bipinnatus
Cosmos - (Cosmos spp.)
How would you like to own a universe? This will probably never happen but you can grow a plant which produces "showy flowers" in an "orderly arrangement of cosmic proportions". Cosmos is the flower you should grow.
These beautiful annual and tender perennial plants are found wild in Mexico. They'll grow from 18 inches to 6 feet high. The leaves are 3 to 5 inches long and finely divided. The single or double flowers are 2 to 6 inches across and come in a variety of colors.
Spanish priests grew cosmos in their mission gardens in Mexico. The evenly placed petals led them to christen the flower "Cosmos," the Greek word for harmony or ordered universe. Cosmos, like many of our warm weather annuals such as marigolds, originated in Mexico and South America.
Cosmos belongs to that vast family of plants known as Compositae. Although there are 20 known species of cosmos, two annual species, Cosmos sulphureus and Cosmos bipinnatus, are most familiar to home gardeners. These two species are most easily differentiated by leaf structure and flower color. The leaves of C. sulphureus are long, with narrow lobes and hairy margins. The flower colors of this species are always shades of yellow, orange or red. The C. bipinnatus has leaves that are finely cut into threadlike segments. The foliage looks similar to ferns. The flowers are white or various shades of pink to dark rose. They bloom in the summer and early fall.
Are you a chocaholic? Then you'll love this! It is Cosmos atrosanguineus, commonly known as Chocolate Cosmos. It isn't the colour which gives it its common name, but the delicious smell. The chocolate cosmos (cosmos atrosanguineus) is a pretty tender perennial that grows up to 2 feet high with a spread of 18 inches. It is one of those few plants that gets even non-gardeners excited.

Firstly, as the name implies there is something distinctly chocolately about this plant. The dark green leaves are spoon-shaped and divided and sometimes shaded with purple. The maroon-crimson, single flowers are produced on thin stems from late summer until the first frost. No, its not just the colour of the flowers, although they are a wonderfully deep and dark rich brown to purple. It is the scent which is unmistakeably chocolate. Adults and children alike love to smell the flowers which give off a rich and delicious smell throughout the summer.
All species of Cosmos are very fragrand. Hummingbirds are very attracted to this flower.
Don't be too quick to pull up withering cosmos at the end of the season. Birds (particularly gold finches) enjoy snacking on their seedheads in autumn, and the seeds that they miss may fall to the ground, rewarding you with a whole new crop next year.
Fresh Cosmos flowers can used as cutting flowers for vases. They are suitable for drying.
Source:
http://aggie-horticulture.tamu.edu/ plantanswers/flowers/cosmos/cosmos.html
http://www.botanyworld.com/cosmos.html
http://gardenspace.newarchaeology.com/chocolate_cosmos.php