October 2015
Did you know that according to Greek legend, the gods gave Ulysses a mullein stalk to defend himself against the wiles of Circe?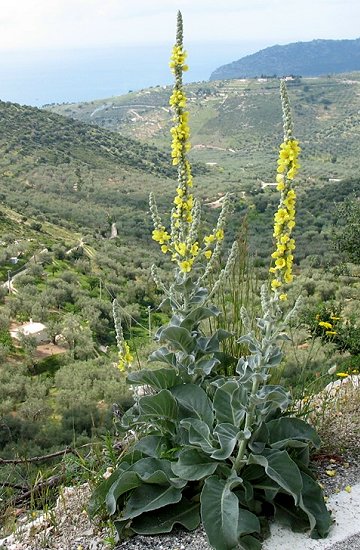 Mullein (Verbascum thapsus).
Mullein -Verbascum thapsus
Verbascum thapsus (great mullein or common mullein) is a species of mullein (genus Verbascum of about 360 species of flowering plants), in the figwort family Scrophulariaceae, native to Europe, northern Africa, and Asia, and introduced in the Americas and Australia.

It is a hairy biennial plant that can grow to 2 meters tall or more. Its small yellow flowers are densely grouped on a tall stem, which grows from a large rosette of leaves. It grows in a wide variety of habitats, but prefers well-lit disturbed soils, where it can appear soon after the ground receives light, from long-lived seeds that persist in the soil seed bank. It is a common weedy plant that spreads by prolifically producing seeds, but it rarely becomes aggressively invasive, since its seeds require open ground to germinate. It is a very minor problem for most agricultural crops, since it is not a very competitive species, being intolerant of shade from other plants and unable to survive tilling. It also hosts many insects, some of which can be harmful to other plants. Although individuals are easy to remove by hand, populations are difficult to eliminate permanently.
Verbascum thapsus is a dicotyledonous plant that produces a rosette of leaves in its first year of growth. The leaves are large, up to 50 cm long. The second year plants normally produce a single unbranched stem, usually 1–2 m tall. The tall pole-like stems end in a dense spike of flowers that can occupy up to half the stem length. All parts of the plants are covered with star-shaped trichomes. This cover is particularly thick on the leaves, giving them a silvery appearance. The species' chromosome number is 2n = 36.
On flowering plants the leaves are alternately arranged up the stem. They are thick and decurrent, with much variation in leaf shape between the upper and lower leaves on the stem, ranging from to oblanceolate, and reaching sizes up to 50 cm long and 14 cm across (19 inches long and 5 inches wide). They become smaller higher up the stem, and less strongly decurrent down the stem. The flowering stem is solid and 2–2.5 cm (nearly an inch) across, and occasionally branched just below the inflorescence, usually following damage. After flowering and seed release the stem and fruits usually persist in winter,[9] drying into dark brown, stiff structures of densely packed, ovoid-shaped and dry seed capsules. The dried stems may persist into the following spring or even the next summer. The plant produces a shallow taproot.
Flowers are pentamerous with (usually) five stamen, a 5-lobed calyx tube and a 5-petalled corolla, the latter bright yellow and an 1.5–3 cm (0.5–1 inch) wide. The flowers are almost sessile, with very short pedicels (2 mm, 0.08 in). The five stamens are of two types, with the three upper stamens being shorter, their filaments covered by yellow or whitish hairs, and having smaller anthers, while the lower two stamens have glabrous filaments and larger anthers. The plant produces small ovoid (6 mm, 0.24 in) capsules that split open by way of two valves, each capsule containing large numbers of minute brown seeds less than a millimetre (0.04 in) in size, marked with longitudinal ridges. A white-flowered form, V. thapsus f. candicans, is known to occur. Flowering lasts for up to three months from early to late summer (June to August in northern Europe), with flowering starting at the bottom of the spike and progressing irregularly upward; each flower opens for part of a day and only a few open at the same time around the stem.
The Scientific classification for mullein has not changed since Carolus Linnaeus (1707-1778) presented it in his Species Plantarum in 1753. Verbascum, the name Pliny used for V. thapsus, was Latin for mullein itself, leaving little to intercept in the way of name history. The word is very likely a corruption of the Latin barbascum [bearded plant, derived from the Latin barba, or beard , referring to the plant's beardlike filaments. The specific epithet thapsus had been first used by Theophrastus (as ÈÜøïò, Thapsos). Thapsus may come from the Sicilian Isle of Thapsos, where in ancient times mullein was gathered in abundance. The Tunisian island Thapsus is another logical possibility. The name may derive from the Greek "thapsinos" (yellow). The plant indeed has yellow flowers and is yellowish when dried, and Roman ladies once dyed their hair yellow with mullein flowers steeped in lye. The word "mullein" is derived from the Latin mollis, "or soft", which also gave us the words mollify, emollient, and mollusc. It prob-ably reached its present meaning indirectly, as a derivative of the old English "muleyn, meaning "woolen".
Common mullein (Verbascum thapsus L.) has an ancient relationship with man. It never has been used for food but traditionally has been respected for its mystical and medicinal powers. Like many ancient medicinal plants (Pliny the Elder describes it in his Naturalis Historia), great mullein was linked to witches, although the relationship remained generally ambiguous. An old superstition existed that witches used lamps and candles provided with wicks of Mullein in their incantations, and another of the plant's many names, 'Hag's Taper', refers to this. Both in Europe and Asia the power of driving away evil spirits was ascribed to the Mullein. According to Greek legend, the gods gave Ulysses a mullein stalk to defend himself against the wiles of Circe, the enchantress who turned the companions of Ulysses into swine by means of a magic drink.
Great mullein has been used since ancient times as a remedy for skin, throat and breathing ailments. Dioscorides first recommended the plant 2000 years ago, against pulmonary diseases, and this has remained one of its primary uses, especially against cough. Leaf decoctions or herbal teas were used for expectoration, consumption, dry cough, bronchitis, sore throat and hemorrhoids. Mullein tea is a traditional treatment for respiratory problems, such as chest colds, bronchitis and asthma. Mullein leaf tea is slightly bitter; a tea of the flowers is sweeter. The combination of expectorant saponins and emollient mucilage makes the plant particularly effective for cough.
Many of mullein's traditional medicinal uses were similar throughout the Old and New World, but whether European settlers learned to use the herb from Native Americans or vice versa is open to debate. Besides using mullein leaf and flower teas to treat respiratory problems, some Native Americans also used the plant's roots. The Creek Indians drank a decoction of the roots for coughs; other tribes smoked the roots or dried leaves to treat asthma. Topical applications were equally varied. The Cherokee rubbed mullein leaves in their armpits to treat "prickly rash". The Zuni people, however, use the plant in poultices of powdered root applied to sores, rashes and skin infections. An infusion of the root is also used to treat athlete's foot.
Oil from the flowers was used against catarrhs, colics and, in Germany, earaches, frostbite, eczema and other external conditions. Topical application of various V. thapsus-based preparations was recommended for the treatment of warts, boils, carbuncles, hemorrhoids, and chilblains, amongst others. Recent studies have found that great mullein contains glycyrrhizin compounds with bactericide and potential anti-tumoral action. These compounds are concentrated in the flowers. The German Commission E sanctioned medicinal use of the plant for catarrhs. It was also part of the National Formulary in the United States and United Kingdom. The plant's leaves, in addition to the seeds, have been reported to contain rotenone, although quantities are unknown.
Mullein leaves have been used in cosmetic preparations to soften skin. "Quaker rouge" refers to the practice of reddening cheeks by rubbing them with a mullein leaf. And a yellow dye extracted from the flowers has been used since Roman times as a hair rinse as well as to dye cloth.
A yellow dye is made from the flowers by boiling them in water. When used with dilute sulphuric acid they produce a rather permanent green dye, this becomes brown with the addition of alkalis. An infusion of the flowers is sometimes used to dye the hair a golden color.
The leaves contain rotenone, which is used as an insecticide. The dried leaves are highly flammable and can be used to ignite a fire quickly, or as wick for candles.
The seeds contain several compounds (saponins, glycosides, coumarin, rotenone) that are toxic to fish, a property known to fishermen since the time of Aristotle., and have been widely used as piscicide for fishing.

Source:
https://en.wikipedia.org/wiki/Verbascum_thapsus
http://www.motherearthliving.com/plant-profile/
herb-to-know-mullein-verbascum-thapsus.aspx
http://altnature.com/gallery/mullein.htm
http://wssa.net/wp-content/themes/WSSA/WorldOfWeeds/mullein.html