June 2012

Did you know that the flowers of Crinodendron hookerianum, looking a bit like tulips hanging upside down?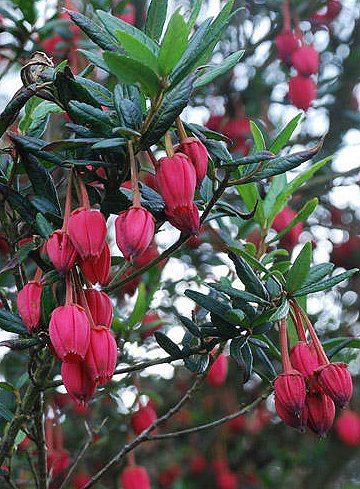 Chilean Lantern Tree (Crinodendron hookerianum)
Chilean Lantern Tree - Crinodendron hookerianum
Crinodendron hookerianum known as Chilean Lantern Tree is an evergreen tree endemic to Chile in the Elaeocarpaceae family, it grows from Cautin to Palena (38 to 43°S). It occurs near streams or very humid sites or highly shady places. Introduced to UK by William Lobb in 1848 from Chile. The name Crinodendron is Greek: beautiful flowers' tree and hookerianum in honor of William Jackson Hooker, English botanist who studied many Chilean plants

It is a shrub or small tree that measures up to 8 metres (26 ft) tall and 30 centimetres (12 in) in diameter, ash color. The leaves are alternate, with toothed edge and lanceolate shaped with acute apex, petiolate 4–7 cm long and 0.7-1.8 wide, dark green above and hairy whitish green below.
The flowers are hermaphrodite, solitary and axillary, pinkish to red. Pedicels about 3–6 cm long, the calyx is formed by 5 fused sepals green colored, the bell-shaped Corolla made up by 5 free petals which end in 3 teeth, 15-18 stamen, with the style longer than the stamen. The Chilean Lantern Tree is an evergreen which produces long, stalked buds in the autumn/fall. But it is not until the following spring that they swell up and form these 3cm long flowers, looking a bit like tulips hanging upside down. They appear from mid-spring to late-summer. The fruit is an inedible capsule with 3 to 5 valves that splits open when ripe. The seeds are roundish.
A temperate climate plant and acid-lover performs best under somewhat acidic soil conditions like other plants that hale from this part of South America. Lantern tree likes moist, but well-drained acidic soil and is tolerant of a semi-shade exposure. It has no disease or pest problems and requires no pruning.
What limitation there may be is simply that it is half-hardy. In the UK it is better suited to southern England and Wales, while it has been planted as far north as Scotland. In the US it best suited to moderate coastal areas. It does well also in temperate Australia and New Zealand.
It can be appreciated year-round as well as serving as a useful hedge or screen. Another asset is its size. It will slowly reach 25 feet after many years, which is convenient as it's not likely to overwhelm any adjacent structures or reach up into power lines. And its eventual spread is only 15 feet making it a good fit for modern gardens. But it's most impressive asset is the nodding, urn-like (or lantern shaped) flowers. They're small, and delicate and are a striking rose-crimson that contrasts beautifully with the dark green foliage. Its beautiful flowers make it a highly valued ornamental tree.

Source:
http://en.wikipedia.org/wiki/Crinodendron_hookerianum
http://www.atreeaday.com/atreeaday/Crinodendron_hookerianum.html
http://www.rampantscotland.com/visit/glendoick06.htm
http://www.portmeirion-village.com/content.php?nID=110;lID=1