September 2010
Did you know that Meconopsis grandis, a species of Himalayan blue poppy, is the national flower of Bhutan?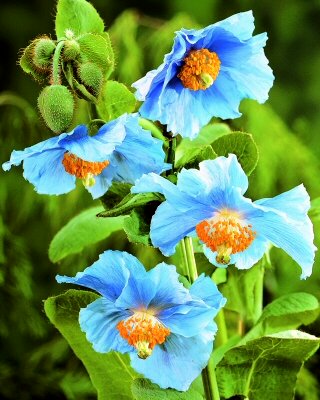 Meconopsis - Blue Poppy ( Meconopsis betonicifolia - Meconopsis baileyi)
Blue Poppy - Meconopsis spp.
Meconopsis is a relatively large genus of flowering plants in the family Papaveraceae. and contains 49 species, and most of them were identified by Chinese. The genus Meconopsis does not have a satisfactory common English name,and the one most used is Himalayan blue poppies. This reflects to a large degree where they come from, and also the color of the flowers of many of the species and hybrids.
The species have attractive flowers and have two distinct ranges. A single species, Meconopsis cambrica (Welsh poppy), is indigenous to England, Wales, Ireland, and the fringes of Western Europe. The other 40 or so (depending on classification) species are found in the Himalayas. Within the Himalayan types there is much debate as to what constitutes a particular species as many readily hybridise with each other and produce viable seed. It is likely that some individually-named species are in fact a single species but with an under-appreciated morphological diversity.
The name meconopsis derived from the Greek mekon 'poppy' + opsis 'like and means "poppy-like". (The word papaver is Latin and was the name given to the poppy in ancient Rome. It is thought to represent the sound of poppy seeds being chewed!).

A large proportion of species are monocarpic and as such are notoriously difficult to maintain in cultivation.
However, arguably the most popular of the Meconopsis grown in gardens have blue flowers, but other colors are also well represented, e.g., the striking red of M. puniceaand a number of species such as M. pseudointegrifolia are yellow. The one exception to an Asian distribution of Meconopsis is the Welsh poppy, M. cambrica. It is native to restricted parts of Britain and Western Europe. This outlying species does not truly fit within the genus Meconopsis, and it is likely that this will be attended to by the botanists, with a name change.
The Welsh poppy (Meconopsis cambrica) is a perennial plant of the family Papaveraceae. Its habitat is damp, shady places on rocky ground, and it is native to south-western England, Wales, Ireland and Western Europe. In its most western locations, it is increasingly found on more open ground with less cover.

It has pinnately divided leaves. The flower is distinctively yellow or orange with four petals, and hairy green sepals that fall off quickly after the flower opens. It spreads easily from the numerous small black seeds produced in the summer. It is especially well adapted to colonising gaps and crevices in rocks and stones. This habit has enabled it to colonise the urban environment, growing between paving slabs and at the edges of walls.

It was originally classified as Papaver cambricum and may be referred to as such in older texts. It is the only member of the Meconopsis (Papaveraceae with yellow latex) genus native to Europe.

Meconopsis betonicifolia, also known as Meconopsis baileyi and the Himalayan blue poppy, was first noted in 1886 by Pere Delavay a French Catholic missionary. In the late spring of 1922, a British Himalayan expedition, led by legendary mountaineer George Leigh Mallory, discovered the plant on their failed attempt to reach the summit of the then-unconquered Mount Everest. The specimen was collected by Lt. Col. Frederick Marshman Bailey. Pressed into a notebook, the quality of the specimen was not excellent but it still created great interest in England.The flowers were introduced to much excitement at the Royal Horticultural Society's spring show of 1926. In 1924, Frank Kingdon-WardFrank Kingdon-Ward, the explorer and plant collector, brought back the first viable seed and, in 1927, it was displayed at horticultural shows and there were large plantings in public parks in London and Edinburgh. However, since they are difficult to grow, the species has become fabled over the decades.
In 2009, horticulturalist and author Bill Terry published his "gardening memoir", Blue Heaven, about the plant.
In June 2007, Hale Books published the novel "Dreams of the Blue Poppy" by English author Angela Locke. The book's central theme concerns a sickly child who dreams of finding the fabled plant and ends up on a journey of both personal and botanical discovery to the Indian Himalaya
Meconopsis grandis, another species of Himalayan blue poppy, is the national flower of Bhutan.

Himalayan varieties have the reputation for being difficult to grow from seed, but when germinating new plants, using fresh seeds will help. On the other hand, the Welsh poppy is sometimes considered a weed, albeit a handsome one, due to its vigorous self-seeding. It comes as a surprise to many that poppies are available in shades of blue. These plants are available in a variety of strong colours, including blue, red, orange, purple, white and yellow depending on species and cultivar.

The genus Meconopsis contains typical high-altitude medicinal plants throughout the Himalayan region. Many species of this genus have been used in traditional Tibetan medicine by local citizens. Extensive phytochemical investigations have led to the isolation of 96 compounds including alkaloids, flavonoids, glycosides,essential oils, etc. As cognate plants, the genus Meconopsis contains similar alkaloids as the genus Papaver. But the genus Meconopsis showed more antitumor activity, central action, cardiovascular system activity, etc. So far, no analgesic, anesthetic actions, and physical dependence have been found for genus Meconopsis, or these effects have not been focused on, but they need further study, and the use of the plants from genus Meconopsis should be more prudent.

Source:
http://en.wikipedia.org/wiki/Meconopsis
http://en.wikipedia.org/wiki/Welsh_poppy
http://www.absoluteastronomy.com/topics/Meconopsis_betonicifolia
http://onlinelibrary.wiley.com/doi/10.1002/cbdv.200900210/pdf