April 2013

Did you know that flowers of different colors can be found simultaneously on the same plant of Mirabilis jalapa and an individual flower can be splashed with different colors?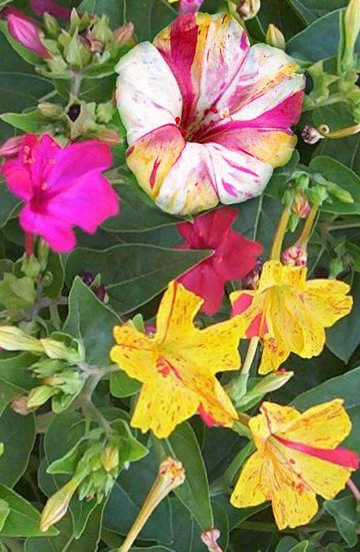 Four o'clock - Marvel of Peru ( Mirabilis jalapai).
Four o'clock - Marvel of Peru - Mirabilis jalapa
Mirabilis jalapa (The Four o'clock flower or Marvel of Peru) is the most commonly grown ornamental species of Mirabilis, and is available in a range of colours. Mirabilis in Latin means wonderful and Jalapa is a not uncommon placename in Central and North America. Mirabilis jalapa is said to have been exported from the Peruvian Andes in 1540.

Four o'clocks are leafy, shrublike, multi-branched perennials that produce flowers all summer long. The plants are erect and spreading, 2-3 ft (0.6-0.9 m) tall and just as wide. They have numerous branches and opposite, pointed leaves 2-4 in (5-10 cm) long. The fragrant flowers are borne singly or in clusters, and can be red, magenta, pink, yellow or white, sometimes with more than one color on the same plant. Bicolored flowers are also possible. Individual flowers are trumpet shaped, about an inch across at the end and about two inches long. They open in the evening and wilt the next morning, but the plants continue to produce new flowers from late spring 'till fall. Four o'clocks have large, black carrot shaped tubers that can be a foot or more long. In warm regions, the roots can weigh up to 40 lb (18 kg) or more.

M. jalapa hails from tropical South America, but has become naturalised throughout tropical and warm temperate regions. In cooler temperate regions, it will die back with the first frosts, regrowing in the following spring from the tuberous roots. The plant does best in full sun. The single-seeded fruits are spherical, wrinkled and black upon maturity, having started out greenish-yellow. The plant will self-seed, often spreading rapidly if left unchecked in a garden. Some gardeners recommend that the seeds should be soaked before planting, but this is not totally necessary. Four o'clocks self seed and may become a nuisance if not kept under control. If left to spread unchecked, they then can be difficult to eliminate because of the large, deep-rooted tubers.

It is an old garden favorite. A curious aspect of this plant is that flowers of different colors can be found simultaneously on the same plant. Additionally, an individual flower can be splashed with different colors. Another interesting point is a color-changing phenomenon. For example, in the yellow variety, as the plant matures, it can display flowers that gradually change to a dark pink color. Similarly white flowers can change to light violet. The flowers usually open from late afternoon onwards, then producing a strong, sweet-smelling fragrance, hence the first of its common names (Four o'clock). The flowers actually have no petals - what looks like the corolla is in fact the calyx, but only a botanist would appreciate the distinction!

Around 1900, Carl Correns used Mirabilis as a model organism for his studies on cytoplasmic inheritance. He used the plant's variegated leaves to prove that certain factors outside the nucleus affected phenotype in a way not explained by Mendel's theories. Correns proposed that leaf color in Mirabilis was passed on via a uniparental mode of inheritance

Also, when red-flowered plants are crossed with white-flowered plants, pink-flowered offspring, not red, are produced. This is seen as an exception to Mendel's Law of Dominance, because in this case the red and white genes are of equal strength, so none completely dominates the other. The phenomenon is known as incomplete dominance.
The flowers are used in food colouring. An edible crimson dye is obtained from the flowers. It is used for colouring cakes and jellies. The leaves may be eaten cooked as well, but only as an emergency food when all else fails. The seed is crushed and used as a pepper substitute. However, all parts of the plant are said to be poisonous - do not ingest raw!
The root is aphrodisiac, diuretic and purgative. It is used in the treatment of dropsy. A paste of the root is applied as a poultice to treat scabies and muscular swellings. The juice of the root is used in the treatment of diarrhoea, indigestion and fevers. The powdered root, mixed with corn flour (Zea mays) is baked and used in the treatment of menstrual disorders. The leaves are diuretic. They are used to reduce inflammation. A decoction of them is used to treat abscesses. The leaf juice is used to treat wounds. Within its natural range in South America, the root of the four o'clock is used medicinally and as a hallucinogen.

Source:
http://en.wikipedia.org/wiki/Mirabilis_jalapa
http://www.pfaf.org/user/Plant.aspx?LatinName=Mirabilis+jalapa
http://www.floridata.com/ref/m/mira_jal.cfm