October 2007
Did you konw that the plant Rue has been used as a medicinal and "antimagic" herb for centuries and it was considered a reliable defense against witches?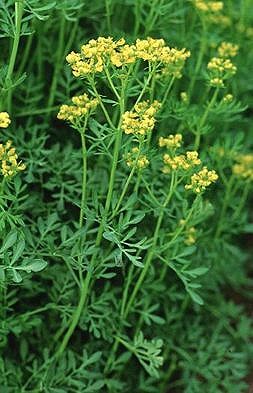 Rue - Ruta graveolens
Rue - Ruta graveolens
Rue (Ruta) is a genus of strongly scented evergreen subshrubs 20-90 cm tall, in the family Rutaceae, native to the Mediterranean region, Macronesia and southwest Asia. Different authors accept between 8-40 species in the genus. The most well-known species is the Common Rue (Ruta graveolens).
Rue is a small evergreen subshrub or semiwoody perennial 2-3 ft (0.6-0.9 m) tall and almost as wide. The stems become woody near the base, but remain herbaceous nearer the tips. The 3-5 ft (7.6-12.7 cm) long leaves are dissected pinnately into oblong or spoon shaped segments. They are somewhat fleshy and usually covered with a powdery bloom. The sea green foliage has a strong, pungent, rather unpleasant scent when bruised. The clusters of small yellow flowers appear in midsummer, held well above the foliage and often covering most of the plant. The fruit is a 4-5 lobed capsule, containing numerous seeds.
Common rue is native to southern Europe and northern Africa. It is apparently no longer found in the wild, but occasionally escapes from gardens and naturalizes along roadsides and waste areas in North America and Europe, especially in the Balkans. Rue is a standout in the herb garden. It's often included in herb gardens just for its historical interest. Rue responds well to pruning - it can be shaped into a rounded mass and used in borders and beds, where it goes well with light colored flowers. Plants can be grown for ground cover when planted about 45cm apart each way.
Propagation from seeds or cuttings. Seed - best sown as soon as it is ripe in a cold frame, it can also be sown in early to mid spring in a cold frame. When they are large enough to handle, prick the seedlings out into individual pots and grow them on in the greenhouse for their first winter. Plant them out into their permanent positions in late spring or early summer, after the last expected frosts. Cuttings of young shoots in late spring.
It is said that the rue stolen from your neighbor's garden will grow best.
The growing or the dried plant can be used to repel insects, it is most useful when the plant is grown near roses and raspberries. The dried herb can also be put in the linen cupboard to repel moths. The growing plant is also said to repel cats. A red dye is obtained from the plant. An essential oil is obtained from the leaves and young shoots, it is used in perfumery and as a food flavouring.
It was used extensively in Middle Eastern cuisine in olden days, as well as in many ancient Greek and Roman recipes (according to Apicius), but because it is very bitter, it is usually not suitable for most modern tastes. However, it is still used in certain parts of the world, particularly in northern Africa.
Rue has been used as a medicinal and "antimagic" herb for centuries. It was considered a reliable defense against witches. Rue in some sources, it is the famous "moly plant" used by Ulysses in The Odyssey (book 10, lines 304-6) to protect himself and his men from the spell of the Circe.
Gunflints boiled in a mixture of rue and vervain were said improve the shooter's aim. Artists, including Michelangelo and Leonardo da Vinci, improved their creativity and eyesight by ingesting rue. Rue is a symbol of regret, sorrow and repentance, and Catholics used sprigs of it to sprinkle holy water on worshippers. The rue leaf was the model for the suit of clubs in playing cards. Rue was formerly used to treat almost every ailment known to Man, but modern herbalists now question its effectiveness as well as its safety.

Rue has sometimes been called "herb-of-grace" in literary contexts. It is one of the flowers distributed by the mad Ophelia in William Shakespeare's Hamlet.

Rue is considered a national herb of Lithuania and it is the most frequently referred herb in Lithuanian folk songs, as an attribute of young girls, associated with virginity and maidenhood.
Fresh rue contains volatile oils that can damage the kidneys or liver. Deaths have been attributed to the use of fresh rue.

Rue is probably best known for its effects on the female reproductive tract. Chemicals in rue may stimulate muscles in the uterus, which, in turn, may initiate menstrual periods, act as contraceptive agents, and promote abortion. Rue is thought to contain chemicals that may decrease fertility and may also block the implanting of a fertilized egg. In male laboratory animals, oral doses of rue decreased the movement and number of sperm and reduced the desire for sexual activity. Even though rue is a mainstay of midwives in many developing countries, its risks generally outweigh any benefits it might have for contraception or abortion. Deaths have been reported due to uterine hemorrhaging caused by repeated doses of rue. Taking it orally is strongly discouraged.

Occasionally, rue oil is applied to the skin to relieve arthritis pain and also for treating soft tissue injuries such as bruises and sprains.

Source:
http://en.wikipedia.org/wiki/Rue
http://www.floridata.com/ref/R/ruta_gra.cfm
http://www.pfaf.org/database/plants.php?Ruta+graveolenss