February 2020
Did you know that the name of the plant Cerinthe major comes from the belief that bees extracted wax from its blossoms to make their honeycombs?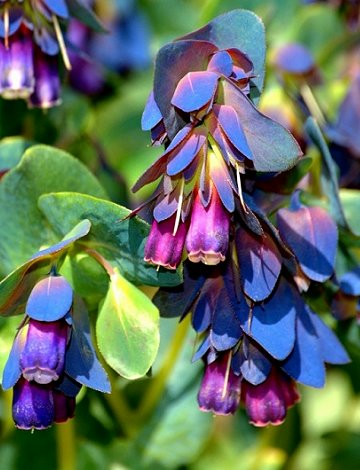 Honeywort (Cerinthe major var Purpurascens).
Honeywort- Cerinthe major
Cerinthe is a poorly studied genus of vascular plants in the family Boraginaceae, known as "honeyworts". The genus is characterised by a calyx made up of separate, rather than fused, sepals, a tubular corolla, and the schizocarpic fruit that divides into two parts at maturity, unlike most members of the family, where the fruit splits into four nutlets. The genus has a circum-Mediterranean distribution, ranging from the Irano-Turanian Region in the east to Morocco in the west.

Cerinthe has been known since ancient times, an early reference to it is in John Gerard's The Herbal, published in 1597, describing its appearance, growth habits, time of blooming and mentions that "there is a taste as if it were of new wax in the floures [sic] or leaves chewed, as the name doth seeme [sic] to import." Gerard gives a list of other names for Cerinthe applied by prior writers, including Avicenna "Auicen", Pliny the Elder, Conrad Gessner, Rembert Dodoens, Carolus Clusius, and Matthias de l'Obel.

The genus name is a compound of the Greek elements êåñß / êçñüò (= keri / keros or keeros) and Üíèïò (=anthos) "flower" - whence "wax flower" or "(bees)wax" - from the belief that bees extracted wax from the blossoms to make their honeycombs.

Honeywort, Cerinthe major, is an herbaceous plant native to open meadows and grassy plains of the Mediterranean basin, especially in southern Italy and Greece. This species is an unusual member of the borage family (Boraginaceae), in that it does not have hairy foliage like most family members do. It is variously classified as a hardy annual, a tender evergreen perennial, or a shortlived, half-hardy perennial or biennial. As a Mediterranean plant its normal habit is to grow in winter, bloom in spring, set seed and die, and then the seed germinates in fall. But in other parts of the country it is typically grown as a summer annual.

This unusual flower has been grown in gardens since the middle ages, but was not prominent in Victorian or Edwardian gardens. Even today it is not commonly offered commercially. The plants are not particularly stunning from a distance; the enchanting flowers are best appreciated up close as the coloring is rather subtle. The variety 'Purpurascens' is the most commonly available type and was selected for its stronger coloration than the species.

This plant has handsome foliage and colorful bracts that long outlast the small flowers. The rounded, partially perfoliate (leaves encircle the stem) leaves are somewhat fleshy, glaucous (smooth, not hairy), and pale green-gray to blue in color. They arise in whorls along branching stems. The new growth is mottled with white; this marbling fades with age. The leaves get a deeper blue as night temperatures get lower later in the season. Plants vary considerably in size and form depending on the conditions they are grown under. In full sun and rich soils they can grow tall enough (2-4 feet) to require staking to keep them upright. In drier and less fertile soil, or in light shade, the plants tend to be more compact, reaching only about 18" tall. The foliage remains in good shape until a hard freeze.

The tubular flowers are borne in clusters of two or three surrounded by large, almost heart-shaped, nodding bracts. The one inch long flowers produce honey-flavored nectar, probably leading to its common name. In the wild the species varies greatly in color, with flowers ranging from cream or pale yellow to reddish lavender or purple and the bracts anywhere from dull blue-green to vivid blue or strong purple. As the plant matures, the bracts change from green to purple to blue. In the garden, the bract color is often on the murky side, depending on the light the plant is viewed in. The variety 'Purpurascens' has rich purple-blue flowers held inside sea blue bracts. The flowers are attractive to many types of bees and hummingbirds. Deadhead to encourage continued bloom. If you wish to use honeywort as a cut flower, the ends of the stem need to be either flamed or dipped in hot water.

Flowers eventually produce large rounded black seeds with one flat edge. The seeds on a plant do not ripen all at once, but continue to mature throughout the season as they are produced. They are dispersed a considerable distance from the mother plant by an explosive release mechanism.
Although grown in European pleasure gardens since the middle ages, Cerinthe has no known medicinal important uses. According to his famous book, 'The Herbal', its ornamental qualities earned Honeywort a place in John Gerard's garden in the late 1500's. Gerard liked to sip honey_flavored nectar from the tiny flowers, and noted that the leaves have the taste of "new wax" or fresh honeycomb as well. Since his day, however, Honeywort fell from favor. It has never been a traditional border plant, for no prominent Victorian or Edwardian gardener mentions it. Indeed, it was unavailable in the seed trade until the recent reintroduction of a well_colored European garden selection.

More than 2000 years ago, Virgil described using this plant as an offering to swarming bees in order to entice them into a new hive: "Here sprinkle the odors ordained, crushed balm and lowly tufts of Honeywort, and make a tinkling round about and clash the cymbals of the goddess Mother; they will settle on the scented seat and in their way creep into the inmost covert of their nest."

Although it was popular in the Renaissance--enough to rate a mention in Culpeper--this native of the Mediterranean region was subsequently rarely grown the West until a couple decades ago. Apparently because it is a quick-growing plant--it can go from seed for blooms in 10-12 weeks and have two generations in one season--this is considered a Mercury herb. Because it is so favored by bees, a martial insect, it would be a good herb to use in works where you want to win over a hostile force or attract defensive hosts. This member of the borage family is also known as the blue shrimp plant and the blue wax flower.

Source:
https://en.wikipedia.org/wiki/Cerinthe
https://wimastergardener.org/article/honeywort-cerinthe-major/
http://www.maltawildplants.com/BORG/Cerinthe_major.php