October 2013

Did you know that Moringa trees have been used to combat malnutrition, in poverty-stricken areas of the tropics?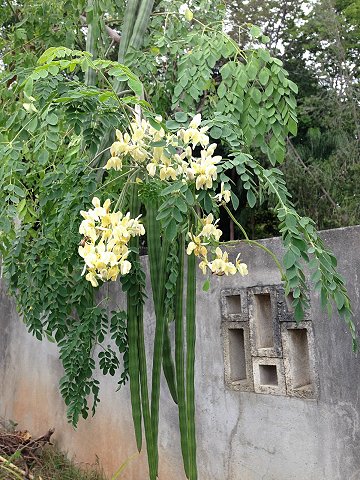 Moringa - Miracle Tree (Moringa oleifera). Leaves, flowers and pods
Moringa - Miracle Tree - Moringa oleifera
Moringa, native to parts of Africa and Asia, is the sole genus in the flowering plant family Moringaceae. The name is derived from the Tamil word Murungai. It contains 13 species from tropical and subtropical climates that range in size from tiny herbs to massive trees.

The most widely cultivated species is Moringa oleifera, a multipurpose tree native to the foothills of the Himalayas in northwestern India and cultivated throughout the tropics. Moringa stenopetala, an African species, is also widely grown, but to a much lesser extent than M. oleifera.

Moringa oleifera (synonym: Moringa pterygosperma) is the most widely cultivated species of the genus Moringa, which is the only genus in the family Moringaceae. English common names include "moringa", "drumstick tree" from the appearance of the long, slender, triangular seed pods, "horseradish tree" from the taste of the roots which resembles horseradish, "ben oil tree" or "benzoil tree" from the oil derived from the seeds. It is a fast-growing, drought-resistant tree that is native to the southern foothills of the Himalayas in northwestern India, but widely cultivated in tropical and sub-tropical areas.

Seeds sprout readily in one week. Alternatively, one can plant a branch and within a week, it will grow by itself with another sprout.

The tree itself is rather slender, with drooping branches that grow to approximately 10m in height. In cultivation, it is often cut back year after year in fence rows and continues to thrive. Therefore, to keep an abundant supply of leaves, flowers, and pods within easy reach, topping out is useful. Of course, it is natural and understandable that water and fertilizer make it grow better.
In 19th century, plantations of Moringa in the West Indies exported the oil to Europe for perfumes and lubricants for machinery. People in the Indian sub-continent have long used Moringa pods for food. The edible leaves are eaten throughout West Africa and parts of Asia.

The leaves contain significant sources of minerals and vitamins A, B, and C. It contains high levels of calcium, phosphorous, iron, protein, with low fat, and low carbohydrates. Its iron content is very good for anemia.

Virtually every part of it is edible. The Moringa leaves are also eaten as a leaf vegetable, particularly in the Philippines, where it is called "malunggay". It can be cooked in any various ways like that of spinach. The roots can be pulled out and can be used as horseradish. Flowers can be eaten as vegetable, or you can use it to make a tea, and it provides calcium and potassium. From its seed, quality oil called Ben oil is yield by pressing. The oil contains: 65.7% Oleic acids; 9.3% Palmitic acid; 7.4% Stearic acid; and 8.6% Behenic acid. The oil is good for cooking and lubricating precision machines such as watches and sewing machines.
The immature seed pods, called "drumsticks", are commonly consumed in South Asia. They are prepared by parboiling, and cooked in a curry until soft. The seed pods, even when cooked by boiling, remain particularly high in vitamin C (which may be degraded variably by cooking) and are also a good source of dietary fiber, potassium, magnesium and manganese.
In developing countries, moringa has potential to improve nutrition, boost food security, foster rural development, and support sustainable landcare. It may be used as forage for livestock, a micronutrient liquid, a natural anthelmintic and possible adjuvant.

Dozens of humanitarian organizations now promote the use of Moringa in poverty-stricken areas to combat malnutrition and its adverse effects on the body. Moringa trees have been used to combat malnutrition, especially among infants and nursing mothers. Four NGOs in particular — Trees for Life International, Church World Service, Educational Concerns for Hunger Organization, and Volunteer Partnerships for West Africa — have advocated moringa as "natural nutrition for the tropics". One author stated that "the nutritional properties of Moringa are now so well known that there seems to be little doubt of the substantial health benefit to be realized by consumption of Moringa leaf powder in situations where starvation is imminent". Moringa is especially promising as a food source in the tropics because the tree is in full leaf at the end of the dry season when other foods are typically scarce.
Where conventional treatments for malnutrition normally take months, healthcare professionals have discovered that people taking Moringa show improvement within days. One of the more amazing things its being used for is to prevent childhood blindness, a condition that can develop from vitamin A and retinal deficiencies. Sufficient amounts of these nutrients are contained in the pure powdered leaves to eliminate this condition.

While it's one of the newer discoveries to modern science, the "miracle tree" has been making strides in various societies for thousands of years. Its remedies have been passed down through generations of folk medicine.

Ancient Indian writings, dating as far back as 150 B.C., refer to the Moringa plant and its uses. Moringa was highly valued in the ancient world. Early Romans, Greeks, and Egyptians prized the tree for its therapeutic properties, extracted edible oil from the seeds and also used it to protect skin, make perfume, and purify water for drinking.

Moringa has been used in folk medicine, including Siddha medicine and Ayurvedic traditional medicines and in the Philippines. In Ayurvedic traditional medicine, the leaves are believed to affect blood pressure and glucose levels. In Africa, Indonesia and Philippines moringa leaves are given to nursing mothers in the belief that they increase lactation.
Clinical studies have begun to suggest that at least some of these claims are valid. With such great medicinal value being suggested by traditional medicine, further clinical testing is very much needed.
Now this humble plant, often called "the Miracle Tree," is coming to the forefront. Many people in the United States and Europe are just now discovering it. Teenagers are using it to cure acne. Students are using it to stay up late to study. Dieters are using it as an appetite depressant. Seniors are using it for energy and mental clarity.
Moringa is undergoing preliminary research to investigate the potential properties. In preliminary research, moringa seed powder is being assessed for its potential to make river water potable. Research showed that filtering with seed powder may diminish water pollution and bacterial counts.

Source:
http://en.wikipedia.org/wiki/Moringa
http://www.moringausa.com/moringa-tree-history.htm
http://www.edlagman.com/moringa/moringa-fresh-leaf-vs-dried-leaf.pdf
http://www.democraticunderground.com/discuss/
duboard.php?az=view_all&address=245x72729