December 2020
Did you know that the common name Açaí of the plant Euterpe oleracea meaning "fruit that cries"?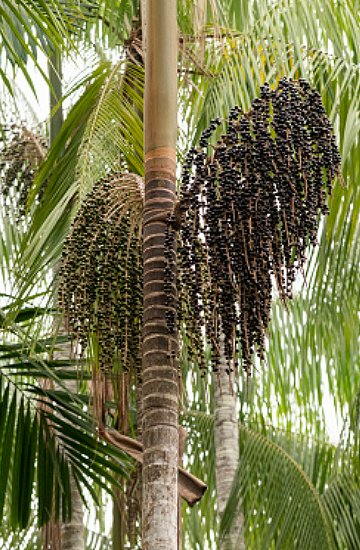 Açaí (Euterpe oleracea).
Açaí - Euterpe oleracea
The açaí palm (/əˈsaɪ.iː/, Portuguese: [asaˈi] (About this soundlisten), from Nheengatu asai), Euterpe oleracea, is a species of palm tree (Arecaceae) cultivated for its fruit (açaí berries, or simply açaí), hearts of palm (a vegetable), leaves, and trunk wood. Global demand for the fruit expanded rapidly in the 21st century and so the tree is cultivated for that purpose primarily.

The species is native to Brazil, Ecuador, Venezuela, Colombia, Guyana, French Guiana, Suriname and Trinidad and Tobago, mainly in swamps and floodplains.
Açaí palms are tall, slender trees growing to more than 25 m (82 ft) tall, with pinnate leaves up to 3 m (9.8 ft) long. The fruit is small, round, and black-purple in color. The fruit became a staple food in floodplain areas around the 18th century, but its consumption in urban areas and promotion as a health food only began in the mid 1990s along with the popularization of other Amazonian fruits outside the region.
The common name comes from the Portuguese adaptation of the Tupian word ïwaca'i, meaning "[fruit that] cries or expels water". The importance of the fruit as a staple food in the Amazon River delta gives rise to the local legend of how the plant got its name. The folklore says that chief Itaqui ordered all newborns put to death owing to a period of famine. When his own daughter gave birth and the child was sacrificed, she cried and died beneath a newly sprouted tree. The tree fed the tribe and was called açaí because that was the daughter's name (Iaçá) spelled backwards.

Because of the denomination açaí, the species is often confused with its sister species, the lone-açaí (Euterpe precatoria Mart.). The main difference between the two species is that E. oleracea occurs in clumps of many stems while E. precatoria always occurs in a single stem.
Individuals of açaí are commonly found in high densities spread over swamps and floodplains in clumps that can have up to 20 stems. Açaí palms have cylindrical, ringed, erect, fibrous, and branchless stems, which can reach 30 m in height and 18 cm in diameter. High stem heights are only reached by individuals in their natural environments under competition against other palms and trees inside a forest. Cultivated açaí palms are not as tall as those in nature, because they face less or no competition from other palms or trees.
The plant is straight, cylindrical, and 12–60 cm in width depending on age. Pinnate leaves are 50–100 cm in length. The inflorescence produces reddish-blue to purple flowers ~2 mm in diameter in threes, a central female and two lateral males, bearing 80–130 rachilla.
The fruit, commonly known as açaí berry or açaí, is a small, round, black-purple drupe about 25 mm (1 in) in circumference, and in size from 1.25 to 1.5 cm., similar in appearance to a grape, but smaller and with less pulp and produced in branched panicles of 500 to 900 fruits. At immaturity, the fruit is green eventually turning dark purple-black at maturity when ready for harvesting. A single seed accounts for 82–85% of the fruit, covered by a thin fibrous and fleshy mesocarp (the "pulp") ~1.0–1.5 mm.
Flowering and fruiting occurs for most of the year. However, fruit only appears in the floodplains in late June when the rainy season ends and continue to produce fruit in four cycles that end in December. During this second half of the year most commercial harvesting for domestic consumption and export occurs.
Fruits and seeds of açaí are spread out by a wide number of dispersers. Over short distances, fruits and seeds are dispersed by small rodents, while birds, such as toucans, guans, araçaris, parakeets, parrots, and thrushes, spread açaí over long distances. Rivers and humans can also work as dispersal agents.

Each palm tree can yield up to hundreds of fruit per rachilla, weighing between 0.5 and 1.5 kg/rachilla. Upon maturity, most palms can produce around 1000 kg or more of fruit in a 5-year period. As palms can continue to produce fruit for more than 25 years, and given their abundance of E. oleracea amidst over 11 million hectares in the floodplains of the Amazon, the quantity of açai fruit available annually for harvesting and consumption domestically and for export seems limitless.
Fresh açaí has been consumed as a dietary staple in the region around the Amazon river delta for centuries. The fruit is processed into pulp for supply to food product manufacturers or retailers, sold as frozen pulp, juice, or an ingredient in various products from beverages, including grain alcohol, smoothies, foods, cosmetics and supplements. In Brazil, it is commonly eaten as açaí na tigela.

In a study of three traditional Caboclo populations in the Brazilian Amazon, açaí palm was described as the most important plant species because the fruit makes up a major component of their diet, up to 42% of the total food intake by weight.

In North America, açaí is commonly sold in "açaí bowls", a combination of frozen açaí puree or açaí powder with other ingredients, such as nut milk, fruit juice, fruit, nuts, oatmeal, and sweeteners. Açaí bowls may contain more than 50 g of sugar (the equivalent of 12 teaspoons), or double what the American Heart Association recommends for an entire day, and have been described by nutritionists as a "sugar bomb", "glorified dessert" or "occasional treat", more akin to eating a bowl of ice cream than a meal.

As of 2015, there are no scientifically controlled studies providing proof of any health benefits from consuming açaí. No açaí products have been evaluated by the FDA, and their efficacy is doubtful. Specifically, there is no scientific evidence that açaí consumption affects body weight, promotes weight loss or has any positive health effect.

The oil is suitable for cooking or as a salad dressing, but is mainly used in cosmetics as shampoos, soaps or skin moisturizers.

The oil compartments in açaí fruit contain polyphenols such as procyanidin oligomers and vanillic acid, syringic acid, p-hydroxybenzoic acid, protocatechuic acid, and ferulic acid, which were shown to degrade substantially during storage or exposure to heat. Although these compounds are under study for potential health effects, there remains no substantial evidence that açaí polyphenols have any effect in humans. Açaí oil is green in color, has a bland aroma, and is high in oleic and palmitic fatty acids.

Leaves of the palm may be made into hats, mats, baskets, brooms and roof thatch for homes, and trunk wood, resistant to pests, for building construction. Tree trunks may be processed to yield dietary minerals.

Comprising 80% of the fruit mass, açaí seeds may be ground for livestock food or as a component of organic soil for plants. Planted seeds are used for new palm tree stock, which, under the right growing conditions, can require months to form seedlings. Seeds may become waste in landfills or used as fuel for producing bricks.
Besides the juice production, açaí palms are widely used for ornamentation in gardens and parks of the Amazon region. Moreover, the açaí palm has been planted to grow and protect degraded soils due to its constant leaves deposition and abundant root system to work on soil formation.

Source:
https://en.wikipedia.org/wiki/A%C3%A7a%C3%AD_palm
https://www.sciencedirect.com/topics/
agricultural-and-biological-sciences/euterpe-oleracea